Fiat Chrysler Sued for Jeep Death of Star Trek Actor Yelchin
by
SUV one of more than 1.1 million recalled over gear shift flaw

Yelchin killed when Grand Cherokee rolled, pinned him to fence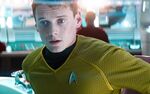 Fiat Chrysler Automobiles NV was sued for wrongful death by the parents of actor Anton Yelchin who was killed when his 2015 Jeep Grand Cherokee rolled down on him in his driveway.
The carmaker was aware of the defective design of the gear selector on Yelchin's Grand Cherokee that allows the driver to exit the vehicle with the engine running while mistakenly believing it's in "park," according to the complaint filed Tuesday in Los Angeles state court.
Yelchin, 27, played Ensign Pavel Chekov in the 2009 "Star Trek" movie, "Star Trek Into Darkness" in 2013 and in this year's "Star Trek Beyond." He died in June when his Grand Cherokee rolled down his driveway at his Studio City, California, home and pinned him against a fence.
Fiat Chrysler recalled more than 1.1 million Grand Cherokees and large cars in April because the drivers sometimes exited vehicles without putting them in park. The company said at the time that it was aware of 41 injuries potentially related to the gear shift.
"FCA US LLC extends its sympathies to the Yelchin family for their tragic loss," the carmaker said in a statement. "The company has not been served with a lawsuit and cannot comment further at this time."
The case is Yelchin v. FCA US LLC, BC629096, Los Angeles County Superior Court.
Before it's here, it's on the Bloomberg Terminal.
LEARN MORE