Etsy Raises Forecast, Sales Top Estimates on Seller Services
by
Gross merchandise sales increase 23 percent from year earlier

Mobile visits increased as shoppers turned to smartphone app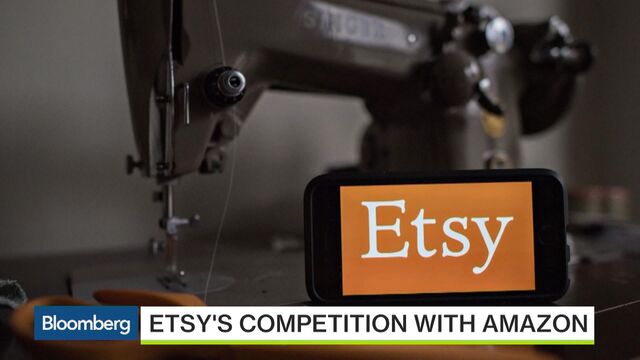 Etsy Inc. reported quarterly revenue that topped analysts' estimates and increased its annual forecast, buoyed by growth in services aimed at sellers on its marketplace known for unique, handcrafted items. Shares gained as much as 8.3 percent in extended trading.
Key Points
Second-quarter sales gained 39 percent to $85.3 million, beating the average analyst estimate of $80.6 million. Etsy reported a loss of $7.3 million, or 6 cents a share.
Gross merchandise sales, the value of the goods that passed through Etsy's platform, increased 23 percent from a year earlier to $669.7 million, the company said Tuesday in a statement. This is the first time that quarterly growth in this metric accelerated in eight quarters.
Seller services brought in $47.1 million, a 58 percent jump from a year earlier. This revenue category has become the largest portion of Etsy's sales and is a major part of the strategy to keep sellers on the platform.
Etsy forecast that 2016 revenue will increase 25 percent to 28 percent. Previously the company said sales would increase at the high end of 20 percent to 25 percent.
The Big Picture
Etsy, where customers seek small-batch goods from Denver Broncos hair bows to dinosaur-tail costumes, has been focused on keeping its sellers and buyers on the platform by adding services and improving the technology. The Brooklyn, New York-based company is also seeking to generate more revenue from its existing seller base by persuading them to pay for products that help manage their businesses and hawk more goods. While the stock has climbed recently, it has dropped 21 percent since the April 2015 initial public offering as analysts and investors remain concerned that slowing active seller growth will crimp Etsy's long-term business prospects.

The Details
The number of active buyers grew just more than 20 percent to 26.1 million, a slight uptick from last quarter. This is the first acceleration in buyer growth in seven quarters.
Etsy also boosted the full-year forecast for gross merchandise sales growth to 15 percent to 17 percent. The company raised its projection for the adjusted margin of earnings before interest, taxes, depreciation and amortization to 13 percent to 14 percent.
The forecast suggests that GMS during the second half of 2016 will be $1.45 billion to $1.49 billion. About $1.3 billion in goods went through Etsy's platform during the first six months of 2016.
International sales and increases in mobile purchases helped boost GMS, according to the company. Etsy has been focused on making it easier to buy goods through smartphones.

International GMS made up about 31 percent of the total value of goods during the second quarter. Etsy is trying for a 50/50 mix of international and U.S.
The number of active sellers increased 12 percent. Growth in this key metric has been slowing.
Before it's here, it's on the Bloomberg Terminal.
LEARN MORE