Erdogan Defiant in Meeting With Investors Following Turkey Coup
by and
President announces plan to shut internet monitoring body

Coup scenario was 'written outside,' demands Gulen extradition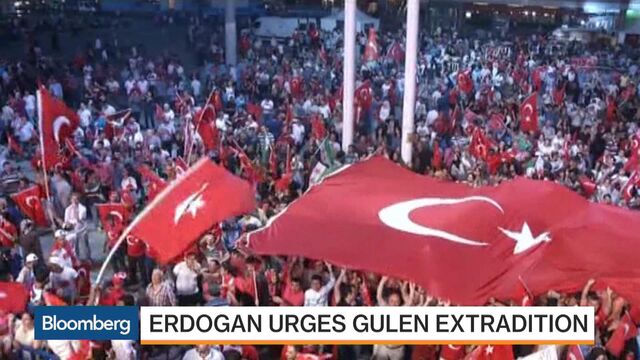 Turkish President Recep Tayyip Erdogan issued a resolute defense of his government's handling of the aftermath of the failed coup attempt, reiterating his demand for the U.S. to extradite the plot's alleged mastermind and telling investors the economy is poised to recover.
The script for the July 15 putsch was "written outside," Erdogan said in a speech on Tuesday in Ankara. Turkey has blamed Fethullah Gulen, the Islamic preacher living in Pennsylvania, of orchestrating the coup attempt. The U.S. is still harboring Gulen, where his group of supporters holds its most important financial assets, Erdogan said.
The coup attempt cost Turkey's economy 300 billion liras ($100 billion), the Hurriyet newspaper cited Customs Minister Bulent Tufenkci as saying, and Erdogan's rare meeting with foreign investors was expected to be an attempt at reassurance after the recent turbulence in financial markets. While the president said Turkey's free market economy won't be interrupted by a state of emergency, much of his focus in the televised national address was on the political aftermath of the coup -- including criticism of the West's response.
"In some European airports, unfortunately there are ads that say 'don't go to Turkey, your trip would strengthen Erdogan,"' he said, without naming them. "I am asking now, are they supporting terrorism or not? Is the West siding with democracy, or coups and terrorism? Unfortunately, the West is supporting terrorism, and siding with coups."
Urging Restraint
Turkey's allies, including the U.S. and European Union nations, condemned the military uprising but have also warned that reprisals by the government should be measured. Erdogan's government was already under fire from rights groups for suppressing media criticism and interfering with courts.
The purge of Gulen supporters has reached 62,000 civil servants, Erdogan said, while the internet monitoring body -- the Presidency of Telecommunication and Communication, or TIB -- will be taken over by the Information and Communication Technologies Authority, or BTK, as part of the ongoing changes to Turkey's bureaucracy.
"We're not done yet, there is a lot we need to do but we're going toward a normalization process," Erdogan said.
Investor Interest
All members of the International Investors' Association of Turkey, a foreign direct investment monitoring group, were invited to the meeting with Erdogan in Ankara, the group's head Ahmet Erdem said by phone. Erdem, who is also head of Royal Dutch Shell Plc's Turkey unit, said another invite was sent by TOBB, the Ankara-based Union of Chambers and Commodity Exchanges of Turkey, to international companies that work with its members.
Ahead of the gathering, Turkey's development minister said that the economic impact of the foiled military putsch would be minimal. Growth of 4.5 percent in 2016 is achievable, Lufti Elvan said in an interview Tuesday, adding the government would meet its spending and investment goals. The economy grew 4.8 percent in the first quarter from a year earlier, and 4 percent in 2015.
"The cleaning up of members of the Fethullah Gulen terrorist network from the state, armed forces and police will bring dynamism and the government will speed up reforms," Elvan said. "A better investment environment will prevail."
Economic Recovery
Economic indicators point to a recovery following the coup attempt, while the central banks foreign-exchange reserves have increase above $125 billion, Erdogan said.
Economists including Atilla Yesilada at Globalsource Partners Inc. have said the crackdown on officials and companies accused of sympathizing with the coup plotters may be large enough to intensify an expected slowdown in economic growth this year, and S&P Global Ratings on Monday raised its risk assessment for Turkey to "high" from "moderately high."
While financial markets have stabilized, Turkey's benchmark Borsa Istanbul 100 Index remains more than 8 percent below its pre-coup attempt level, and the lira is about 4 percent weaker against the dollar.
Before it's here, it's on the Bloomberg Terminal.
LEARN MORE