Commerzbank Scraps Full-Year Target, Sees Decline in Profit
by and
Commerzbank shares fall 44% this year, more than banks index

Negative rates cut income at main units by 71 million euros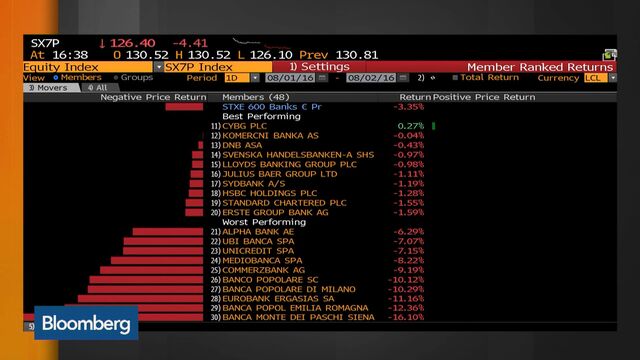 Commerzbank AG dropped the most in more than a month after Germany's second-largest lender forecast a decline in full-year profit, adding pressure on Chief Executive Officer Martin Zielke to lower costs further.
Both operating profit and net income will be lower this year, the Frankfurt-based lender said in a statement on Tuesday. In 2015, Commerzbank posted operating profit of 1.9 billion euros ($2.1 billion) and net income of 1.06 billion euros. In the second quarter, the bank reported a 32 percent drop in net income, in line with a preliminary release on July 26.
Record-low interest rates and deposit charges, designed to spur economic growth across the euro area, have eroded bank earnings as the cost of holding cash for their clients rises. With volatile markets clouding revenue prospects, Zielke, who took the helm in May after overhauling the company's consumer bank, may have to pursue more aggressive cost cuts.
"An adjustment in the company's goals is overdue," said Ingo Frommen, an analyst at Landesbank Baden-Wuerttemberg who recommends investors buy the shares. "While we won't see a whole new bank, they will probably come up with a new strategy and bringing down costs will be a big part of that."
The shares decreased as much as 8.5 percent, hitting the lowest since Bloomberg data was first compiled in 1992, and traded at 5.32 euros at 10:35 a.m. in Frankfurt, down 7.8 percent. They have slumped about 44 percent this year, while the Stoxx Europe 600 Banks Index has slipped 30 percent. German rival Deutsche Bank AG has lost about 49 percent of its market value.
Profit Goal
Commerzbank said in February that it will probably fail to reach its goals for return on equity, a measure of profitability, and costs as a share of revenue in 2016. At the time, the company forecast an increase in full-year profit. Two months later, Commerzbank said that it had become "more ambitious" to match the 2015 profit level.
The bank's two biggest units, consumer and corporate banking, saw negative interest rates cut revenue by a combined 71 million euros in the second quarter. The reluctance of customers to make investments and use banking services lowered income by 39 million euros in the period.
The corporate clients unit, called Mittelstandsbank, reported a 35 percent drop in second-quarter operating profit, while the private-customers business had a 6.5 percent gain in that period. Negative interest rates will cut lending revenue at the two units by an additional 100 million euros per year starting in 2017, according to company fillings.

"It's important to understand that there will be a continuous burden from the interest-rate environment," Chief Financial Officer Stephan Engels said on a conference call with analysts on Tuesday. "We will do our best to mitigate it as far as possible."
The Mittelstandsbank has sought to offset the deposit costs by reducing its holdings of cash for clients by 22 billion euros so far this year, introducing a deposit facility fee, raising prices and implement interest rate floors on variable loans. The consumer bank is lending more, introducing fees for paper-based transactions and charging more for credit cards and securities accounts, according to the statement.
Under previous CEO Martin Blessing, Commerzbank announced measures to eliminate about 5,200 jobs by 2016 to help lower costs and resume dividend payments. The Mittelstandsbank has been spared the brunt of the efforts, with 3 percent of positions eliminated between 2011 and 2015 compared with 22 percent in the private customers business.
'Near-Term Risks'
Commerzbank's unit for winding down unwanted assets saw its operating loss almost halve to 134 million euros in the second quarter from a year earlier. The company shrank commercial real estate loans at the unit by 63 percent to 2.8 billion euros over the period while shipping exposure fell 32 percent to 5.4 billion euros and holdings of debt issued by states and municipalities declined 13 percent to 9.1 billion euros.
"The major near-term risks are of further margin erosion, given the interest-rate environment, as well as credit cycle impacts, especially in shipping and commercial real estate," Nicholas Herman and Andrew Coombs, analysts at Citigroup Inc., wrote in a note on Tuesday. "Execution risk on non-core asset reduction also remains. These risks could cause further downside risks to the shares."
The common equity Tier 1 ratio, a measure of financial strength, slipped to 11.5 percent at the end of the second quarter from 12 percent three months previously. The cost-to-income ratio, measuring profitability, was 76.3 percent, down from 81.8 percent.
The company will give an update to investors in the second half of the year, Engels said.
"The bank expects the negative rates environment and the adverse markets to further weigh on revenues," Commerzbank said in the statement. It "intends to keep its cost base stable with exception of additional external burdens."
Before it's here, it's on the Bloomberg Terminal.
LEARN MORE