Christie's Town-Hall Revival, This Time With Trump in Background
By
N.J. governor's tax-cut show appeals to towns left 'shafted'

Odds against rejiggering school aid, but audiences want relief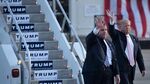 A year after Chris Christie stopped holding the New Jersey town-hall meetings that helped make him a national Republican figure, he's back on the road with a school-funding plan that's driving a rift between rich and poor districts while appealing to Donald Trump supporters.
The venues are smaller, the glitzy stage set in storage, the cable and network news camera crews gone now that the 53-year-old Republican governor no longer is a presidential contender. Still, audiences are turning out to hear him push for property-tax relief within a broader plan to channel education spending to the suburbs from the cities.
It's a steep challenge with just 17 months left to his term -- or as little as six, if Trump wins the White House and gives Christie a cabinet post. However long he has left, he's seizing on tax anger to strengthen his Republican base against Trump challenger Hillary Clinton, and rebuilding his image among New Jerseyans who turned against him as his career went national.
"He's looking at this as a possibility of being a legacy," Fair Lawn Mayor John Cosgrove, a 61-year-old Republican, said after a Christie appearance on July 28.
Trump Ties
Holly Schepisi, a Republican assemblywoman who attended, said Christie's plan would deliver tax relief and make better use of billions of dollars sent to urban school districts such as Asbury Park, Trenton and Camden, with historically poor achievement. "Unfortunately, the money is not making it into the classroom," Schepisi said in a statement.
Democrats, though, see political maneuvering, not a policy change, with Christie newly energized by his ties to Trump and eager for relevance as a Republican kingmaker heading into the 2018 U.S. Senate and congressional elections, when every seat is open.
"The playbook for Republican candidates next year is going to be to demonize public employees and demonize teachers," said former New Jersey Governor Jim Florio, a one-term Democrat who lost a bid for a second term after raising taxes. Christie's role in New Jersey, he said, is to pit "the suburban people against urban people."
'Flawed Judgment'
At the Republican National Convention in Cleveland, Trump railed against "education bureaucrats" and expressed support for school choice, which appeals to parents, though not unions, in failing districts. It was Christie's job to make the case against Clinton, saying during a 15-minute speech that "every region of the world has been infected with her flawed judgment."
Back in New Jersey, the governor has hosted two forums so far to explain how he would equalize $9 billion in annual education spending by allotting $6,559 per student. The second, in Fair Lawn, was rescheduled so Christie could campaign with Trump.
In Asbury Park, where 51 percent of residents are black and a third of the population lives in poverty, that would be a loss of $22,500 per student. Fair Lawn, 84 percent white and with median household income 40 percent higher than New Jersey's $72,062, would receive more than double its $2,900-per-pupil state aid. The average homeowner's property-tax bill would drop $2,223, according to the governor's office.
Signature Event
Christie held 137 town halls in New Jersey before announcing his bid for president in June 2015. He then held more than 70 of the unscripted, videotaped gatherings in New Hampshire in an effort to reach voters. After finishing sixth in that state's early primary, Christie dropped out of the race Feb. 10. He endorsed Trump three weeks later.
The governor has battled New Jersey's teachers' union since taking office in 2010, calling its leaders "political thugs" as he pushed to cut benefits, change tenure, link teacher pay to performance and make firings easier. His efforts to reduce funding to the poorest school districts have been rejected by the state Supreme Court.
New Jersey residents paid average property taxes of $8,353 in 2015, the highest rate in the nation. That's up 10 percent from 2010, even after Christie enacted a cap on the levy and reduced the number of exemptions. He has blamed schools, the largest recipient of property taxes, and criticized a funding formula that gives extra money to the 31 poorest districts.
Most Important
In June, Christie proposed distributing an equal amount for each student regardless of income. He's taken his pitch on the road with "Fairness Formula" forums, even as he acknowledges that his plan has no chance in the Democratic-led legislature.
"This would be the most important thing I've done," Christie told reporters in Trenton on June 21.
For his first forum, on June 28 in Wall Township, protesters outdoors displayed signs likening the plan to apartheid. Demonstrators showed up again two days later in Paterson, where the governor was meeting with parents whose children are enrolled in privately run charter schools, which Christie favors.
"The only thing that can beat Christie and his corporate cronies is a united defense: unions, teachers, parents and students," Michael Iovino, a Newark Teachers Union board member, said in a release distributed by the New Jersey Education Association.
Pitchforks Urged
In Fair Lawn on July 28, he outlined his proposal to give schools $6,599 per pupil and lashed an old foe, the New Jersey Education Association, the top spender among special interests regulated by the state Election Law Enforcement Commission. Fair Lawn residents, he said, like those all over the suburbs, were "getting shafted every year."
"Every time the teachers union is for something, put your hand on your wallet," said Christie, adding criticism of high-ranking union officials paid almost $500,000 a year and entitled to public pensions. "I don't understand why more of you aren't, like, with pitchforks in the street over this stuff."
"This is how he started out his career, attacking us," Wendell Steinhauer, the union president, said in a telephone interview. "It's clear he's not working for New Jersey. He's a lame-duck governor with no political place for him to go."
Christie encouraged residents to contact Senator Bob Gordon, a Democrat from Fair Lawn whom he called "timid and frightened" to go against the union. Gordon, in response, accused Christie of divisive rhetoric not unlike Trump and his comments about Mexican and Muslim immigrants.
"His approach is quintessentially Trump-like," said Gordon, 66. "He's pitting one community against another."
Before it's here, it's on the Bloomberg Terminal.
LEARN MORE