The U.K.'s Shift on Nuclear Is Making China Nervous
by and
Hinkley project deferred at last minute by new U.K. leader

China touted U.K. ties under former prime minister Cameron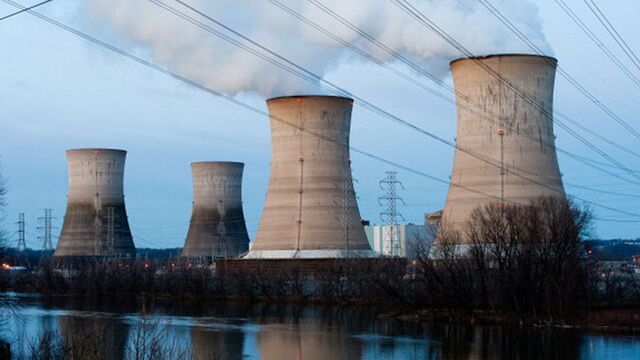 China is watching the U.K.'s decision to delay a joint nuclear power project as an early test of Prime Minister Theresa May's commitment to the "golden era" of expanded ties promised by her predecessor.
May's government postponed approval of the 18 billion pound ($24 billion) Hinkley Point plant on Friday, stunning Chinese and French backers who had hoped to sign construction contracts immediately. The government, less than three weeks on the job, cited the need for a "reliable and secure energy supply" and promised a final decision in the early autumn.
China's 6 billion pound investment in the Somerset plant was the biggest deal announced during President Xi Jinping's state visit in October, and was hailed by then-Prime Minister David Cameron as evidence of flourishing ties. Now China must assess what the delay, which follows local criticism over cost and foreign involvement, says about the direction of relations after the U.K.'s shock Brexit vote propelled May to power.
"This is an important test -- not just some ordinary test -- of the new China-U.K. relations after the U.K.'s exit from the European Union," said Ruan Zongze, vice president of the China Institute of International Studies, a research group run by China's foreign ministry. "The result of their review will show the new government's attitude about the Chinese investment: Are they still welcoming? Or not any more?"
'Mutual Benefit'
Hua Chunying, a spokeswoman for the foreign ministry, said Tuesday "the project was agreed upon by China, Britain and France in the spirit of mutual benefit and win-win cooperation" and urged the May government to reach "a decision as soon as possible to ensure the project's smooth implementation."
While China's commitments center on funding, the joint venture with Electricite de France SA provides the highest-profile validation of Chinese atomic technology and expertise. Building the most expensive nuclear plant ever could pave the way for the state-owned China General Nuclear Power Corp. designing a U.K. reactor.
For an explainer on the nuclear plant tensions, click here
"Success in the U.K. market will deliver a message to many other markets, developing or developed, that China's nuclear technology is trustworthy," said Helen Lau, an analyst at Argonaut Securities Asia Ltd. If the U.K. canceled the flagship project, it would "hurt CGN and China more on its confidence in its own nuclear power technology than real financial losses."
Vince Cable, a Liberal Democrat who served as business secretary in Cameron's cabinet, told the Sunday Telegraph that he recalled May, then home secretary, raising objections to Hinkley "on grounds of national security issues and China." May's government hasn't detailed the specific focus of its review.
M. V. Ramana, a professor at Princeton University's Nuclear Futures Laboratory, said he was "a bit mystified by the idea that China's investment in Hinkley Point would be a security threat, because CGN's primary role seems to be to just invest money."
"I can think of many reasons to stop Hinkley Point, but the Chinese role would not be high among them," he said.
'Came From Nowhere'
China's official Xinhua News Agency published a commentary on Monday saying the U.K. delay not only "draws queries from the international community about its openness towards foreign investment, but also adds uncertainties to the 'golden era' of China-U.K. ties." "What China cannot understand is the 'suspicious approach' to Chinese investment that came from nowhere in making the postponement," it said.
The Brexit vote upended Xi's diplomatic strategy for the 28-member EU, which is China's second-biggest trading partner, according to data compiled by Bloomberg. The U.K. has been one of the country's key advocates in Europe, from building trade-and-financial links to supporting initiatives such as the Asian Infrastructure Investment Bank.
The U.K. might find itself seeking Chinese support for a free trade deal, if and when it completes its exit from the E.U. The Chinese Ministry of Commerce has expressed openness to such discussions, a position the ministry reiterated at a briefing Tuesday.
Still, the Communist Party-run Global Times said on Wednesday that if the U.K. turned a "blind eye to China in this delay" it could hinder efforts toward a trade pact between the countries.
"Any free trade deal would take years to negotiate, which requires stability and sustainability in bilateral ties," the Global Times said. "There are numerous examples of FTA negotiations that have been damaged by cooling bilateral relations," it said, pointing to limited progress on a trilateral deal between Japan, China and South Korea amid territorial tensions in North Asia.
"From this case, we can have an idea about the U.K.'s approach to the outside world including China after Brexit," said Ruan, of the China Institute of International Studies. Hinkley will be a litmus test for the new U.K. government, Ruan said. "Will it still be open? Actions speak louder than words."
Before it's here, it's on the Bloomberg Terminal.
LEARN MORE