Brexit Bulletin: U.S. Banks Sound Brexit Alert
The most tortured divorce proceeding in history may spell "significant uncertainties" for banks.
By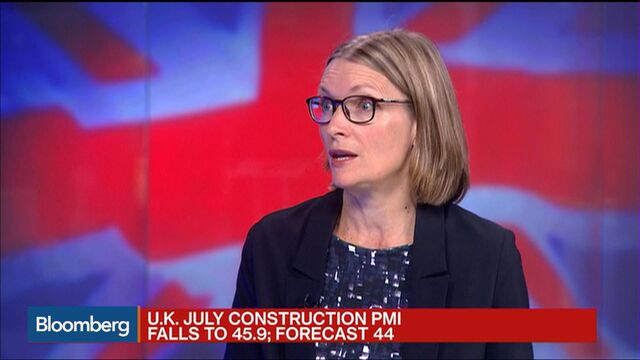 Sign up to receive the Brexit Bulletin in your inbox.
American banks lined up on Monday to issue warnings about the aftershocks of Brexit.
Citigroup, which draws more revenue from abroad than any of its domestic peers, cited "significant uncertainties" following the Brexit vote as it complained of a challenging business environment. Hours later, Bank of America told investors to brace for several years of market volatility because the vote had introduced "complexities and variables" in estimating the fair value of certain units.
Also chipping in, JPMorgan Chase Chief Executive Officer Jamie Dimon told CNBC that the breakup of the whole EU was a possible long-term risk following Brexit. 

Meanwhile, Japan's 28 trillion yen ($275 billion) new stimulus plan included 1.3 trillion yen to mitigate Brexit risks among small and medium-sized businesses.
Pension Problem
The pension plans of companies in the FTSE 350 Index were dealt a blow by the Brexit decision, according to Citigroup.

Lower corporate bond yields and weaker economic growth mean pension liabilities hit a recored high of 813 billion pounds, said analysts led by Jonathan Stubbs. 
Broken Britain
Rebuilding the broken bits of Britain's economy will be key to how well it prospers outside the European Union.
With the World Economic Forum ranking the country just 27th for quality of infrastructure, there would seem to be much to do.
By delaying a decision on the U.K.'s first nuclear plant in a generation, Prime Minister Theresa May has raised doubts over her commitment to such projects.
Other big ticket projects currently left in the air are a high-speed rail line from London to the north of England, an expansion of airport capacity and urban transit improvements, Benjamin Katz and Alex Morales report today. All told there could be 405 billion pounds worth of initiatives sitting in the pipeline. 
May is seeking to regain the initiative over what she calls a "proper industrial strategy" by holding a meeting of ministers today. She said in a statement that "to take advantage of the opportunities presented by Brexit, we need to have our whole economy firing."

Exit Strategy
The U.K.'s departure from the EU may turn out to be the most tortured divorce proceeding in history with high-level summits and hours of backroom horse-trading before the U.K. fully breaks away. 
Ian Wishart and Matthew Campbell take a look at how intense the negotiations will prove to be. Although prime ministers from Margaret Thatcher onward successfully defended opt-outs from the euro and passport-free Schengen zone, about half of British legislation with a significant economic impact derives from the EU, the House of Commons Library said in 2010.
"It's very, very complex because we have everything entangled after 43 years of British membership," said Jean-Claude Piris, a Frenchman who was the EU Council's chief lawyer when the bloc drafted Article 50, its exit clause, at the start of this century. 
Drug Dealing
Dealmaking in Britain's pharmaceutical industry may be proving immune to Brexit.
Acquisitions of and by companies in the healthcare and drug industries in the U.K. have risen 22 percent this year, as total mergers and acquisitions fell 42 percent in Britain and dropped 17 percent worldwide, according to data compiled by Bloomberg.
Behind the activity: a weaker pound making British assets more attractive and a vital need to keep pipelines supplied with new, moneymaking treatments, writes Bloomberg's Manuel Baigorri.

On the Markets
The pound rose before the Bank of England decides whether to ease monetary policy on Thursday as some investors see a risk policy makers underwhelm.  European stocks slid to a two-week low as lenders deepened their decline, investors assessed mixed earnings, and weak crude prices weighed on oil companies. Futures on the S&P 500 index and Dow Jones Industrial Average also declined.


And Finally...
There's no reason to declare last orders at the pub following Brexit, according to HSBC. Pub companies should see limited risk from the U.K.'s withdrawal because they have ample headroom within debt facilities to tolerate any short-term stocks. Exposure to currency swings is also minimal because a lot of the food is sourced on fixed contracts. The founder of chain JD Wetherspoon Plc was among the business leaders to back Brexit. 

For more on Brexit follow Bloomberg on Twitter, Facebook and Instagram, and see our full coverage at Bloomberg.com