AIG Announces $3 Billion Buyback as Asset Sales Boost Profit
by
Operating profit of 98 cents a share beats analyst estimates

Results include pretax $928 million gain on PICC P&C shares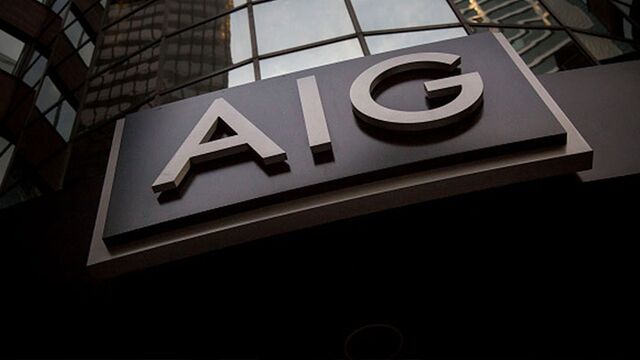 American International Group Inc. said it will buy back $3 billion of stock after second-quarter profit climbed 6.3 percent, helped by asset sales. The insurer climbed in extended trading in New York.
Net income advanced to $1.91 billion, or $1.68 a share, from $1.8 billion, or $1.32, a year earlier, New York-based AIG said Tuesday in a statement. Operating profit, which excludes some investment results, was 98 cents a share, beating by 6 cents the average estimate of 20 analysts surveyed by Bloomberg.
Chief Executive Officer Peter Hancock has been selling assets and slashing jobs to boost margins after posting losses for three straight periods through the first quarter. He announced a plan in January to return $25 billion to shareholders over two years. The next month, AIG agreed to give board representation to Carl Icahn and John Paulson, the activists who pressured Hancock to split up the company and focus on property-casualty operations. Icahn said last week that he's had friendly discussions with the CEO about speeding up asset sales.
"AIG's second-quarter results show strong improvement towards all the goals the board and I announced in January," Hancock said in the statement.
The insurer advanced 3.4 percent to $56 at 5:17 p.m. in New York. AIG, which reported results markets closed, had slipped 13 percent this year as of 4 p.m. in New York, compared with the 5.5 percent gain in the S&P 500 Index.
Share Buybacks
Book value, a measure of assets minus liabilities, climbed to $83.08 a share at the end of June, from $78.28 the prior quarter. Hancock has been reducing the share count through repurchases, as the company returned $7.9 billion of capital to investors this year through Tuesday. Second-quarter results included a pretax gain of $928 million from the sale of shares in China's PICC Property & Casualty Co.
Pretax operating income at commercial property-casualty operations, led by Rob Schimek, dropped 34 percent to $791 million. The combined ratio worsened to 102.1 from 98.8, meaning the business had an underwriting loss of 2.1 cents for every premium dollar after paying claims and expenses. Adjusted for catastrophes and reserve charges, that measure improved.
Catastrophe Costs
Results were hurt by a $100 million cost because of the potential for higher-than-expected liabilities on workers' compensation policies in Florida after unfavorable court rulings. Costs tied to catastrophes climbed 69 percent to $353 million. The industry was stung in the quarter by wildfires in Canada, storms in the U.S. and earthquakes abroad.
Policy sales slipped 21 percent to $4.42 billion as Schimek narrowed the company's focus. He has reduced some risks through reinsurance and opted not to renew policies in lines of business where returns were too low.
Profit at the institutional markets segment slipped 27 percent to $110 million. The mortgage insurance operation, primarily comprised of United Guaranty Corp., contributed $187 million, up 19 percent as underwriting improved. Hancock decided this year to partially spin off UGC, and the unit has filed for an initial public offering.
Operating profit at the retirement business led by Consumer Insurance CEO Kevin Hogan, slipped 7.8 percent to $741 million as investment income declined. Life insurance rose 23 percent to $184 million. Personal insurance more than doubled to $179 million as underwriting improved, AIG said.
Investment Income
AIG's operating return on equity dropped to 6.7 percent from 9.3 percent. Normalized for one-time items such as the worker's compensation charge and volatility in returns from investments such as hedge funds, the figure climbed to 8.8 percent from 6.7 percent. Hancock cut general operating expenses 16 percent to $2.59 billion.
Net investment income declined 3.7 percent to $3.68 billion. Returns from private equity investments fell 66 percent to $100 million. Hedge fund contributions declined 36 percent to $174 million as Chief Investment Officer Doug Dachille slashes about half of the holdings and shifts funds to commercial mortgages and bonds.
Net unrealized gains from bonds available for sale widened to $17.6 billion from $12.1 billion three months earlier, according to the firm's quarterly report, fueled by advances in corporate debt. The market fluctuations aren't counted toward earnings, but monitored by investors to gauge financial strength.
Before it's here, it's on the Bloomberg Terminal.
LEARN MORE