Yuan Spurs China Airlines to Cut Losses With Sale of Local Bonds
By and
Carriers trim dollar debt as weakening yuan weighs on earnings

First seven months yuan bond sales at fastest pace since 2009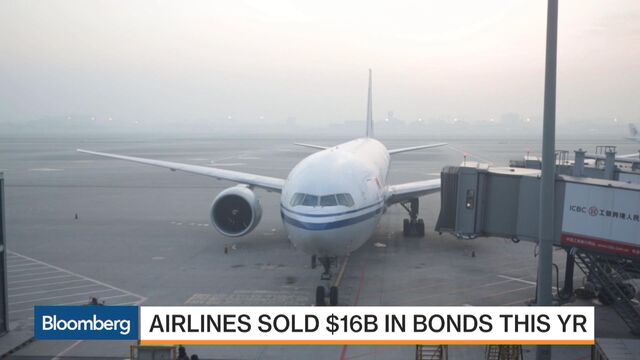 China's airlines, rushing to pare dollar debt as a weakening yuan adds to servicing costs, are selling local-currency bonds at the fastest pace since 2009 to trim their exposure to the greenback.
The nation's carriers, led by China Eastern Airlines Corp., have sold a combined 106.3 billion yuan ($16 billion) of bonds in the first seven months of this year, a fivefold increase from the same period last year, according to data compiled by Bloomberg. An unexpected devaluation of the yuan last year led to an 18-fold surge in foreign-exchange losses to about $2.5 billion for the top three operators, as dollar debt accounted for as much as 80 percent of their total, the data show.
Cutting exposure to dollar debt particularly benefits import-heavy industries like airlines, which borrow in the U.S. currency to pay for aircraft, said Richard Zhang, an analyst at First Shanghai Securities Ltd. While the Chinese currency's depreciation means carriers will have to raise more yuan to pay off the same amount in dollars, the extra cost incurred will still be less than the loss to be booked if they maintain foreign debt, according to UOB Kay Hian Holdings Ltd.
"They are rapidly deleveraging the U.S.-dollar debt exposure," said K. Ajith, an analyst at UOB Kay Hian Holdings in Singapore. "More bond sales are expected this year as the market expects yuan depreciation this year and next."
Asia's Worst
Every 5 percent movement of the dollar translates to a loss or gain of about 3.4 billion yuan for China Eastern, and 2.8 billion yuan each for Air China Ltd. and China Southern Airlines Co., Ajith said.
The yuan, Asia's worst-performing currency this year after declining more than 2 percent against the dollar, currently trades at about 6.64 to the U.S. currency and is predicted to weaken to 6.82 by the end of next year, according to the median of forecasts compiled by Bloomberg. In January, the People's Bank of China set the yuan reference rate at an unexpectedly weak level following a surprise devaluation in August last year.
Air China said in March that it plans to cut dollar debt to 60 percent of its total by the end of this year, from 73.5 percent at the end of 2015. The company previously announced plans to raise 12 billion yuan in bond sales with maturity of as long as five years.
Other Carriers
China Southern, Asia's largest carrier by passengers, had 62 percent of its borrowings in dollars in the same period and China Eastern 73 percent. China Southern Company Secretary Xie Bing couldn't be reached for comments.
China Eastern, in an e-mailed response, referred queries on its debt and yuan-bond plans to the company's 2015 results presentation. Dollar debt accounted for 50 percent of the company's total at the end of March 2016, and China Eastern has a target ratio of 50 percent each for foreign- and local-currency debt, according to the presentation.
"Forex loss is essentially translation loss" in accounting for earnings, said Geoffrey Cheng, an analyst at Bocom International Holdings Co. in Hong Kong. "In order to reduce the U.S.-dollar exposure, it makes sense to reduce the U.S.-dollar debts by means of having these RMB bonds," he said, referring to the yuan, also known as renminbi.
Aircraft Orders
Airlines in the world's second-biggest economy will require about 6,330 new planes worth $950 billion in the next two decades, or about 17 percent of the global total, according to Boeing Co.
Chinese carriers and leasing firms announced orders for about 780 planes with a combined list price of $102 billion last year, based on figures tabulated from company announcements.
With the aviation industry's spending mostly priced in dollars, airlines will keep a "certain amount" of dollar debt, said Kelvin Lau, a Hong Kong-based analyst at Daiwa Capital Markets. But given the yuan's depreciation, "it is still suitable for them to translate as much as possible from USD to RMB or else they will have to mark even higher losses," he said.
Air China had 76.5 billion yuan in dollar debt at the end of last year, China Southern 62.6 billion yuan and China Eastern 87 billion yuan, according to their 2015 annual reports.
The yuan tumbled 4.5 percent last year, the most since 1994. That triggered volatility in currency markets and swelled financing costs for Chinese companies, the biggest dollar borrowers in Asia.
"Ever since last year when the yuan depreciated sharply, many Chinese companies repaid their foreign-currency loans with yuan loans and it's still going on," said Francis Lun, chief executive officer at Geo Securities Ltd. in Hong Kong. "Chinese companies across the board want to reduce their losses from the currency movement."