Worse Fighting Could Halt South Sudan Oil Output, Monitor Says
by
African nation's crude production already reduced by civil war

Group observing peace deal sees possibility of larger battles
Clashes between South Sudanese forces that re-erupted last month could escalate into larger battles and completely cut the African nation's already diminished oil output, the group monitoring a peace deal said.
South Sudan, which has sub-Saharan Africa's third-biggest crude reserves, says it's producing as little as 120,000 barrels a day because of a civil war that erupted in December 2013. A transitional government formed by President Salva Kiir and former rebel leader Riek Machar in April was thrown into turmoil by renewed fighting in the capital between forces loyal to the two men. About five days of violence in early July claimed at least 270 lives and sent Machar into hiding.
There's a "likelihood of larger battles increasing every day," Festus Mogae, the chairman of the Joint Monitoring and Evaluation Commission, which observes the enactment of a pact signed last August, said Monday in an e-mailed statement. "Further deterioration of the security environment could lead to the cessation of oil production, which would eliminate the one viable source of income to the government."
The armed opposition has split after Machar's delegation in the capital, Juba, announced a new leader to replace him as vice president, citing a lack of contact. Speaking from hiding to Al Jazeera, Machar has described the move as illegal and called on regional leaders to send troops to boost the United Nations mission in the country.
While the extent of the opposition's split is unknown, "it still retains the ability to conduct operations, and could threaten the relative calm of Juba, or revert to guerrilla warfare destabilizing different parts of the country," Mogae said. The commission's partners "endorse the deployment of an international protection force, to guarantee the protection of civilians, the return of Dr. Machar to Juba and the resumption of implementation of the peace agreement," he said.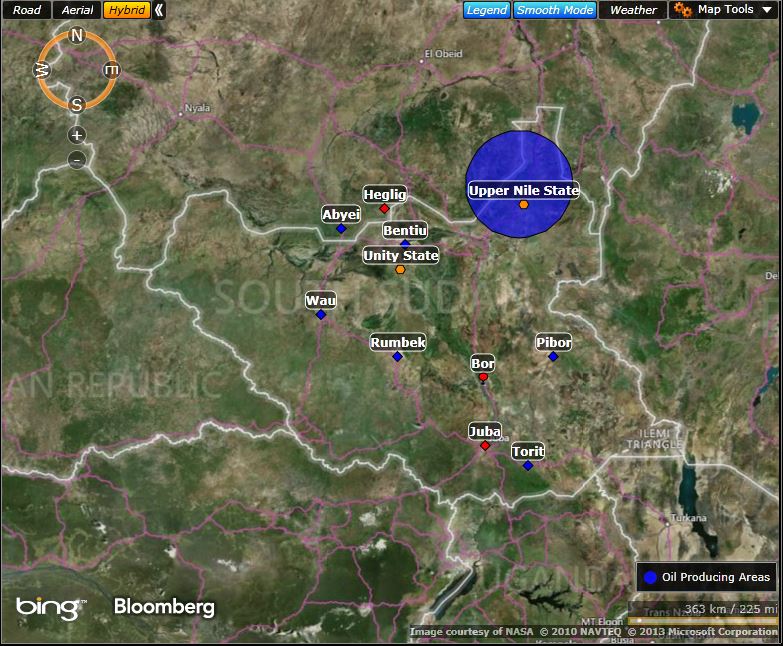 Before it's here, it's on the Bloomberg Terminal.
LEARN MORE