Up to 2 Dozen Parties Eyeing Gawker, Houlihan's Patricof Says
by
Denton's future role in the company will depend on buyer

The antiquated auction process is not unlike 'horse trading'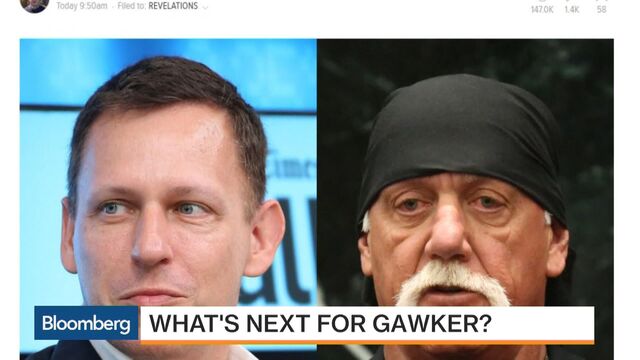 There are "between a dozen and two dozen" parties interested in bankrupt digital media company Gawker Media, according to Mark Patricof, managing director and co-head of the technology, media and telecommunications group at Houlihan Lokey Inc.
In June, Gawker Media filed for Chapter 11 bankruptcy after losing an invasion-of-privacy lawsuit to Hulk Hogan. The New York-based company said in a filing that month it picked Ziff Davis as the stalking horse bidder to buy its assets, with an opening offer of $90 million.
Final bids for Gawker are due on Aug. 15, and of those two dozen potential suitors, somewhere between "not many" and 20 could show up to make final offers, Patricof said Monday on Bloomberg TV's Deals Report segment. The auction will take place on Aug. 16.
Gawker is "a quality, profitable company, which there aren't many on the internet now," he said. The company is "being recognized for that, appropriately so."
As a banker for Houlihan Lokey, which is both managing Gawker's bankruptcy process and identifying the right buyer set for the company, Patricof wasn't in a position to disclose the names of the companies -- other than Ziff Davis -- that are interested.
Deadspin, Jezebel
He did say Gawker, whose properties include sports website Deadspin, feminist and cultural site Jezebel and technology and design site Gizmodo, is attracting "a very broad set of buyers."
"If you're looking to build your company and add scale -- and scale matters more than ever in the internet business today -- there aren't many things you can buy that are profitable and have scale, and Gawker has both," Patricof said.
Univision Holdings Inc. and Penske Media Corp. are among the interested potential buyers, a person with knowledge of the matter said in June.
The future of Gawker's founder also is uncertain. Nick Denton sought bankruptcy protection Monday in New York after a Florida judge refused to halt enforcement of $140 million in damages from the Hogan trial.
Still, Patricof forecasts that certain buyers will view Denton as an asset moving forward.
"His understanding of how to communicate information to people in an effective way is really important," Patricof said. "Some of the buyers will think of him as a critical component, and some won't, and that will determine whether or not he stays."
The extent to which the Gawker brand and its founder are preserved and protected will be determined after the auction process, which Patricof likened to "horse trading."
According to Patricof, the auction will begin at 12 p.m. in the conference room of the seller's attorney, and could last into the following morning. The process will consist of bidders going around the room and submitting any offers $1 million over the initial $90 million bid.
Parties will have the opportunity to raise their offers until Gawker decides to accept, at which point, the company will emerge with both a locked-in buyer and a back-up offer in case the deal doesn't close within 20 days.
"It has been a long, interesting process," Patricof said.
Before it's here, it's on the Bloomberg Terminal.
LEARN MORE