Uber's China Deal Moves Ride-Hail Giant a Step Closer to IPO
By
Didi agreed to buy Uber China, ending battle between startups

Company was spending $1 billion a year to fight rival in China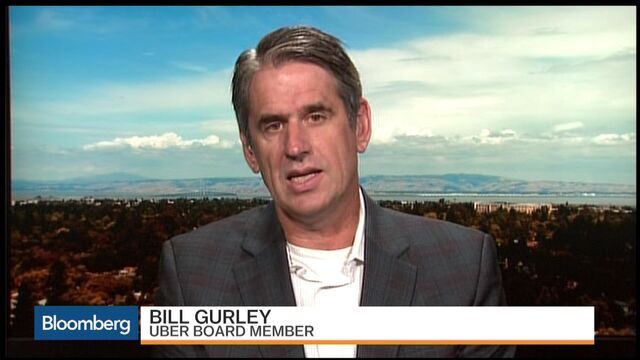 Uber Technologies Inc. just took a big step toward being ready for an initial public offering: bailing out of its China business by selling the unit to ride-hailing competitor Didi Chuxing.
While Uber Chief Executive Officer Travis Kalanick has said he plans to wait as long as possible before going public, throttling losses in China was one of the main things holding up a potential IPO, people familiar with the matter said last month. Uber had been spending at least $1 billion a year to fight market-leader Didi in the Beijing-based company's home market, and has already lost $2 billion in China, separate people familiar with the details have said.
The transaction, which will leave Uber and its backers with about a 20 percent economic stake in the enlarged local player, removes one roadblock on Uber's path to profitability. In developed markets, Uber was profitable in the first half of this year, according to people familiar with the matter.
"Uber and Didi Chuxing are investing billions of dollars in China, and both companies have yet to turn a profit there," Kalanick wrote in a blog post about the deal Monday, obtained by Bloomberg before publication. The transaction is still subject to regulatory approval.
Public Markets
Pursuing an IPO would expose Uber --which has so far boosted its value in private financing rounds -- to more valuation-sensitive public markets. Uber was last valued at almost $68 billion, ranking it among the largest 15 percent of companies in the S&P 500 Index if it were to go public at that valuation.
Amid recent market volatility, wary public investors have shown more confidence in IPO-bound companies that show profitability, or at least a path to it, according to people familiar with the deal processes. That's forced a number of venture capital-backed technology startups to delay listing until financials improve, the people said, slowing down 2016's IPO market.
Just four such companies have gone public this year, raising a combined $441 million, according to data compiled by Bloomberg. Through the end of July 2015, 11 companies raised a total of $1.8 billion.
As for Uber, the deal is likely to please some private investors, who had been pushing the company to wrap up its costly fight in China, people familiar with the matter said last month.
"I'm really hopeful that with this Chinese opportunity cemented through the partnership, we now have the ability to work even harder at investing in making our product better for the consumers and drivers everywhere else on the planet," Bill Gurley, a partner at venture capital firm Benchmark and an Uber board member, said in an interview with Bloomberg TV on Monday.
Rett Wallace, chief executive officer at Triton Research Inc., which analyzes Silicon Valley companies preparing an IPO, said the deal with Didi provides closure to a costly and uncertain battle in China.
"Resolution of the land war in Asia will be a big comfort to all investors, existing and prospective," Wallace said. "Eliminating the losses is great for the profit and loss statement, but more importantly, there is now certainty about the end of what was shaping up to be an endless and escalating capital need."
Watch Next: Uber Board Member Bill Gurley on Uber, Didi Deal