S&P 500 Slips as Energy Selloff Weighs on Growth, Profit Outlook
by and
Data this week include gauges on manufacturing, jobs

West Texas Intermediate crude futures dip below $40 a barrel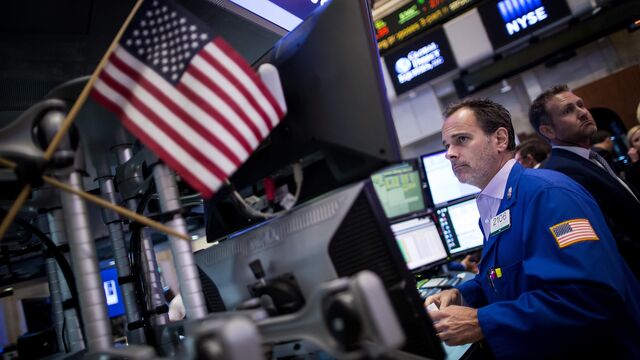 The S&P 500 Index retreated after briefly approaching a fresh record, as falling crude prices sparked a sharp selloff in energy shares, denting confidence that U.S. growth and corporate profits will rebound.
An advance spurred by gains in health-care and technology companies was erased in early afternoon trading as crude dipped below $40 a barrel, dragging oil and gas producers to their worst decline in five weeks. Exxon Mobil Corp. and Chevron Corp. dropped at least 3.2 percent. Biogen Inc. led the health-care group higher after positive trial results for a drug the company is developing with Ionis Pharmaceuticals Inc.
The S&P 500 slipped 0.1 percent to 2,170.84 at 4 p.m. in New York, on the heels of its longest monthly winning streak since 2014. The Dow Jones Industrial Average lost 27.73 points, or 0.2 percent, to 18,404.51. The Nasdaq Composite Index added 0.4 percent to its highest in a year, and the Nasdaq 100 Index extended an all-time high. About 6.6 billion shares traded hands on U.S. exchanges, 7 percent below the three-month average.  
"Today's fluctuation is completely driven by energy, and more specifically the downward spiral of oil," said Michael Antonelli, an institutional equity sales trader and managing director at Robert W. Baird & Co. in Milwaukee. "The Fed isn't really doing much and earnings haven't really offered anything too memorable. We've seen the market go sideways the last week and I think that's actually good. The longer we stay this high the more rock-solid the market will be, especially with the Fed continuing to give mixed messages."
Along with Biogen, gains of at least 1.1 percent in Apple Inc., Amazon.com Inc. and Alphabet Inc. bolstered the Nasdaq, with the index rising within 1 percent of a record. Google parent Alphabet rose 1.2 percent to a record after its life-sciences business formed a joint venture with GlaxoSmithKline Plc to explore using electrical signals to treat diseases.
Monday's equity market swings came after a week in which the S&P 500 showed signs that a rally since late June may be losing momentum. Stocks slipped in the final week of July and at one point alternated in the longest stretch of up and down days without a move of more than 0.5 percent ever recorded.
At 18.4 times forecast profit, the benchmark gauge is trading at its highest multiple in more than a decade, after rising nearly 9 percent in the five weeks since the U.K.'s vote to leave the European Union. Better-than-forecast earnings and economic data helped backbone the S&P 500's run to its first all-time high in more than 13 months.
A report Friday showed the U.S. economy stumbled in the first six months of 2016 as companies retrenched, and traders have cut the chances of a Federal Reserve rate increase in September to 18 percent from 26 percent a week ago. The first month with at least even odds for a boost has been pushed back to September 2017 from March.
Still, Dallas Fed President Robert Kaplan said a rate move higher at the next policy meeting in September is still possible, while the New York Fed's William Dudley indicated investors are underestimating how many times the central bank will raise rates this year and next. The Fed last week held borrowing costs unchanged as forecast but reiterated its intention to raise them gradually.

Investors will continue to asses the strength of the U.S. economy with reports this week offering measures on consumer spending, services industry growth, factory orders and the government's monthly payrolls report set for Friday. Data today showed manufacturing expanded in July, though at a slower pace, while a separate reading showed an unexpected drop in June construction spending.
Earnings also remain in focus. S&P 500 companies posting results this week include Pfizer Inc., Procter & Gamble Co., Time Warner Inc. and Priceline Group Inc. About 58 percent of index members that have reported so far beat sales projections, while 81 percent topped profit estimates. Analysts estimate profit at S&P 500 companies fell 3.2 percent in the second quarter.
"The market's in that uncertain zone as we try to see what earnings do for us," said Bruce McCain, who helps oversee $35 billion as chief investment strategist at Key Private Bank in Cleveland. "The GDP report reminds people that things are not better yet. The question is whether or not they're willing to keep prices moving higher on the expectation that things will get better or whether they're going to insist on seeing better news as we move through this."
VIX Rises
In Monday's trading, the CBOE Volatility Index rose 4.8 percent to 12.44, climbing for the first time in four days after its biggest monthly decline since March. The measure of market turbulence known as the VIX lost 24 percent in July after a 10 percent increase the month before.
Six of the S&P 500's 10 main industries fell today, with energy shares tumbling 3.3 percent to the lowest since June 27. Raw-materials and phone companies fell more than 0.6 percent. Health-care gained 0.6 percent while the tech group increased 0.4 percent and consumer stocks edged higher.
Energy producers sank as West Texas Intermediate crude futures settled near $40 a barrel. Diamond Offshore Drilling Inc. retreated 7.7 percent to a nearly four-month low after the company's chief executive said he sees further declines in industry utilization. Exxon Mobil Corp. extended its slide to a sixth day, the longest in 11 months, losing 3.5 percent. ConocoPhillips and Schlumberger Ltd. dropped more than 2.5 percent.
Health-Care Climbs
Health-care shares in the benchmark climbed to the highest level in almost a year, led by Biogen's 4.1 percent surge. Pfizer Inc. rose 1.1 percent to the highest since 2004 after the company acquired gene therapy firm Bamboo Therapeutics Inc. for $150 million. Alexion Pharmaceuticals Inc. and Celgene Corp. gained more than 2.2 percent, while the Nasdaq Biotechnology Index added 1.7 percent to an almost seven-month high.
Among other shares moving on corporate news, SolarCity Corp. slid 7.4 percent after Tesla Motors Inc. reached an agreement to buy the company for $2.6 billion, about $300 million less than an initial proposal. Tesla lost 2 percent.
Vulcan Materials Co. fell 6.2 percent, the most in three years, after second-quarter profit missed analyst estimates as poor weather slowed construction activity.
Fleetmatics Group Plc soared 39 percent after Verizon Communications Inc. agreed to buy the GPS vehicle-tracking company in an all-cash deal valued at $2.4 billion. Verizon fell 1.6 percent to a five-week low.
Before it's here, it's on the Bloomberg Terminal.
LEARN MORE