U.S. ELECTION WRAP: Bill Clinton's Prospective Role Spurs Debate
By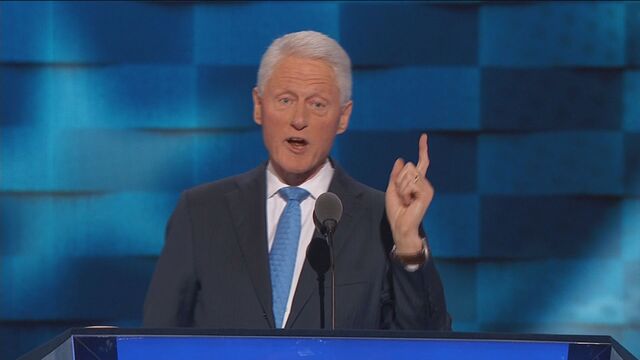 Bill Clinton, known for his politicking skills, was kept mostly under wraps by his wife's campaign until his speech last week at the Democratic national convention. He then reverted to a low-key presence as he accompanied Hillary Clinton and Tim Kaine on their post-convention bus trip, a possible indication of what his role as first spouse would be.
The ex-president is "very much of the mind" that this is his wife's "opportunity to be out there and make her argument," campaign chairman John Podesta told the LA Times
That may be the current strategy, but what would happen in a Hillary Clinton administration? The possible first gentleman wouldn't be invited to regular meetings, the New York Times reported, and he may not even have an office in the West Wing
In May, the nominee said her husband would be "in charge of economic revitalization"
She didn't offer specifics though, and that prospect wasn't highlighted at the convention
"He'll do anything she wants and nothing more," Erskine Bowles, White House chief of staff from 1997-1998, told the NYT
He added the caveat: "That will be hard for him at times"
Clinton-followers have different takes on the matter in a NYT "Room for Debate"
Bill Clinton "would be a counselor-nonpareil to a President Hillary Clinton," journalist and Hillary Clinton biographer Carl Bernstein wrote in an op-ed
Letty Cottin Pogrebin, former president of Americans for Peace Now, suggested Bill Clinton be an envoy for the Middle East, terming him "the perfect person to create bridging proposals" given his role in the 1993 Oslo process
Robert Reich, who served as Clinton's labor secretary, wrote that his former boss should take on an issue "that cuts across different agencies" and "is not well understood," such as the broad intersection of "global economics, immigration and climate change"
Click here to get the U.S. Election Wrap by e-mail every afternoon
Despite this, Emory University Prof. Andra Gillespie wrote the first spouse -- even one who was once commander-in-chief -- should maintain a traditional role to make clear "which President Clinton is actually in charge" and avoid "a double standard" for female presidents and their spouses
Writer Jennifer Gilmore argued the first gentleman could change "the way we relegate some of our most talented people to the position of White House interior decorator"
Donald Trump's wife Melania, on the other hand, hasn't inspired the same level of debate over what her role would be
"She'd be a classic first lady," stylist Phillip Bloch told GQ, suggesting she follow Jackie Kennedy's example
A Fortune magazine writer argued Melania Trump would take on "an ultra-traditional" role

KHAN CONTROVERSY
Speaking on CNN today, Khizr Khan, father of late Army Capt. Humayun Khan, didn't back down from his critique of Trump, whom he denounced in a speech at the Democratic convention last week
As Khan also said he was "heartened by" Mike Pence's statement supporting his family, Trump tweeted mid-interview, "Mr. Khan, who does not know me, viciously attacked me from the stage of the DNC and is now all over T.V. doing the same - Nice!"
The flap has evolved into a multi-day news story after Trump, in an interview with ABC News, insinuated Ghazala Khan, the soldier's mother who stood next to her husband on the convention podium, didn't speak because of her Muslim religion
In response, the bereaved mother wrote an op-ed for the Washington Post explaining her pain at speaking about her son
Her husband today in his CNN comments urged Trump to "join hands with good Muslims"
The Veterans of Foreign Wars, whose members Trump sought to woo at its convention last week, said "the VFW will not tolerate anyone berating a Gold Star family member"
Amid their back-and-forth, Republican leaders have reached out to Khan, he told NBC -- and many have made public statements
House Speaker Paul Ryan said Capt. Khan's "sacrifice --and that of Khizr and Ghazala Khan -- should always be honored. Period"
Ariz. Sen. John McCain, a former prisoner of war whom Trump once scoffed at for being captured, thanked the Khans for immigrating to America and said Trump's remarks "do not represent" the Republican party
McCain's opponent in Ariz.s's Aug. 30 GOP primary, Kelli Ward, blasted him for his statement, saying the Khans' anger "should be directed against those who sent their son into an unnecessary war, like Hillary Clinton and John McCain whose reckless policies and fuzzy Utopian ideals have destabilized the Middle East and triggered a massive refugee crisis, which they want to import into the U.S. to fatten up the welfare rolls"
Once the controversy plays itself out, Trump's comments may not significantly alter the campaign, Bloomberg's Margaret Talev, Kevin Cirilli and Jennifer Jacobs reported
Voters in the Rust Belt voters -- perhaps the election's key battleground -- care more about the economy and jobs, both the Clinton and Trump campaigns said

ON THE TRAIL
Warren Buffett will introduce Clinton at a campaign event today in Omaha, NE
The billionaire investor, who endorsed Clinton in Dec., is expected to focus on the economy in his remarks

FUNDRAISING
Guy Cecil, co-chair and chief strategist of the pro-Clinton super-PAC Priorities USA, has raised over $100m as of June 30, Bloomberg's Sasha Issenberg reported
In total, Clinton and allies have raised $375m to Trump's $99m; Cecil will have the most discretion and amount of money to spend on Clinton's behalf
Cecil has raised three times as much money as Priorities USA did in 2012
President Obama is holding his first Hillary Victory Fund fundraiser for Clinton today in Atlanta, with about 30 attendees

SWING STATES
Republicans are confident about Trump's chances of winning Ohio's 18 electoral votes, Politico reports
Despite organizing late and the refusal of GOP Gov. John Kasich to endorse him, Trump is doing well in Democratic areas, Ohio Republican operative Bob Clegg said
Republicans predict Mahoning County, which went for Obama with 63% of the vote in 2012, will flip for Trump this year after some of state's factories closed
Clinton's Ohio strategy is to out-organize Trump, especially with the help of her party's state establishment
The campaign plans to rely on Clinton's strength in cities and among minority and women voters in suburbs
In Pa., the Clinton and Trump campaigns are concentrating on different sides of the sprawling state, Politico reports
Clinton is focused on maximizing Democratic turnout in Philadelphia and winning moderate Republicans in surrounding suburbs, while Trump looks to build support in southwestern coal communities and towns around Pittsburgh
The state, which hasn't voted for a Republican presidential candidate since 1988, is widely seen as essential to Trump's path to the required 270 electoral votes

POLLS/PREDICTIONS
Clinton got a bounce in support following the Democratic convention in a CBS News Poll
She leads Trump 46% to 39%; following the GOP convention, the bounce for Trump showed him tied with Clinton, 42%-42%
Poll has an error margin of +/-3 ppts
The Democratic convention got better reviews overall than the Republican convention, according to Gallup
After the gatherings, 44% of Americans view the Democratic Party more favorably, while 35% view the Republican Party more favorably
45% of Americans are more rather than less likely to vote for Clinton, versus 36% for Trump
Clinton's speech had a rating of 44% for excellent/good, compared with Trump's 35%
Poll has an error margin of +/-4 ppts

ETC
Wikileaks' Julian Assange told CNN today he plans to release material concerning Clinton "in different batches"
Assange wouldn't answer whether Russia was involved in the hack of the Democratic National Cmte
Trump clarified his comments on Vladimir Putin today in a tweet, saying the Russian president will not go into Ukraine "if I am president," adding that he knows Putin already has a presence in Crimea
In the Hamptons, the policies that matter to wealthy summer visitors and working permanent residents differ, Bloomberg's Henry Goldman and Amanda Gordon reported
Income inequality and economic opportunity are central issues for Wall Street and Hollywood Hamptons-goers, while over-regulation matters to residents, who also worry about the country's direction
The typical August lull affecting presidential races may not hit this one, Bloomberg's John McCormick reported
"Now that politics is a reality show, there's no incentive to stop the show," GOP strategist Mike Murphy said
The main upcoming competitor for public attention will be Olympic Games in Rio, starting Aug. 5
CNN will host second town hall this week with Libertarian candidate Gary Johnson and his running mate, Bill Weld
Nina Turner, former Ohio state senator, is weighing offer from Green Party candidate Jill Stein to become her running mate, Cleveland Plain Dealer reports
Jeb Bush adviser Sally Bradshaw is leaving GOP due to Trump's nomination; will vote for Clinton if election is close in Fla., according to CNN

CONGRESSIONAL RACES
SENATE: Billionaire donor Charles Koch told GOP donors Sunday he and his brother, David, won't be focused on any presidential campaign efforts, instead putting their resources into 6 competitive Senate races -- Nev., Ind., Wis., Pa., Ohio and Fla., Bloomberg's Jennifer Jacobs reports
Koch's super-PAC, Freedom Partners Action Fund, has already spent $14.4m in 5 states, almost all of it attacking Democratic candidates
Koch network's budget for politicking in 2016 cycle is about $250m
FL-SEN: GOP is attacking Democratic Rep. Patrick Murphy, especially over allegedly embellishing his resume, while Vice President Joe Biden plans his 3rd trip to Florida to campaign for him
PAC associated with Senate Minority Leader Harry Reid plans to spend $1m in ads supporting Murphy, AP reports.
Murphy facing Rep. Alan Grayson in Aug. 30 primary
IL-SEN: Democratic Rep. Tammy Duckworth has new TV ad saying GOP Sen. Mark Kirk "is attacking Tammy with false ads about her service"
Race rated "toss-up" by Cook Political Report
IN-SEN: Former Democratic Sen. Evan Bayh has new TV ad saying, "don't fall for phony ads attacking" him and calling his opponent Republican Rep. Todd Young "a windfall for Wall Street, hurting Indiana"
NV-SEN: Democrat Catherine Cortez Masto has 2 new Spanish-language ads, both linking her opponent, Republican Rep. Joe Heck, to Trump. One starts with clip of Trump saying "they're bringing crime, they're rapists," referring to undocumented immigrants
FL-09: Democrat Dena Grayson, a physician, has new TV ad that shows woman saying "I trust Dr. Grayson with my life"
Ad shows Grayson standing beside her husband, Rep. Alan Grayson, whom she is running to replace as he campaigns for Senate
FL-19: Republican Francis Rooney has TV ad that says Islamic State trying to use Syrian refugees to "infiltrate America," yet President Obama "still wants to let unvetted Syrians in"
Rooney, U.S. ambassador to the Vatican under President George W. Bush, competing with Chauncey Goss and Dan Bongino in Aug. 30 primary for strongly Republican southwestern district of retiring GOP Rep. Curt Clawson
FL-23: Democrat Tim Canova benefiting from release of hacked DNC e-mails, raising "hundreds of thousands" of dollars following resignation of his primary opponent, Rep. Debbie Wasserman Schultz, as DNC chairwoman, Politico reports
Wasserman Schultz's supporters argue her high-profile departure from DNC won't affect race, report says
KS-01: GOP battle between Rep. Tim Huelskamp and physician Roger Marshall will be decided in tomorrow's primary
Huelskamp antagonized agricultural interests with his vote against 2014 reauthorization of farm programs
No Democrat running in district, so winner of primary will likely represent district in next Congress
Earlier: Kansas Lawmaker Who Opposed Farm Bill Faces Blowback
MN-08: Democratic Rep. Rick Nolan is "weak and dangerous," according to new ad from Republican Stewart Mills that focuses on terrorism, Iran nuclear deal
Mills seeking rematch with Nolan
TN-08: Republican David Kustoff has new TV ad featuring former Ark. Gov. Mike Huckabee saying, "Don't believe what they're saying about my friend, David Kustoff," he'll "fight to keep west Tenn. safe, secure and prosperous"
Kustoff, former federal prosecutor, among 13 Republicans in Aug. 4 primary seeking nomination in strongly Republican western district of retiring GOP Rep. Steve Fincher
Before it's here, it's on the Bloomberg Terminal.
LEARN MORE