business
U.K.'s May Won't Intervene Over Cameron Resignation Honors
By and
Prime minister's spokeswoman says move would set bad precedent

Cameron attacked after list of resignation honors leaked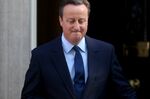 U.K. Prime Minister Theresa May refused to intervene over David Cameron's nominations for official honors as her predecessor faced criticism for reportedly including personal staff and political donors.
"It's standard for an outgoing prime minister to submit a list of resignation honors," May's spokeswoman, Helen Bower, told reporters in London on Monday. "There is now a process to follow up on it, and it is the prime minister's view that it would set a bad precedent for a prime minister to interfere with that process."
According to a report in the Sunday Times newspaper, Cameron's nominations included ministers who campaigned to stay in the European Union, such as Chancellor of the Exchequer Philip Hammond and his predecessor, George Osborne, as well as 20 advisers from his government. Also named were two of Cameron's drivers and his wife Samantha's personal stylist, leading an unnamed senior Tory lawmaker to accuse the former prime minister of "devaluing the system" in the Daily Telegraph newspaper.
Labour Plea
"If the prime minister were serious about delivering for the many not the few, she would immediately move to veto David Cameron's old boys' honors list," Tom Watson, deputy leader of the opposition Labour Party, said in a statement. "She has that in her power but instead she's waving through a list which rewards Tory donors, political advisers and ministers."
Neither Labour's Gordon Brown nor Tony Blair, Cameron's immediate predecessors as prime minister, issued resignation honors lists.
Ian Taylor, a businessman who contributed at least 350,000 pounds ($460,000) to the "Remain" campaign, was proposed for a knighthood and Will Straw, the campaign's executive director, was nominated for the title of Commander of the Order of the British Empire, according to the Sunday Times.
(
Updates with comment from Labour Party in fourth paragraph.
)
Before it's here, it's on the Bloomberg Terminal.
LEARN MORE