Southwest Pilots Seek CEO's Ouster, Citing 'Misguided Focus'
by
Union also calls for replacement of chief operating officer

Pilots refer to repeated, widespread computer-system outages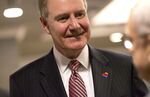 Southwest Airlines Co. pilots called for the replacement of Chief Executive Officer Gary Kelly, saying a nationwide computer outage that grounded the carrier last month capped a list of problems caused by a "misguided focus" on cost control and stock performance.
 
"We can no longer sit idly by and watch poor decision after poor decision deeply affect our customers and Southwest Airlines," Jon Weaks, president of the Southwest Airlines Pilots' Association, said in a statement Monday. The union, representing about 8,000 pilots, also called for the ouster of Chief Operating Officer Mike Van de Ven.
The union's comments are an effort to pressure the airline into meeting pilots' demands during contract talks, Randy Babbitt, Southwest's senior vice president for labor relations, said by e-mail. Talks between the two have been underway for about four years.
"SWAPA leaders should understand that we want to work with them, not against them," Babbitt said. "As soon as they take a similar approach, we'll be closer to finalizing a contract for our pilots that rewards them for their service and professionalism."
Leaders of the Aircraft Mechanics Fraternal Association, which represents about 2,400 Southwest mechanics and related workers, joined in the no-confidence resolution, Louie Key, the union's national president, said in an interview.
Kelly, 61, became chief executive officer at Southwest in 2004 and added the chairman's title in 2008. He's been with the airline for 30 years. Van de Ven, 54, has led operations since 2006.
Senior executives have used record revenue to buy back "excessive shares of stock" rather than invest in the airline and its employees, according to a resolution by the union's board. The union, which is in contract talks with the Dallas-based carrier, cited technical breakdowns during the busy summer and holiday travel seasons over the past several years, including a computer-system outage last month.
Stock Buybacks
The airline spent $700 million to buy back stock in the second quarter to complete a $1.5 billion repurchase program and its board in May authorized another $2 billion plan. The carrier plans $2 billion in capital spending this year, including about $250 million on technology and $1.3 billion on planes.
Southwest has "the highest level of labor strife and dissatisfaction among front-line employees" in its history, the union said. The airline's pilots and flight attendants rejected contract agreements with the carrier last year and are negotiating new accords, as are the mechanics. Pilots also have sued the airline over flying the Boeing Co. 737 Max aircraft, which is set to arrive next year.
Executives also boosted maintenance costs and hurt flight reliability by operating the airline's oldest planes too long, the union said. Southwest had planned to fly its so-called 737 Classic fleet until 2021, before deciding this year to speed retirement of the planes to late 2017 to make way for new, more fuel-efficient aircraft.
Southwest last month struggled to recover after an old router and its backup system failed, crashing the carrier's computer systems. While those computers were restored about 12 hours later, flights continued to be canceled or delayed over several days as the carrier attempted to get crews and planes in the right locations.
Every Angle
The airline is "studying every single angle" to determine why the failure occurred, Kelly told employees in a voice message after the outage. A new domestic reservation system will be in place next year, and other aging technology will be replaced "over the next three to five years," he said on a July 21 conference call.
"We are spending hundreds of millions of dollars a year to support this technology modernization effort, and we are working at the fastest pace we can prudently support," Kelly said in a message to workers on Friday.
In October, technological problems forced Southwest to process travelers manually and delayed more than 450 flights across the U.S. The issue affected the airline's website, mobile application, reservations centers and airports.
Chicago Delay
Pilots blamed cost-control efforts for staffing problems during a Chicago winter storm in 2014 that left planes waiting for gates at Midway Airport. Southwest later agreed to pay a $1.6 million U.S. fine for leaving passengers on 16 planes for more than three hours after landing. Malfunctions of the airline's crew scheduling system, a staff shortage and severe weather contributed to the delay, federal regulators said.
The shares were little changed to close at $37.04 in New York, leaving the stock down 14 percent this year.
Before it's here, it's on the Bloomberg Terminal.
LEARN MORE