markets
Mr. Yen Sees Rally Toward 90 per Dollar Spurring Intervention
By and
Japan's currency could break 100 this month, Sakakibara says

Helicopter money won't weaken yen to 125, ex-MOF official says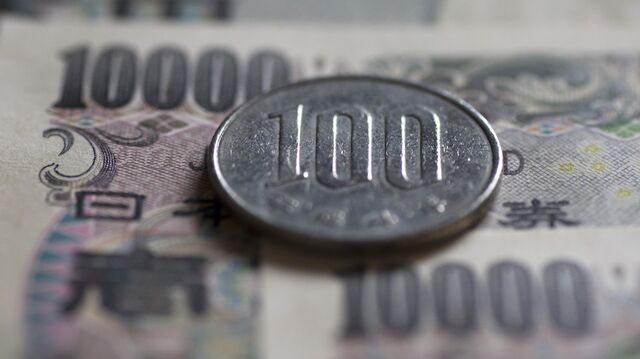 Former Japanese vice finance minister Eisuke Sakakibara said the yen could strengthen toward 90 per dollar as soon as this month and provoke officials to sell the currency to weaken it.
Japan's currency will appreciate gradually toward 100 per dollar, but gains are likely to accelerate beyond that level, said the 75-year-old, who was dubbed "Mr. Yen" for his ability to influence the exchange rate in the 1990s. Sakakibara sees the "intervention zone" lying between 90-95, when dollar weakness should worry the U.S. Treasury Department enough to agree to yen selling by the Finance Ministry, which he sees as a precondition for the intervention to be effective.
"It's extremely likely that the yen will break 100 this year, or even this month," Sakakibara said in an interview in Tokyo on Monday. "If it breaks 100, it could head for 90 quite quickly. Then it becomes a question of if they intervene."

Japan intervened in currency markets three times in 2011, selling 14.3 trillion yen ($140 billion) in an effort to halt gains that drove the exchange rate to a peak of 75.35 per dollar and contributed to the country's first annual trade deficit in three decades. The yen still ended 2011 as the best performer among developed-nation currencies.
Elusive Target
Efforts by Prime Minister Shinzo Abe and Bank of Japan Governor Haruhiko Kuroda to stoke inflation to 2 percent have been hampered by the yen's emergence as the best-performing developed-market currency this year with a 17 percent gain, as Japan's current-account surplus attracted investors seeking havens from lackluster U.S. growth, China's slowdown, and the U.K.'s decision to exit the European Union. A key measure of consumer prices has fallen for four straight months to June.
Sakakibara, who is currently a professor at Tokyo's Aoyama Gakuin University, accurately predicted the currency's advance in 2016 from near 120 per dollar to beyond 100 for the first time since November 2013. The consensus among forecasters at the start of this year was for it to weaken to 124 by the end of the first half. The yen hasn't been at 90 since January 2013, and was at 102.35 as of 10 a.m. in Tokyo Tuesday.
Fed Rates
The Federal Reserve's inability to raise interest rates amid a stuttering economic recovery has taken over as the main driver of the exchange rate, whereas Japanese policy makers are losing their sway over the market, he said.
The yen gained the most since April last week after the central bank disappointed many investors by expanding purchases of exchange-traded funds while leaving its bond-buying and negative interest-rate policies unchanged. Abe's government is due to reveal details of a 28 trillion yen fiscal spending package Tuesday, but Sakakibara says traders have already factored that in.
Even the announcement of the so-called helicopter money wouldn't take the yen back to the 13-year low of 125.86 reached in 2015, he said.
"Monetary easing is in the final stages of its effectiveness," Sakakibara said. "In the end, large scale fiscal stimulus could only be temporary. It's difficult to keep spending when the public debt pile just keeps growing."
— With assistance by Anna Edwards, and Manus Cranny
Before it's here, it's on the Bloomberg Terminal.
LEARN MORE