Oil Drops Amid Global Economy Concerns and Crude Oversupply
by
U.S. stocks, worldwide equities decline on economy worries

Global oil benchmarks trade below 200-day moving average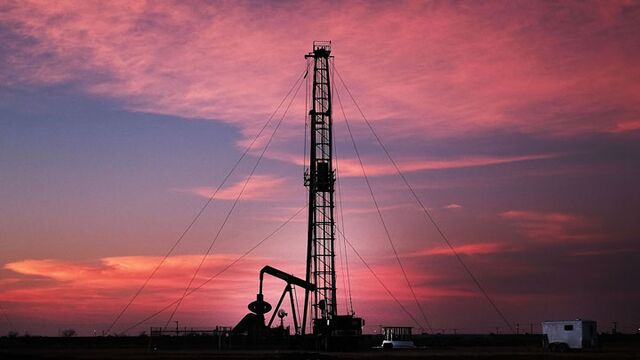 Oil settled at the lowest level in almost four months, following a drop in U.S. stocks as global growth concerns resurface.
Crude futures fell after rising as much as 2.1 percent earlier in the day. Brent crude entered a bear market, joining the U.S. benchmark, which dropped into bear market territory Monday. U.S. stocks were down the most in a month amid a selloff in global equities. While crude and gasoline inventories are forecast to have declined, they will remain at the highest seasonal level in at least two decades.
Oil has tumbled more than 20 percent from its peak in June, meeting the common definition of a bear market and halting a recovery that saw prices almost double from a 12-year low in February. The supply glut is upsetting industry expectations, with BP Plc, Royal Dutch Shell Plc and Exxon Mobil Corp. reporting second-quarter earnings last week that were worse than estimated.

"Equities are sliding so you definitely have a risk-off" situation, said Bob Yawger, director of the futures division of Mizuho Securities USA Inc. in New York. "We're sliding aggressively here despite the dollar being down."
West Texas Intermediate for September delivery declined 1.4 percent to settle at $39.51 a barrel on the New York Mercantile Exchange, the lowest since April 7. Total volume traded was about 10 percent below the 100-day average.
Futures rose from the settlement after the industry-funded American Petroleum Institute was said to report U.S. crude supplies fell 1.3 million barrels last week. WTI traded at $39.83 at 4:36 p.m in New York.
Brent for October settlement closed 34 cents lower at $41.80 a barrel on the London-based ICE Futures Europe exchange. The global benchmark settled at a premium of $1.50 to WTI for October.
Both WTI and Brent closed below the 200-day moving average for a second day in a row, which stood at $40.64 and $42.23, respectively.
'Poor Fundamentals'
"The market is weak due to poor fundamentals," said Thomas Finlon, director of Energy Analytics Group LLC in Wellington, Florida. "It's follow-through from a key level being settled through yesterday."
U.S. crude stockpiles probably dropped by 1.75 million barrels last week, according to a Bloomberg survey before a report from the Energy Information Administration on Wednesday. Supplies rose to 521.1 million barrels through July 22, keeping them more than 100 million barrels above the five-year average. Gasoline inventories probably fell by 650,000 barrels last week.
"The fact is that we probably shouldn't have gotten north of $50, and we probably shouldn't be too south of $40 either," said Bill O'Grady, chief market strategist at Confluence Investment Management in St. Louis, which oversees $4.9 billion. "This is the bottom end of the range, and it's testing a little bit below it, but my hunch is in a week or two we'll be talking about what a nice rally we're having."
OPEC Production
Global supplies could swell as member nations in the Organization of Petroleum Exporting Countries work to restore halted output. Factions in Libya reached a deal to re-open oil terminals, and Nigeria restarted payments to former militants as the government seeks a cease-fire, addressing some grievances amid attacks that cut crude production close to a 30-year low.
Oil-market news:
Iraq's Halfaya oil field will double production to 400,000 barrels a day by mid-2018, according to Khalid Wahim, spokesman for state-run Missan Oil.
The National Hurricane Center issued hurricane watches for Belize and Mexico's Yucatan coast as Tropical Storm Earl moves west. The storm could make its way to the oil-rich Bay of Campeche by Thursday.
Colombia, South America's third-largest oil exporter, shut in production in at least three oilfields after attacks by Marxist guerrillas blew up one of the country's main outlets to export crude. The attack affects about 6 percent of the country's crude output.
Before it's here, it's on the Bloomberg Terminal.
LEARN MORE