markets
Global Stocks Drop as Oil Stokes World Growth Angst; Yen Climbs
By and
S&P 500 falls most since Brexit aftermath amid oil bear market

Asian index futures tip further losses amid haven-asset demand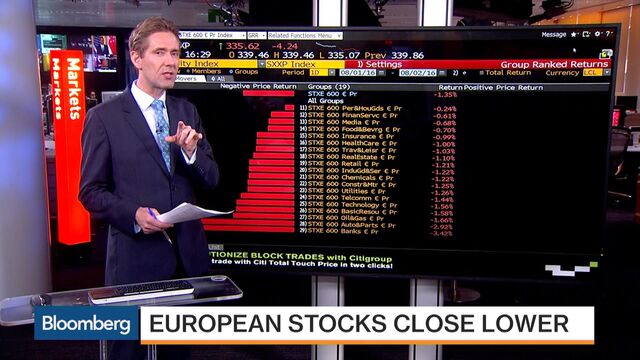 Investors turned risk averse, sending U.S. stocks to their biggest drop in four weeks amid a selloff in equities from Japan to Europe as oil's plunge into a bear market rekindled global growth concerns. Gold climbed with the yen amid demand for havens.
The S&P 500 Index notched up its first back-to-back declines since the aftermath of the Brexit vote, while the Dow Jones Industrial Average's losing streak hit seven days, its longest slump in a year. Retailers tumbled as data showed U.S. consumers tapped into savings to boost spending last month, while automakers plunged on concern the market may have peaked in 2015. MSCI's All-Country World Index fell the most since July 5 as oil extended losses below $40 a barrel. Gold futures rose for a sixth straight day as the yen hit a three-week high after Japanese government's fiscal plans underwhelmed investors.

The four-week advance in global equities has faltered as crude's 22 percent rout since June rekindles anxiety over the global economy at the same time as European lenders come under scrutiny over the strength of their balance sheets. While central banks and governments around the world are bolstering stimulus to shore up growth, Japan's state support package, which boosts spending by 4.6 trillion yen ($45 billion) fell short of expectations. U.S. data Tuesday also reinforced concern that the American consumer is losing power amid sluggish wage gains.
"We have an economy that has improved a little bit with sentiment around the market in general, but the question is what will drive growth from here," said Kevin Caron, a Florham Park, New Jersey-based market strategist and portfolio manager who helps oversee $180 billion at Stifel Nicolaus & Co. "Valuations aren't cheap, the economy is not growing rapidly and profits are at best stable, so the next driving factor is unknown right now."
Stocks
The S&P 500 fell 0.6 percent to 2,157.03 as of 4 p.m. in New York, its lowest close since July 13. The index hasn't moved more than 0.5 percent on a closing basis in 12 sessions, a two-week period where it's advanced 0.3 percent after rallying 8.2 percent in the previous three weeks, data compiled by Bloomberg show.
U.S. economic data out Tuesday provided a mixed picture, with incomes rising a less-than-projected 0.2 percent in June, while the savings rate declined to a more than one-year low. Consumer purchases rose more than was anticipated.
Pfizer Inc. fell the most since November after leaving its full-year earnings forecast unchanged, even as quarterly profit and sales exceeded predictions. Retailers had the steepest drop in five weeks as Kohl's Corp. and Macy's Inc. slumped at least 7 percent. July's strongest performers -- technology shares -- fell as Apple Inc. lost 1.5 percent.
The Stoxx Europe 600 Index lost 1.3 percent for its steepest decline since July 6. Commerzbank AG tumbled 9.2 percent, while UniCredit SA slid 7.2 percent as Il Messaggero reported that the lender may consider a capital increase. The MSCI Asia Pacific Index dropped 0.4 percent amid a 1.6 percent decline in Japan's Topix gauge.
Futures foreshadowed more declines for Asian shares, with contracts on the Nikkei 225 Stock Average falling at least 1.4 percent in Osaka and Chicago. Futures on stock gauges in Australia and South Korea retreated at least 0.5 percent. Trading was canceled in Hong Kong Tuesday as a tropical storm hit the city.
Currencies
The yen jumped 1.5 percent to 100.89 per dollar as Japan's government announced a fiscal package that was about a quarter of the total spending amount flagged by Prime Minister Shinzo Abe last week. The currency touched its strongest level since July 11.
The Bloomberg Dollar Spot Index, a gauge of the greenback against 10 major peers, fell for the fifth time in six days, sinking 0.6 percent. The New Zealand and Australian dollars jumped 1 percent, rising with the euro and the Swiss franc.
Odds on the Federal Reserve raising interest rates this year have dropped, and are hovering below 40 percent after a weaker-than-expected report on U.S. economic growth on Friday.
The pound advanced, strengthening 1.4 percent to $1.3357. The Bank of England delivers its second post-Brexit rate decision on Thursday, with some investors seeing the risk of policy makers disappointing the market, which is pricing in the near certainty of a rate reduction.
Bonds
Germany's 10-year bonds fell for a second day and similar-maturity Treasuries retreated as a selloff in Japan's government debt filtered across global sovereign securities. 
Bill Gross, the 72-year-old bond-fund manager, reiterated his warning on government debt after yields from the U.S. to Australia touched all-time lows in the past month. The danger of the unprecedented rally, as Gross sees it, is that any reversal will be painful for investors
Ten-year Treasury yields increased by three basis points, or 0.03 percentage point, to 1.56 percent, after rising seven basis points on Monday.
Commodities
West Texas Intermediate crude erased a gain of more than 1 percent to fall below $40 a barrel for a second day. WTI for September delivery declined 1.4 percent Tuesday to settle at $39.51 a barrel, its lowest price since April 7.
While American crude and gasoline inventories are forecast to have declined last week, they'll likely remain around their highest seasonal level in at least two decades. Nigeria has also resumed payments to former militants as the government seeks to establish a cease-fire after attacks cut the country's oil output to the least since 1989. Factions in Libya have reached a deal to re-open oil terminals
Gold futures due in December rose 1 percent to $1,372.60 an ounce, capping their longest run of gains since June. Zinc for delivery in three months rose 0.4 percent to $2,275 a metric ton in London, after touching $2,299, the highest level since May last year.
— With assistance by Bailey Lipschultz, Lukanyo Mnyanda, and Emma O'Brien
Before it's here, it's on the Bloomberg Terminal.
LEARN MORE