Musk's SolarCity Bid Offers Lifeline as Competition Erodes Lead
By
'They gain immediate knowledge when they need it most'

SolarCity lowered 2016 installation forecast for second time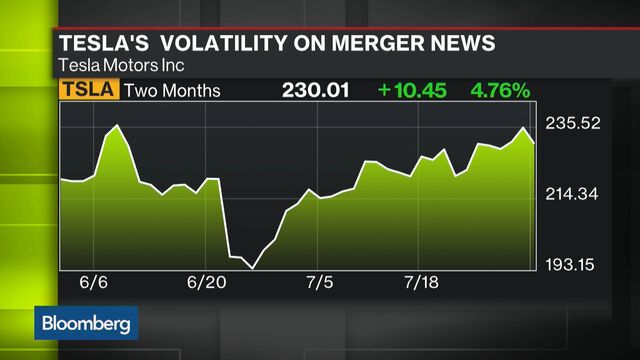 Elon Musk says Tesla Motors Inc.'s $2.6 billion takeover of SolarCity Corp. is no bailout. Analysts say it certainly can't hurt.
SolarCity's stock has fallen by 57 percent in the last year. It's reduced its installation forecast twice, and a business model focused on leasing systems rather than selling them is losing favor with consumers. Meanwhile, market share for competitors like Sunrun Inc. is on the rise.
"Tesla provides an immediate source of differentiation," according to Michael Morosi, an analyst at Avondale Partners LLC. "It places them in a different stratosphere. Tesla knows how to manufacture things. SolarCity is about to become a manufacturer. They gain immediate knowledge when they need it most."
SolarCity, based in San Mateo, California, is the biggest U.S. installer of rooftop solar panels. Tesla, in nearby Palo Alto, California, manufactures electric cars, and is opening the world's biggest battery factory. Joining the two will lead to integrated homes that produce power from sunshine that's stored in batteries to charge vehicles overnight, Musk said in a conference call Monday.

While Musk, the chairman and lead investor in both companies, has relentlessly promoted the merger's synergies, Tesla investors have been less enthusiastic about taking on a company with $3.25 billion in debt. Still, some analysts said they see the merger as a plus for SolarCity's future prospects as it undergoes a needed strategic shift to selling systems instead of leasing them.
The electric car maker brings immediate manufacturing expertise, which the solar installer lacks, and the combined operations are expected to lead to about $150 million in cost savings within a year, said Edwin Mok, an analyst at Needham & Co.
"Combined with a more aggressive approach to reduce operating expenses, we believe the business could turn profitable, potentially in the next 12 to 24 months," Mok wrote in a research note Monday.
He predicted "the majority" of the combined company's rooftop solar systems would be sold to customers, either for cash or through loans. That mirrors a wider shift as consumers show growing interest in owning the systems instead of the long-term leases that SolarCity popularized.
Strategic Shift
In October, the company announced a strategic shift that called for slower expansion in an effort to become cash-flow positive by the end of this year. SolarCity became the biggest U.S. rooftop solar company by pouring revenue into building more systems, focusing on growth instead of profit, and it's reported losses in all but three quarters since its initial public offering at the end of 2012.
SolarCity lowered its 2016 installation forecast Monday, for the second time this year. It now expects to add 900 megawatts to 1 gigawatt of panels, down from a May estimate of 1 gigawatt and a February prediction of 1.25 gigawatts.
The lower guidance reflects both temporary weakness in the residential solar market overall as well as healthier competition, said Jeffrey Osborne, an analyst at Cowen & Co. In California in May, SolarCity's share of the market decreased to 23 percent from 27 percent.
"Meanwhile, market share for competitors like Sunrun Inc. is on the rise," Osborne said in an interview.
SolarCity was down 0.9 percent to $24.50 at 8:56 a.m. in New York, before the start of regular trading, and Tesla slipped 0.4 percent. The companies have yet to set a date for the shareholder votes needed to complete the merger.
Lower Price
The price announced Monday was almost 10 percent lower than the $2.9 billion initial price when the deal was announced in June.
"It basically mirrored the step-down in SolarCity's outlook," Morosi said. "They're having some execution issues with 2016 guidance, but I think Tesla is getting a very good deal."
SolarCity Chief Executive Officer Lyndon Rive reaffirmed on a conference call Monday that the company will become cash-flow positive in the fourth quarter. He said the combination will restore advantages that had evaporated as the industry matured and competition increased. Tesla CEO Elon Musk brings to SolarCity a household name that could help reduce financing and marketing costs, and provide an edge over other solar companies.
"We're larger than the next 50 solar companies combined," Rive said on the conference call. "In order to continue to maintain this differentiation, you've got to do more than just vertically integrate the services. You've got to vertically integrate the product as well."
Before it's here, it's on the Bloomberg Terminal.
LEARN MORE