Jordan Says SNB Has Room to Intervene as Franc Still Overvalued
by
Negative interest rates 'absolutely necessary' in Switzerland

Central bank weighs costs and benefits of interventions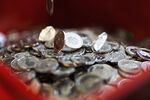 The Swiss National Bank has room to expand its balance sheet through currency-market interventions to rein in a franc that remains overvalued, President Thomas Jordan said.
"The balance sheet is big but we still have room to intervene," he said at a central bank conference in Bali, Indonesia, on Monday. "We look at the costs and benefits of intervention. There is no limit to the balance sheet."
The SNB bought foreign currency in the wake of Britain's June vote to leave the European Union when investors sought the franc as a haven amid financial-market turmoil. Policy easing either by the Bank of England or the European Central Bank could also prompt Swiss rate setters to cut the deposit rate, which is already at a record low of minus 0.75 percent, to prevent a tightening of monetary conditions.
"In the case of Switzerland, it is clearly absolutely necessary to have negative interest rates," Jordan said. "We are convinced that given the difficult situation with the over-valued currency, the over-valued Swiss franc, the negative output gap and negative inflation, the current approach is the right one."

While ECB President Mario Draghi has repeatedly stressed officials are ready and able to act, they are in no rush to adjust or expand their bond-buying program, according to people familiar with the matter. The Bank of England, on the other hand, will probably cut interest rates on Thursday, according to a Bloomberg survey of economists.
The SNB projects an inflation rate of minus 0.4 percent this year, accelerating to 0.3 percent in 2017 and 0.9 percent in 2018. Gross domestic product is set to expand between 1 percent and 1.5 percent in 2016. The central bank will update that forecast at its scheduled policy review in September.
Before it's here, it's on the Bloomberg Terminal.
LEARN MORE