Japan Fiscal Plan Gives $45 Billion Spending Boost This Year
By and
Abe seeks to prop up economy after BOJ keeps action minimal

New spending this year is a fraction of Abe's headline number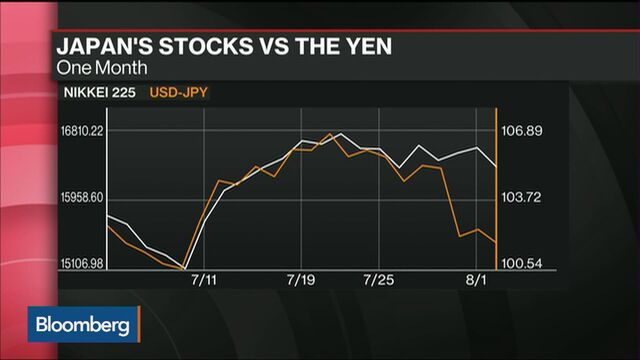 Japan's government announced 4.6 trillion yen ($45 billion) in extra spending for the current fiscal year, as Prime Minister Shinzo Abe seeks to bolster the economy without abandoning targets for improving fiscal health.
The spending, approved by the cabinet on Tuesday, is part of what Abe flagged in a speech last week as a 28 trillion yen stimulus package, saying more investment was needed to expand the world's third-largest economy. He said funds would be used to provide better port facilities for cruise ships and accelerate the construction of a high-speed maglev train line.
The plan incorporates 13.5 trillion yen of fiscal measures -- including 7.5 trillion yen in new spending starting this year, and 6 trillion yen in low-cost loans. The measures include:
3.4 trillion yen to help address the nation's demographic challenges
6.2 trillion yen for infrastructure projects
1.3 trillion yen to mitigate risks caused by Brexit, and to help smaller companies and regional economies in Japan
2.7 trillion yen for relief measures for the April quakes in Kumamoto and the 2011 earthquake and tsunami in Tohoku

"It follows the pattern that they've established over the last couple years, that they basically announce a very big headline number, but the actual spending is much smaller," said Marcel Thieliant of Capital Economics in Singapore. "We currently have a forecast of 0.8 percent growth for next year, but with this number, the risks are probably tilted to the downside, because we were hoping for a bigger fiscal boost."
Beyond the current year's spending, the package will be made up of fiscal measures under next year's budget along with loans that will probably be spread over several years. The package is the latest in a long series that have had limited impact on the economy, while Abe's promised structural reforms -- tackling areas like employment regulation -- have fallen short of expectations.
Cabinet's approval of the package comes as exporters grapple with the yen's rise, Britain's vote to leave the European Union and a slowdown in emerging economies. At the same time, concern is growing that the Bank of Japan is running out of options for further monetary easing, after it made only minor policy adjustments at a meeting last week.
Click here for history of Japan stimulus packages.
While the government estimated the policy package would bolster gross domestic product by 1.3 percent in the near term, a Bloomberg Intelligence estimate put the boost at 0.1 percentage point for 2016 and 0.25 percentage point for 2017. The IMF has forecast economic growth of 0.3 percent this year and 0.1 percent in 2017.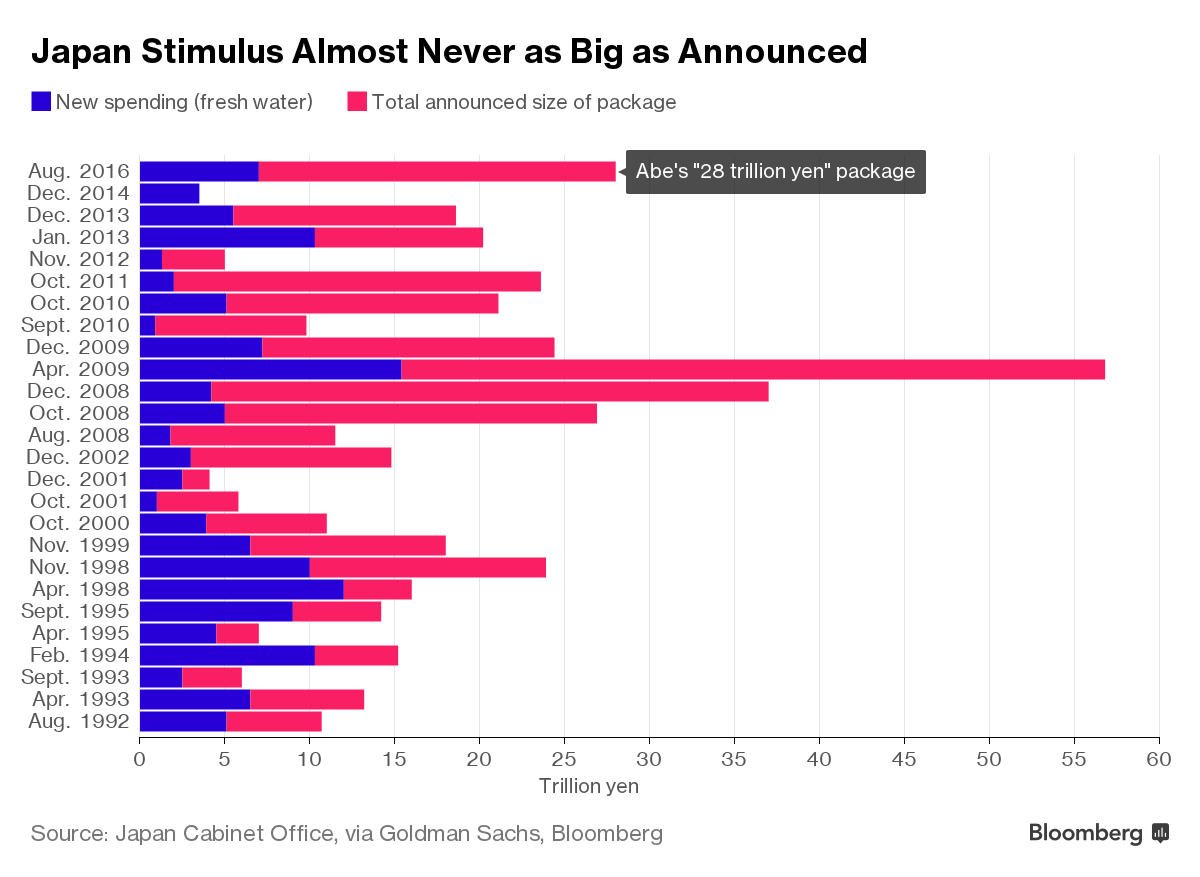 Abe is seeking to expand the economy by 20 percent by 2020. To do so, he's pledged measures to bolster household incomes, increase the birth rate and provide more care facilities for children and the elderly.
After announcing in June he would put off an increase in the sales tax, he promised last week to tap reserves in the unemployment insurance fund to lower premiums and increase payouts.
Cash Handouts
"We have been able to put together a strong package that includes bold investment for the future," Abe said ahead of the announcement, adding that Japan would maintain its fiscal targets for 2020.
The package -- the second to be compiled in the current fiscal year -- will include cash handouts of 15,000 yen for people on low incomes, NHK reported. The 4.6 trillion yen figure for the fiscal year ending March, includes 100 billion yen brought forward from next year's budget.
The package comes the day before a minor cabinet reshuffle in which most senior ministers are expected to keep their posts. Economy Minister Nobuteru Ishihara will stay on, NHK reported, after speculation he might be replaced. Finance Minister Taro Aso and Chief Cabinet Secretary Yoshihide Suga will keep their jobs, according to local media.