Goldman Downgrades Equities for the Next Three Months
The S&P 500 to fall 10 percent over the next three months, according to the bank.
By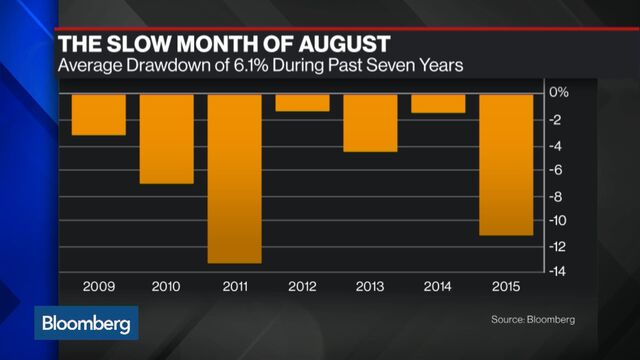 Bring in the bears.
The recent rally that's pushed equities to all-time highs is about to hit a speed bump, according to a new note from Goldman Sachs Group Inc. In fact, the team, led by Christian Mueller-Glissmann, expects the S&P 500 and the STOXX Europe 600 to fall roughly 10 percent over the next three months.
"Given equities remain expensive and earnings growth is poor, in our view equities are now just at the upper end of their 'fat and flat' range," they write. The analysts are downgrading stocks to 'underweight' for the next three months, while keeping their  'neutral' position over the next 12 months and staying 'overweight' in cash.

Stock markets have been boosted by favorable positioning that helped buttress investors against the shock of the U.K.'s Brexit referendum, as well as the search for yield that has buoyed assets, the analysts argue. But the bank's proprietary indicator of risk appetite is now turning, indicating tougher times ahead for stocks without a more favorable macro environment.
"Our risk appetite indicator is near neutral levels and its positive momentum has faded, suggesting positioning will give less support and we will need better macro fundamentals or stimulus to keep the risk rally going, but market expectations are already dovish and growth pick-up should take time," they write.

"We think this reversal in positioning increases the likelihood of an equity pullback given that our fundamental view has not changed: valuations still appear high and we still expect poor earnings growth across regions," they conclude. "Until the growth situation improves, we are not that constructive on equities, particularly after this type of rally and amid continuing concerns about the sustainability of stimulus led growth in China, global policy uncertainty (and in Europe in particular), dovish central bank expectations, and heightened prospects of unknown shocks (e.g. Turkey recently)." 
Before it's here, it's on the Bloomberg Terminal.
LEARN MORE