Trump as President Means Gold's Going Higher, Mint Forecasts
By and
Perth Mint CEO Hayes says 'Trump is very much a protectionist'

Bullion has rallied 27% this year on increase in haven demand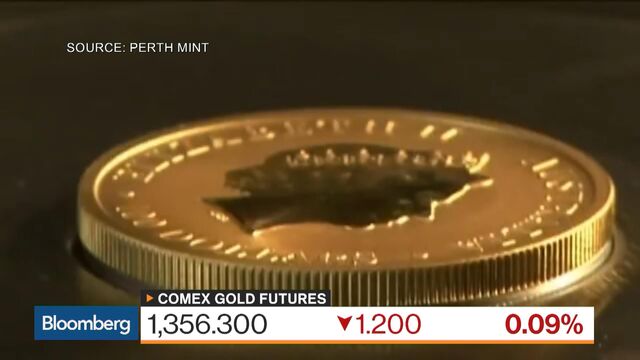 A Donald Trump victory in the U.S. presidential election in November would probably lift gold prices, according to the mint that refines almost all the bullion output from one of the world's biggest producers.
"If someone like Donald Trump does get himself elected, it will stimulate some fear within the economy as to where things are going," Richard Hayes, chief executive officer of the Perth Mint, said in a Bloomberg TV interview. "Trump is very much a protectionist, he is very much for almost 'Fortress America'."
Gold has rallied 27 percent this year on demand for haven assets following the U.K.'s vote to leave the European Union and as the Federal Reserve refrains from raising rates. The U.S. race remains close after the conventions last month, with polls showing Democratic nominee Hillary Clinton holding a slight lead over Republican Trump. DBS Group Holdings Ltd. has said the markets have yet to deal with the political uncertainty going into the U.S. contest.
'Suffer Shocks'
"If Clinton is elected, I suspect the run up won't be quite as strong," said Hayes, speaking on Monday at the opening day of the Diggers and Dealers mining forum in the Western Australian town of Kalgoorlie.  "She is more mainstream, and probably the economy will be less likely to suffer shocks."
Bullion for immediate delivery traded at $1,348.08 an ounce at 8:01 a.m. in New York, according to Bloomberg generic pricing. The metal reached a two-week high on July 29 after data showed that the U.S. economy grew less than expected in the second quarter.
Demand is holding up well even as markets "have gotten used to the economic crises" after the U.K.'s vote to leave the E.U., said Hayes, adding that concerns about growth were supporting consumption. "I think what we will see if Trump is elected is a rise in the gold price."
For a commentary on Trump and gold, click here.
Trade Policy
The real-estate developer turned politician has made trade one of his main themes, saying many agreements signed by the U.S. don't serve the economy or workers well. Trump is targeting working-class voters by emphasizing his opposition to deals such as the North American Free Trade Agreement.
Banks and miners have also highlighted the possible impact of the vote. While a low probability, a Trump presidency would weaken the fundamentals of the U.S. economy and create uncertainty, according to ABN Amro Group NV, which said bullion would rise more under the billionaire than Clinton.
Gold's rally is set to endure, with the U.S. election seen as the next big catalyst for prices, according to Australia's Northern Star Resources Ltd. The U.S. vote will have more of an impact on bullion than the U.K. referendum, Bill Beament, managing director at Northern Star, said last month.
Trump as president risks hurting global trade as he's opposed to existing pacts and has floated the idea of the U.S. pulling out of the World Trade Organization, Oversea-Chinese Banking Corp. said in a report last week. While financial markets appear to be assuming Clinton will "win the day, the sting of Brexit surprise reminds us to take nothing for granted," it said