Stress-Tests Results Fail to Revive Faith as Europe Banks Fall
by
As lenders rose in July, options traders payed up to hedge

Europe banks trading near record low versus broader market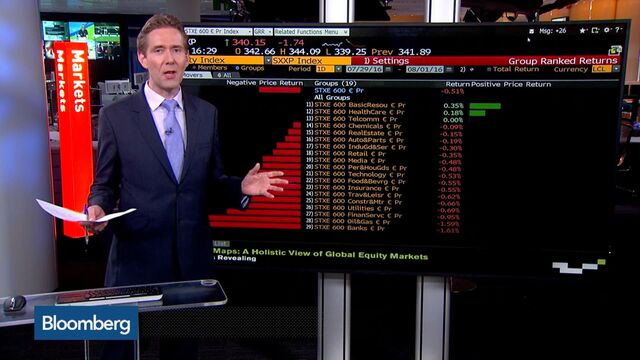 While the stress tests showed most of the region's banks would keep an adequate level of capital in a crisis, investors remained skeptical about the results.
Lenders in the benchmark Stoxx Europe 600 Index slipped 1.8 percent, reversing a gain of as much as 1.3 percent. UniCredit SpA sank 9.4 percent, while Britain's Barclays Plc dropped 2 percent as it fared worse than Deutsche Bank AG, down 1.8 percent. Italy's Banca Monte dei Paschi di Siena SpA, the worst performer in the regulators' exam, rallied as much as 11 percent as it said it's working on a plan involving private investors to help bolster its finances. By the end of the day, it had pared most of its gain.
The stress-test results come at a time of growing pessimism about the industry, whose shares have already slumped the most among sectors this year. Not even near record-low valuations relative to the broader market are enough to lure investors, with an sector hit by worries about profitability amid low interest rates, a weakening economy and a potential banking crisis in Italy.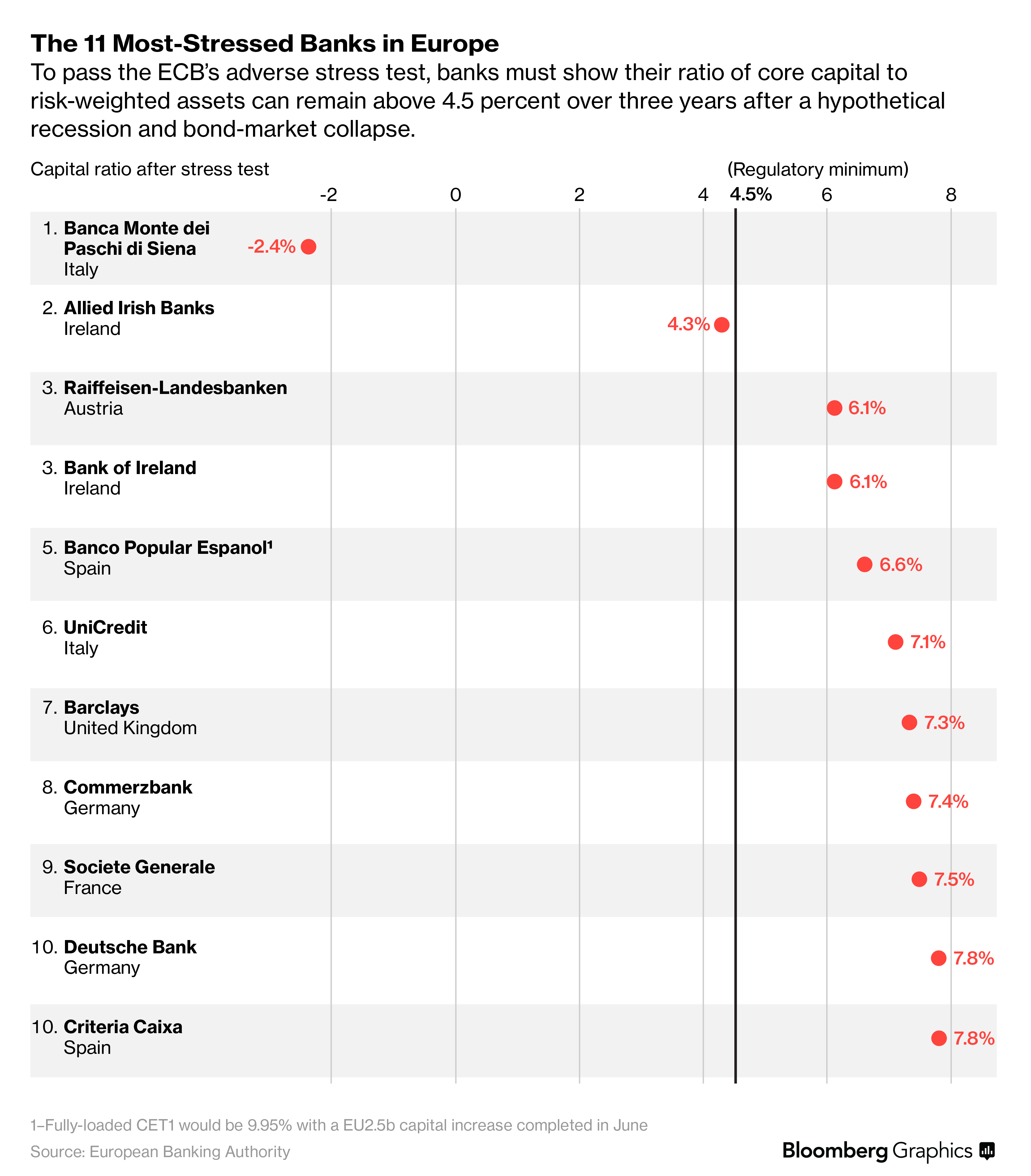 "The market is interpreting that even with these relatively good results for most banks, additional capital increases can't be ruled out," said Nuria Alvarez, a bank analyst at Renta 4 Banco SA in Madrid. "The sector has been suffering all year and the investment thesis is still the same: low rates, low profitability, so even if you have enough capital, it's still a very adverse situation. Our analysis says it's the riskiest sector to be in right now, and the question is: sure they have the recommended capital ratios right now, but how long can they hold them in these conditions?"
Monte dei Paschi was the only of 51 banks to have its capital wiped out in the test, which puts lenders through a simulation of a severe recession over three years. For the company, which lost 2.7 billion euros ($3 billion) of market value in 2016, success depends in part on winning backing for a new fund that will buy the bank's bad loans at prices that, according to at least one analyst, are higher than buyers have been willing to pay.
The exam is intended to give supervisors across the European Union a common basis for measuring and bolstering the firms' financial resilience. In a break from past practice, the test had no pass/fail mark and didn't specify capital shortfalls, though the conclusions give clues about persistent structural capital deficiencies across the region's banking sector.
"Long term, it's clear that some financial institutions will have to strengthen their capital and cut costs," said Guillermo Hernandez Sampere, head of trading at MPPM EK in Eppstein, Germany. His firm oversees 250 million euros. "There is still a lot of work to do. It begs the question, how long until the next cycle in Europe's banking crisis?"
For more about the stress tests, click here.
While banks in the Stoxx 600 rebounded 6.1 percent in July, they remain down 28 percent for 2016 -- and down 42 percent from their high last year, when traders were still optimistic about ECB stimulus. The U.K. vote to leave the European Union didn't help -- it triggered the biggest monthly selloff since October 2008.
The skepticism led investors to turn to the options market. A record of more than 200,000 contracts on the Euro Stoxx Banks Index changed hands each day on average in July, and the cost of hedging against swings in the gauge jumped to a three-year high relative to the broader market. Deutsche Bank and Monte dei Paschi were among firms that sank to record lows last month.

In credit markets, the cost of insuring financial companies' junior debt against default fell to the lowest in about two months, with the Markit iTraxx Europe Subordinated Financial Index of credit-default swaps down four basis points. The riskiest bank bonds climbed: UniCredit's 1 billion euros of 6.75 percent additional Tier 1 notes added one cent on the euro to 86 cents, and Deutsche Bank's 1.75 billion euros of 6 percent bonds rose about one cent to 79 cents.
Some investors point to low valuations as reason to pick up shares of lenders. NN Investment Partners reiterated its bullish view last week, with the region's banks trading near a 40 percent discount to the broader market.
For others, they are still not cheap enough. Luke Hickmore at Aberdeen Asset Management Plc told Bloomberg TV that they need to drop further to compensate for their risk.
"If you're buying equity in banks, you need to be confident about the outlook, you need to be confident about the direction of the economy, and that's a difficult task at the moment," the senior investment manager said on Friday. "Whether this is cheap or not, in the long run I'm not sure. In the medium term, you can probably be paid to wait a little longer."
Before it's here, it's on the Bloomberg Terminal.
LEARN MORE