Draghi's Liquidity Drowns Out European Companies' Brexit Woes
by
July was strongest month for European corporate bonds in years

ECB, BOE forecast to add to monetary easing at next meetings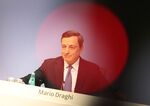 When the U.K. voted to leave the European Union in June, corporate-bond investors across the region were rattled. Then they started buying like mad.
Euro-denominated investment-grade notes had their biggest monthly returns in four years in July. Gains in sterling investment-grade debt were the best since 2009 and those in the sterling junk market surged. Many investors thought that, Brexit or not, you can't fight the European Central Bank, which is buying more and more corporate and sovereign bonds and driving yields lower. Taking more risk may be the only way to earn higher returns.
"People are chasing yield," said Henrietta Pacquement, a London-based portfolio manager at ECM Asset Management, which is part of Wells Fargo Asset Management and oversees $480 billion. "They're going up the maturity curve, taking on more risk and looking for currencies that offer higher returns."
Sterling notes have outperformed their euro peers, with buyers lured by their relatively higher yields. Many of the gains came from companies outside of the U.K. and the euro zone that borrowed in pounds but won't get hurt much by Brexit.

The ECB started buying corporate bonds, including debt with a junk rating, in June as part of an expanded stimulus plan it announced in March. Both euro and pound assets have also been boosted by speculation the ECB and Bank of England will add to stimulus. 
That perceived possibility has been fanned in part by comments from ECB officials. Benoit Coeure, an executive-board member, said last week there was still room to lower borrowing costs in the euro zone. Two weeks ago, ECB President Mario Draghi said the central bank was ready to provide more stimulus if needed. With those comments, euro interbank lending rates indicate the ECB will cut the deposit rate, currently at minus 0.4 percent.
That potential for more stimulus helped investment-grade euro notes return 1.68 percent last month, the most since July 2012, and demand pushed yields to a record-low 0.70 percent, according to Bank of America Merrill Lynch index data. Junk-rated debt returned 2.2 percent, the most since March, and yields dropped to a more-than one-year low of about 4.2 percent, the data show.
Sterling Bonds
In the U.K., sterling investment-grade debt returns were 5.23 percent, the most since August 2009, according to Bank of America Merrill Lynch index data, as investors took advantage of yields that were still more than 1.7 percentage points higher than their euro peers. 
Gains in junk-rated notes were about 3.6 percent, driven by the debt of overseas companies, including Petroleo Brasileiro SA and Telecom Italia SpA, whose businesses are seen as insulated from any negative effects of the U.K.'s decision to leave the European Union. Petrobras's sterling denominated debt returned 11.4 percent and Telecom Italia's earned 2.4 percent.  
"Sterling bonds have become a relatively cheaper way to buy fundamentally strong names," said Mitch Reznick, the London-based co-head of credit at Hermes Investment Management, which oversees around $32 billion.
Investors may also be buying U.K. bonds to lock in higher yields before this week's BOE meeting, at which policy makers are forecast to cut interest rates. The probability of the central bank cutting borrowing costs at the Aug. 4 gathering rose to 100 percent last week, according to swaps trading data compiled by Bloomberg. 
U.K. bonds will get a boost, however, if the BOE adds company-debt purchases to its quantitative-easing program, said Stefan Isaacs, a London-based fund manager at M&G Investments, which oversees $325 billion.
"Part of the recent tightening of spreads is due to expectations that the Bank of England could embark on a corporate-bond buying program," Isaacs said. "That is clearly supportive of spreads, similar to what the European Central Bank program has done for euro debt."
Before it's here, it's on the Bloomberg Terminal.
LEARN MORE