Dollar Bulls Tremble as Fed Hike Bets Pushed Deeper Into 2017
By
Futures signal less than 40% chance of rate increase this year

'It's hard to be bullish' on the greenback, SocGen says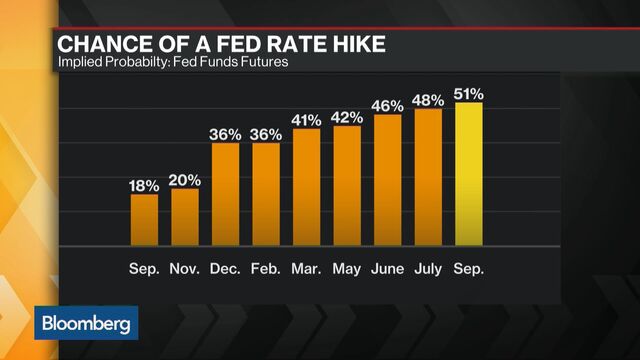 Dollar bulls banking on a Federal Reserve interest-rate increase this year are finding nothing but frustration in the latest economic data.
An index measuring the greenback was near its weakest level in a month, upending speculators who increased futures wagers on the U.S. currency as of last week to the highest since February.

Their stance is proving vulnerable, with a report Monday showing U.S. manufacturing cooled in July, while data at the end of last week indicated second-quarter U.S. gross domestic product expanded at less than half the median forecast. The signs of weakness led traders to push bets on a Fed rate boost deeper into next year.
"How can the Fed be raising rates -- ain't no growth, that's the bottom line," said David Bloom, London-based head of global currency strategy at HSBC Holdings Plc. The weak GDP number "completely changed the whole month for the dollar." Bloom forecasts the greenback will drop to 95 yen per dollar by year-end, the weakest since 2013.
The Bloomberg dollar gauge rose 0.3 percent as of 5 p.m. New York time, after sliding 1.3 percent Friday and touching its lowest since July 1. The U.S. currency was little changed at $1.1161 per euro. It rose 0.3 percent to 102.39 yen, after tumbling 3.1 percent Friday.
Warning Path
Morgan Stanley warned the worst is still to come for the greenback as the economy deteriorates, while Societe Generale SA said "awful" second-quarter economic growth is skewing the outlook for a stronger dollar.
The dollar strengthened in early July as stronger-than-expected data on jobs, retail sales and industrial production fueled speculation the Fed would raise rates sooner rather than later. Investors' focus is set to turn to payrolls data to be released Aug. 5 for clues on the state of the economy and the pace of Fed tightening. New York Fed President William Dudley said Monday it's "premature" to price out rate hikes this year.
"It's hard to be bullish" on the dollar, Kit Juckes, a global strategist in London at SocGen, wrote in a note to clients. "The U.S. Q2 GDP data were awful."
Hedge funds and other large speculators increased bullish bets on the dollar in the futures market to a net long of almost 150,000 contracts in the week ended July 26, the most since February.
Futures signal less than a 40 percent likelihood of higher U.S. rates by year-end. That's down from a 49 percent probability on July 26. The first month where traders see better-than-even odds for an increase has been pushed to June 2017, from February on July 26.