Deutsche Bank Says U.S. GDP Flop Is a Sign of Secular Stagnation
The Fed could be risking a big policy error.
by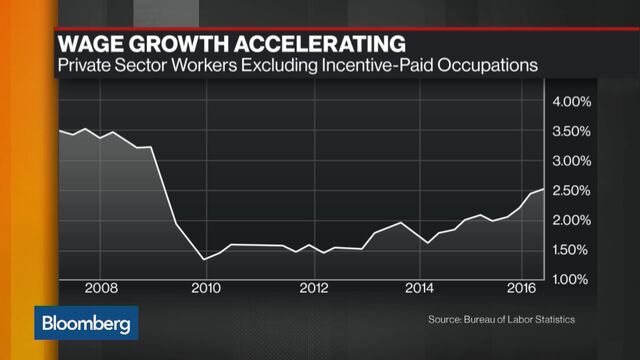 You can now add the rates strategy team at Deutsche Bank AG to the growing list of Wall Street analysts who reckon the U.S. economy is probably ensnared in secular stagnation.
In a research note published on Friday, Deutsche Bank strategists, led by Dominic Konstam, say the Federal Reserve risks a "big policy error" if it hikes interest rates in September as the latest GDP numbers mark an imminent labor market-driven slowdown for the U.S. economy.
The world's largest economy expanded by just 1.2 percent in the second quarter while first-quarter expansion was revised down to 0.8 percent from an initial 1.1 percent estimate. The second-quarter rate of expansion was less than half the advance forecast by economists in a Bloomberg survey.
"If the economy can only muster growth in the vicinity of 1 percent when the labor market is at full employment, one must take the secular stagnation thesis more seriously," the Deutsche Bank analysts write. "In other words, perhaps the 2.1 percent average growth rate of the present cycle has been an over-performance. If productivity continues to underwhelm, we will likely see downward revisions to potential growth, telling us after the fact that we have been closing the output gap faster than we thought."
Secular stagnation is the contentious view that economic growth and the natural rate of interest for the U.S. economy is structurally low or in negative territory, and promoting full employment — in the absence of sustainable final demand — risks financial stability.  

The Deutsche strategists paint a negative picture on U.S. productivity prospects, noting that the "non-consumer portion of the economy is shrinking not only in real terms but also in nominal terms."  

With real GDP growing at just 1.2 percent over the last four quarters, the strategists reckon a labor market slowdown — in which low productivity forces firms to defend profit margins by firing workers, who are also consumers — is nigh. This would depress aggregate demand, and further constrain margins for businesses, the analysts write.
The odds of a September rate hike, according to federal funds futures contracts, have dropped to 18 percent compared with 28 percent before the second-quarter read. A traditional driver for U.S. monetary tightening economy — as the labor market tightens, wage inflation should eventually increase, as per the Phillips curve — is now rendered less likely given second-quarter data, Deutsche strategists write, forecasting no rate hikes this year.
Signs of healthy consumer spending continue to feed confidence among Fed officials about the underlying strength of the U.S. economy. On Thursday, Federal Reserve Bank of San Francisco President John Williams said two interest-rate increases this year could be warranted, despite the lower-than-expected GDP number for the second-quarter.     
Underscoring the divergence between Fed officials and market expectations for U.S. growth and policy rates — with the 10-year U.S. Treasury yield on a downtrend since mid-2015 — Deutsche analysts conclude "there is little evidence that productivity is ready to do the heavy lifting in terms of stimulating faster growth," with with labor-input growth now yielding diminishing returns on output growth. 

"In the four quarters ending in the first quarter of 2016, productivity has grown at just 0.7 percent. Meanwhile, aggregate hours growth slowed from a cyclical peak of 2.8 percent in first quarter of 2015 to just 1.5 percent a year later." Since labor-input growth will probably slow to 1 percent, "productivity will have to accelerate several tenths in order to maintain 'trend' growth." 

 "Meanwhile, the growth contribution of fixed investment is basically zero, a development that in the past has been a reliable predictor of recession," the strategists add. "Even if we do not fall into recession, the lack of investment is expected to weigh on productivity, with consumption growth eventually slowing along with labor input growth. The concern is that the economy will then rebalance along a lower real growth trajectory."
One bright spot is the improving net capital to labor ratio — a measure that indicates the capital intensity of businesses — which tends to lead uptrends in productivity, they conclude.
The extraordinary weakness of investment relative to consumption, and the relationship between the two, is a theme taken up by Joseph Calhoun, chief executive officer at Alhambra Investment Partners. He wrote in a research note on Sunday that the quarterly slowdown "marks a change that needs to acknowledged." Over the past two years, first-quarter growth disappointments have been offset by rebounds in the second and third quarter. However, "this cycle was a kind of mini inventory cycle within the larger business cycle," Calhoun notes.
Inventory contractions can be followed by periods of compensatory expansions but that's hard to see when the inventory-to-sales ratio — a measure of the stock of inventory as a proportion of sales fulfilled — remains elevated, he says. The latter indicates weak consumer demand, and, by extension, low incentives for businesses to ramp up production.
Calhoun also notes that gross private domestic investment is down 2.5 percent in the second quarter compared with the corresponding period last year, a rare occurrence in periods of expansion. "The U.S. economy is not in recession – yet – but it is surely slouching slowly in that direction. The drop in investment is very concerning since it is investment that leads; consumption is a consequence of growth not a driver of it."

Calhoun concludes: "I have never bought into the secular stagnation theory but for now, this may be as good as it gets."
Before it's here, it's on the Bloomberg Terminal.
LEARN MORE