China's New Killer App Taps Huge Thirst for Japanese Goods
by and
App spurs online market set to reach 2.34 trillion yen by 2019

Five million Chinese spent $13.7 billion in Japan last year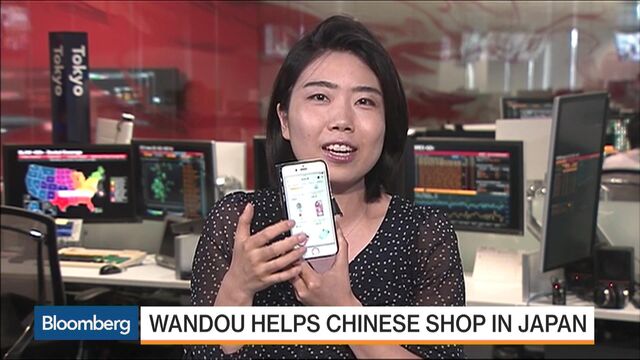 When Chen Xi wants to shop for Albion face lotion or Pola skin-whitening supplements, the Shanghai office worker turns to Princess and the Pea on her smartphone.

The app with the fairy tale name, called Wandou in Chinese, uses about 50 professional shoppers in Japan to procure everything from toilet-seat covers to toothpaste for consumers over in China. For Chen, it's a way of getting safe and reliable everyday items without having to leave her home or the country, and shipping is free for orders over 300 yuan ($45).
"My house is full of Japanese goods," said Xi, 34. "Princess and the Pea is very convenient -- I can find almost everything I want."
Chinese have been flocking to Japan for electronics, luxury and consumer goods for years, perceiving them to be better and more luxurious than what they can buy at home. Five million Chinese tourists shelled out 1.4 trillion yen ($13.7 billion) there last year, a 154 percent increase from 2014, Japan's tourism agency says.
Now, shoppers can spend without traveling.

Thanks to Wandou, one of the most downloaded shopping apps in China in June, and other businesses facilitating cross-border sales, Chinese consumers are set to create what Japan's Ministry of Economy, Trade and Industry predicts will become a 2.34 trillion yen e-commerce market by 2019. It estimates the market for Japanese goods bought by online shoppers in China was worth 796 billion yen in 2015.
Rising disposable incomes and growing awareness of international brands have encouraged "well-educated and sophisticated" shoppers in China's biggest cities to seek out imported goods, according to Euromonitor International.
"This led to the rocketing development of cross-border e-commerce in 2015, which resulted in more collaboration and integration," the market researcher said in a report in January. It noted that Laox, a duty-free chain that's majority owned by China's Suning Commerce Group Co., opened a flagship store on Alibaba Group Holding Ltd.'s Tmall online shopping platform in August. Fast Retailing Co.'s Uniqlo clothing brand, and cosmetic makers Shiseido Co. and Kose Corp. also sell products via the site.
'Explosive Shopping'
While retailer Takashimaya Co. and Shiseido are among companies that have benefited from "bakugai" or "explosive shopping" by Chinese tourists over the past few years, Japanese businesses in general need to do more to meet demand from China, according to Atsushi Okamura, a consultant with Nomura Research Institute in Tokyo.
"Japanese companies need to come up with a strategy to build sales channels to reach out to the mainland Chinese market directly," Okamura said in a phone interview. "If they just rely on demand from inbound tourists without planning, there's a chance that the 'explosive shopping' craze passes like a storm."
Specialist online retailers are already adapting to the e-commerce opportunity.
Amazon's Strategy
Amazon Inc. recently added Chinese language to its Japanese website, lowered the cost of shipping to China and enabled shoppers in China to pay with local currency in response to demand for goods ranging from health and personal care products to cosmetics, Amazon Japan President Jasper Cheung said in a July 27 interview.

Takashimaya, a department store chain founded in 1831, is also considering launching an e-commerce business serving Chinese consumers, said Kazuki Kojima, a marketing representative for the company. "We would like to start as soon as we can," he said.
Chinese consumers have the purchasing power, but lack "knowledge and information" of the trappings of a middle-class lifestyle, according to Weng Yongbiao, whose company Inagora Inc. released the shopping app last November. Its name stems from the idea that can help women realize a dream of being a princess.
Many of the goods offered on the app are bought directly from Japanese manufacturers, some of which use Wandou as their exclusive distributor, he said.
"We help Chinese consumers find good products and also help Japanese companies to introduce them to users," said Weng, who was born in Shanghai but spent almost 30 years studying and working in Japan, where he once ran the local operations for Beijing-based security software-maker Kingsoft Corp.
Potato Snacks
Wandou users can make purchases from among more than 3,000 items -- from Lion Corp. toothpaste and Kao Corp. sanitary pad to Calbee Inc.'s potato snacks -- stocked in a 20,000 square-foot warehouse near Tokyo's Haneda airport. Orders are shipped to China through the company's own logistics system.

Chen, the user in Shanghai, said buying via the app gave her greater confidence about the provenance of her purchases and reassurance that they aren't locally made knockoffs, after fake eyeliner purported to be made by a Japanese cosmetics company was discovered earlier this year being offered for sale on a popular e-commerce site in China.
"I want to use made-in-Japan products even if they cost me extra money since I'm scared of Chinese goods," said Chen. "There are a lot of people like me. Whenever I get good stuff delivered from Japan and introduce them to my friends, they want to buy them right away."
Before it's here, it's on the Bloomberg Terminal.
LEARN MORE