China Factory Gauges Splinter for July, While Services Advance
Bloomberg News
Manufacturing gauges agree no major deterioration last month

Jump in Caixin factory gauge contrasts with official measure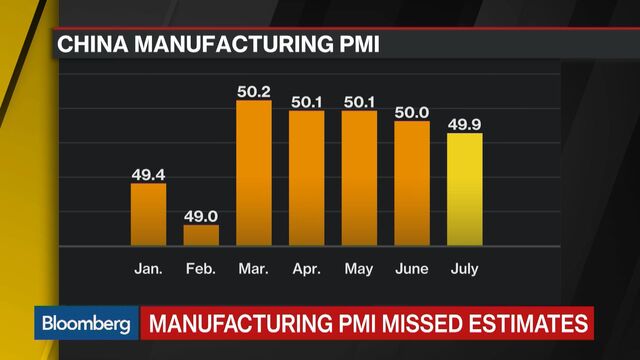 China economy watchers were left scratching their heads Monday on the state of the nation's manufacturing in July.
An official factory gauge and a private manufacturing measure headed in different directions, with the government's reading slipping and Caixin Media and Markit Economics's figure released 45 minutes later jumping to the highest since February last year. 
At least some investors focused on the stronger of the two, with the Hang Seng China Enterprises Index rallying. The Shanghai Composite slid amid continuing concern over potential curbs on wealth management projects.
Key Points
The official manufacturing purchasing managers index was 49.9 last month, compared with June's reading of 50, which was also the median estimate in a Bloomberg survey of economists 
Non-manufacturing PMI was at 53.9 compared with 53.7 in June 
As in June, drag on official manufacturing index comes from medium and small enterprises
Numbers below 50 indicate conditions are deteriorating
By contrast, manufacturing PMI from Caixin Media and Markit Economics jumped to 50.6 in July, from 48.6 in June
Big Picture
Both gauges at least suggest little significant deterioration in China's important manufacturing sector in July. Meantime, the trend of outperforming services remains clear. On the official gauge, a drop in a reading of new export orders, combined with a slump in South Korea's exports last month, suggest global demand remains tepid.
Economist Takeaways
"One way of cutting through the confusion is to avoid obsessing about small movements in the indexes," said Bloomberg Intelligence Economist Tom Orlik. "Stepping back from the detail, the data show China's economy remains in a holding position, with stimulus preventing a further deterioration but not driving a rebound."
"The market is generally more inclined to take on the Caixin PMI reading," said Zhou Hao, an economist at Commerzbank AG in Singapore. "We need to get in the middle of the two to get the whole picture. The emerging economies are generally on the rally, maybe we should believe that there is improvement and follow the money."
The Details
Measures of output, new orders and new export orders were among components of official factory gauge that declined
Large enterprises reported improving conditions, with manufacturing PMI for them rising to 51.2, while medium enterprises slipped to 48.9 and small to 46.9
On the services measure, new orders and selling prices slipped, while business activity expectations climbed
In Caixin PMI report, output rose to 52.1, highest reading since July 2014
Hang Seng China Enterprises Index rose 2 percent at 10:23 a.m. in Hong Kong, while the Shanghai Composite Index was 1.1 percent lower
Aussie dollar, seen as a proxy for bets on China's economy because of Australia's reliance on shipments of raw materials, climbed after Caixin PMI