Carney Quantifies Gloom With BOE Stimulus Debate at Crunch Point
By
Economists see BOE cutting growth, raising inflation forecasts

Officials mull stimulus package as U.K. flirts with recession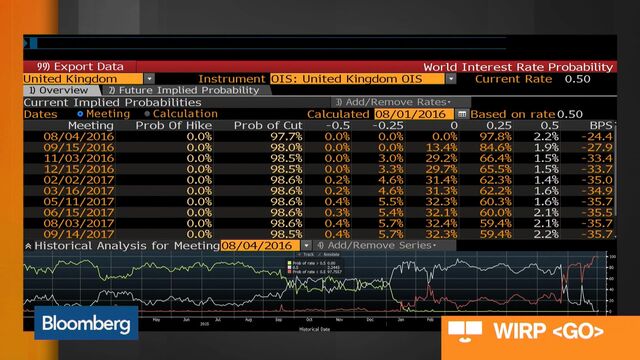 Mark Carney is about to put numbers on the gloom.
Six weeks after Britain's vote to leave the European Union sent shock waves across the nation, on Thursday the Bank of England governor will present a detailed assessment of what it means for the economy as well as his plan of action. With initial reports showing the U.K. may be headed for recession, he'll need to balance a realistic picture of what's in store against the prospect of being labeled a doom-monger.
The Monetary Policy Committee's first post-Brexit analysis is set to drive its debate over how to tackle weaker growth and faster inflation. With business and consumer sentiment faltering, the pound slumping and industries from airlines to manufacturers warning of a negative fallout, economists expect Carney to unveil a suite of stimulus.
"Given the early signs from surveys and consumer confidence, it seems prudent to act pre-emptively and deliver some policy easing," said Alan Clarke, an economist at Scotiabank in London. "I think they probably do forecast a technical recession. It'll be a little bit surprising if they don't."
Brexit Ripples
The Brexit result is rippling out into the economy, with potentially contrasting effects on demand, supply and sterling, which has dropped about 9 percent on a trade-weighted basis since the referendum. Almost every economist in a Bloomberg survey sees the MPC cutting its growth forecasts through 2018, while raising its inflation and unemployment projections.
If officials are anywhere as pessimistic as economists, they could slash their GDP outlook by the most since the financial crisis, Clarke said. In July, economists lowered their own forecasts, with the median in a Bloomberg survey falling to just 0.6 percent from 2.1 percent before the June 23 referendum. In May, the BOE expected growth next year of 2.3 percent, which would have been the fastest since 2014.
While the initial starting point for the MPC's forecast will be the stronger-than-expected second quarter, that data also showed a definite loss of momentum over the three months. 
The backdrop has worsened since the Brexit vote, with Markit saying its industry surveys in July suggest a 0.4 percent contraction this quarter. A final reading for services, which account for three quarters of the economy, will be published Wednesday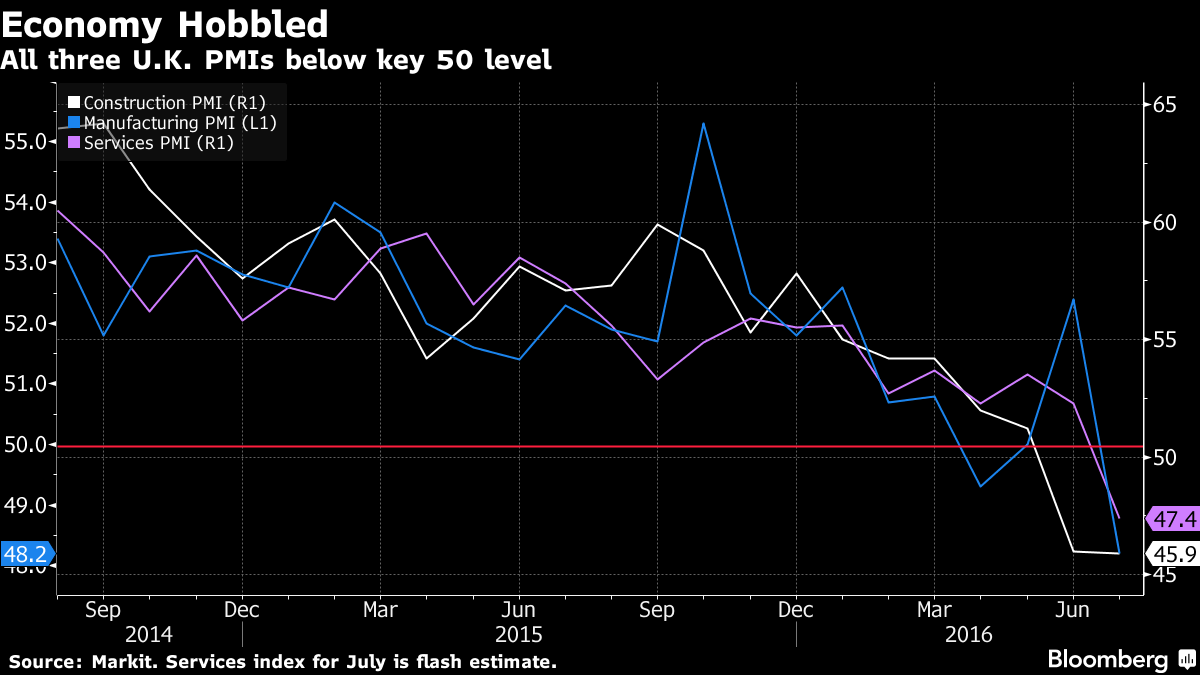 According to Carney, the MPC estimated in May that the pickup in uncertainty it had seen up until then would lower GDP by around 0.7 percent after a year. But that assumption was based on "Remain" winning the referendum and uncertainty fading away, meaning the hit could be much larger now. As well as outstanding questions about the U.K.'s new trade relationship with the EU, the new government has yet to outline its fiscal plans.
While some, including Goldman Sachs Group Inc., forecast a short-lived recession, others are less pessimistic. Bloomberg Intelligence U.K. economist Dan Hanson says the BOE will not go this far in its central forecast, though it will raise the possibility.
"We suspect that as yet, there is insufficient information to be too definitive," said Philip Shaw, an economist at Investec Securities in London. "The Inflation Report will highlight a risk of a recession, but not adopt it as its baseline scenario."
Inflation Concerns
Growth isn't policy makers' only concern. Weaker sterling will boost import prices, forcing the MPC to forecast inflation that's likely to overshoot its 2 percent target. The pound has weakened versus all of its 16 major peers in the past three months and was at $1.3213 as of 9:31 a.m. in London, down from $1.4451 on the day of the last Inflation Report in May.
Analysts see inflation accelerating to 2.3 percent by the second quarter of next year, before slowing to 2.1 percent by the start of 2018. Policy makers including Chief Economist Andy Haldane and Gertjan Vlieghe have signaled a willingness to "look through" any currency-linked overshoot of their goal to allow loosening to shore up growth.
Whatever the forecasts show, Carney faces a challenge after he drew fire before the vote by saying Brexit could lead to a slump.
Sign up to receive the Brexit Bulletin, a daily briefing on the biggest news related to Britain's departure from the EU.
"The BOE is in a difficult position," said HSBC Holdings Plc economist Simon Wells. "If it forecasts a recession, it could be accused of talking the economy down. But if it doesn't, it is open to criticism for scaremongering before the referendum."
Before it's here, it's on the Bloomberg Terminal.
LEARN MORE