Brexit Bulletin: British Manufacturing Hit Worse Than Thought
As the U.K. prepares for a rate cut, one supermarket pledges post-Brexit price cuts.
By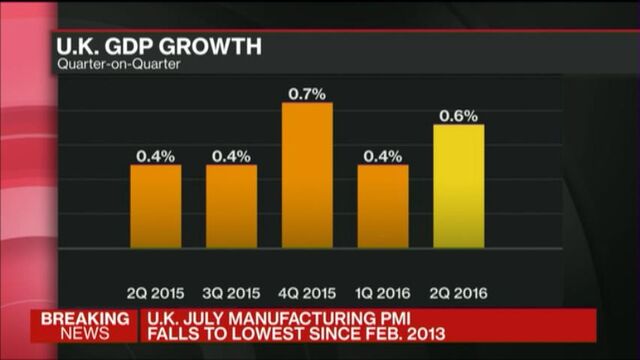 Sign up to receive the Brexit Bulletin in your inbox.
British manufacturers were harder hit by the Brexit referendum than first forecast.
The industry suffered its biggest drop in more than three years as a Purchasing Managers Index slumped to 48.2 in July, below the one-off reading of 49. 1, Markit Economics reported on Monday. The index was at 52.4 in June. 


Also today, Ernst & Young's ITEM Club predicted that business loans in the U.K. will shrink to the lowest in more than a decade as economic prospects weaken following the decision to quit the EU.
Total lending to companies will contract 1.8 percent next year and another 1 percent in 2018 before finally recovering the following year, the organization said in a report released Monday. By then, the total stock of business loans will have dropped to 376 billion pounds ($497 billion), the lowest since 2005, EY said.

On the mixed-news front, the Confederation of British Industry reported 41 percent of 186 surveyed since the referendum said they planned to maintain their investment plan and 10 percent planned to increase outlays. Half said they still play to hire. 
BoE to the Rescue?
Today's data reinforce expectations that Bank of England Governor Mark Carney will seek to stimulate the economy this week. 
After shocking investors by keeping monetary policy unchanged in July, Carney and his colleagues are predicted by almost every economist surveyed by Bloomberg to cut their benchmark interest rate for the first time since 2009. 
Forty-five of 47 economists surveyed expect the key rate to be lowered on Aug. 4, with the majority seeing a 25 basis-point cut to 0.25 percent.

 Pennies Add Up
Wm Morrison Supermarkets is cutting the prices of 1,045 items by an average of 18 percent in a bid to squelch fears that the U.K.'s vote to leave the EU will increase food prices.
The reductions are the latest round in a price war among Morrison and the other major U.K. supermarket chains -- Tesco, Sainsbury and Wal-Mart's Asda -- which are fighting competition from discounters Lidl and Aldi. It's at least the third major round of cuts this year by Morrison.
After Morrison's cuts, the price of its part-baked white rolls will fall to 54 pence from 62 pence, while a four-pack of Branston baked beans will be reduced to 1.50 pounds from 2 pounds, the company said.
Let's Make a Deal
While the U.K. isn't able to negotiate any bilateral trade pact until it has left the EU, it may only a take a year to strike a deal, Susan Schwab, a former U.S. trade representative, said on Friday in a conference call organized by law firm Mayer Brown.
That would be fast given the U.S.'s past performance. The average time taken for 20 deals with countries including Canada, Israel and Australia was 18 months, according to the Peterson Institute for International Economics. It also calculated the gap between the first round of negotiations to implementation averaged 45 months.
On the Markets
Hedge funds and other large speculators are the most bearish on the pound in at least 25 years. Sterling declined Monday after the weak manufacturing report. 

While in the stock markets,  lenders dragged down European equities even as stress-test results showed most of the firms would keep an adequate level of capital in a crisis. Futures on the S&P 500 and Dow Jones were little changed in European hours.

And Finally...
From German state elections to a referendum in Hungary, a string of votes pose further electoral challenges for Europe. Patrick Donahue runs through the list of elections to watch for political risk. 
For more on Brexit follow Bloomberg on Twitter, Facebook and Instagram, and see our full coverage at Bloomberg.com