BOJ Review Means More Market Volatility, Says Ex-Board Member
By
Shirai says Bank of Japan should wait possible Fed move

She says December would be better time for any more stimulus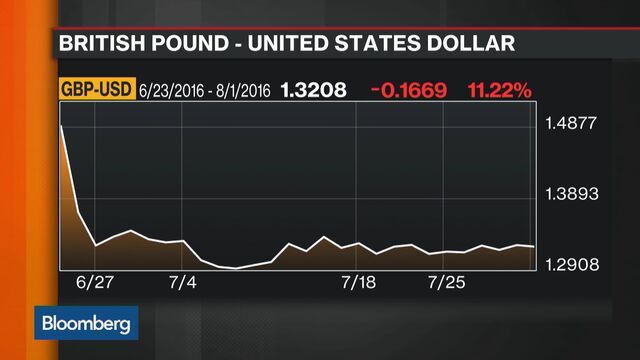 The Bank of Japan shares part of the blame for the volatility in markets and investors can expect another seven weeks of this after Governor Haruhiko Kuroda ordered a "comprehensive assessment" of BOJ policy, said former board member Sayuri Shirai.
The central bank should wait until December before any increase to its record stimulus program, according to Shirai, 53, who said she couldn't rule out a move by the BOJ as soon as the next board meeting on Sept. 20-21. Speaking in an interview by telephone on Monday, she said that by waiting until December, there was a greater chance of an interest-rate hike by the U.S. Federal Reserve, which would help Japan maximize the impact of any boost to its own monetary policy.
Having pushed back his forecast for reaching 2 percent inflation four times, and with no likelihood of hitting it anytime soon, Kuroda caught observers off guard last week when he limited policy changes to just an increase in purchases of exchange-traded funds. Many economists had also forecast the central bank would make a deeper cut to its negative interest rate, along with stepped up buying of Japanese government bonds. Instead, the big news was the comprehensive review.
"The BOJ has been a source of market volatility. They've got to improve their communications," said Shirai, whose five-year term on the board ended in March. "The announcement of the review came out of nowhere. This will be another source of volatility. Markets are being left wondering whether the BOJ will add to easing or not."
For a quick explainer on what is known about the BOJ's review, click here.
Shirai, who voted with Kuroda during most of her term, was one of four dissenters on the January decision to adopt the negative rate. In an interview in April, she said the central bank needed to do a better job of communicating its policy and also warned that it was likely to run up against limits on its bond purchases within two years.
She said on Monday that one thing is for sure right now: it's hard to imagine that the BOJ review will deliver a conclusion that its policy isn't working.
In her view, the BOJ should make its 2 percent inflation target a longer term goal, while aiming for 1 percent in the short term, which would curb market expectations for stimulus at each policy meeting.
The current time frame has the central bank hitting the goal sometime during the fiscal year that ends in March 2018.
"Kuroda didn't have enough confidence to justify more bond purchases and a cut in negative rates but he had to do something to respond to heightened market pressure," Shirai said of the July 28-29 policy meeting. "The BOJ must make the current policy more sustainable because it won't be able to hit its price target in a few years."
Before it's here, it's on the Bloomberg Terminal.
LEARN MORE