After Two Bailouts, Monte Paschi Faces a Challenge Wooing Investors
By and
Plan calls for more investor money without public backstop

Doubts remain over bank's ability to return to stable growth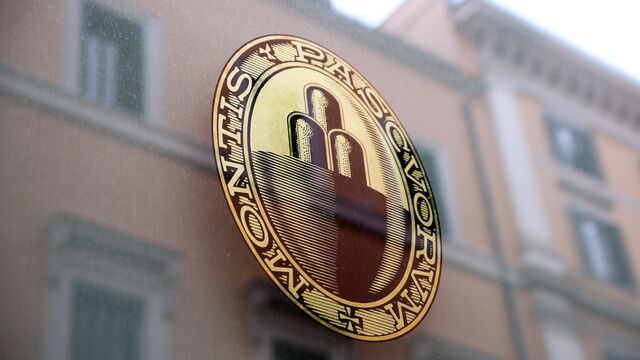 Banca Monte dei Paschi di Siena SpA's plan to turn to private investors to help bolster its balance sheet ended speculation for now that Italy would bail out the world's oldest lender for a third time to help stave off another banking crisis.
Success depends in part on winning backing for a new fund that will buy the bank's bad loans at prices that, according to at least one analyst, are higher than buyers have been willing to pay. Then Monte Paschi needs to find investors ready to provide 5 billion euros ($5.6 billion) of new equity to a lender worth less than 1 billion euros.
"Execution risk is high, but Monte Paschi's restructuring plan is comprehensive and well designed," Andrea Vercellone, a London-based analyst at Exane BNP Paribas, wrote in a July 31 note. "In the absence of negative external shocks, we believe a legacy-free Monte Paschi will be able to successfully complete the rights issue."
There's more at stake than the fate of Monte Paschi. Doubts over the health of Italy's weakest lenders -- and Prime Minister Matteo Renzi's faltering efforts to fix them -- have contributed to a deepening pessimism about the European financial industry. Banks are the worst performing group on the Stoxx Europe 600 Index, dropping 26 percent this year.
Monte Paschi, which presented its plan late Friday, closed at 31 cents, up 0.6 percent. The bank has lost about 74 percent of its market value this year.

European stress tests released Friday showed Monte Paschi's capital wiped out under the exam's toughest scenario, the worst performance among the 51 banks examined. 
For more on the credibility of bank stress tests, click here
The latest effort to restore the ailing lender to profitability will seek to cleanse its balance sheet and bolster capital sufficiently for the company to grow again. That would also make it more attractive to a potential buyer. What's less certain is whether it can succeed.
Monte Paschi's share sale, due this year under the plan, depends on its ability to find buyers for its non-performing debt. The bank plans to sell a 27.7 billion-euro bad-loan portfolio for 9.2 billion euros, or 33 percent of its gross value.
Higher Price
That price is significantly higher than the 20 percent to 25 percent private equity firms have been previously offering, Kian Abouhossein, an analyst at JPMorgan Chase & Co., wrote in a note to clients on Saturday.
Under the plan, the bad loans will be moved off the bank's balance sheet to a separate entity and securitized -- a potentially complex process including thousands of client borrowings and requiring vetting by rating companies. As much as 6 billion euros of the resulting bonds will be eligible for a government guarantee, the bank said Friday. Atlante, a fund set up with mostly private contributions to help struggling lenders, will purchase as much as 1.6 billion euros of the debt. The lowest-quality securities will be kept by the bank's shareholders.
'Complex Nature'
"We see no room for error due to the plan's complex nature," Eoin Mullany, an analyst at Berenberg, wrote in a note on Monday. "Considering the complexity of the transaction and the number of steps needed for it to be successful, we struggle to see it being executed successfully in its current format."
Global investment banks including JPMorgan, Deutsche Bank AG and Goldman Sachs Group Inc. have agreed to underwrite the share offering subject to the bad-loan sale and positive feedback from potential buyers, Monte Paschi said.
The lender may arrange for a bridge loan to accelerate the securitization and meet its goal of carrying out the rights offer this year
"Italian banks could remain under pressure until the MPS transaction is completed," according to JPMorgan's Abouhossein.
Monte Paschi's board on Friday rejected a proposal from UBS Group AG and Corrado Passera, Italy's former economic development minister, designed to turn around the ailing lender, the bank said in a separate statement that day, without giving details.
Passera Plan
The plan, known to Chairman Massimo Tononi, included a capital increase of between 2.5 billion euros and 3 billion euros, guaranteed by UBS, and the voluntary conversion of about 1 billion euros of subordinated bonds, according to a draft of Passera's presentation seen by Bloomberg. Officials for Passera, Monte Paschi and UBS declined to comment.
Italian authorities have been seeking ways to stabilized a financial system saddled with about 360 billion euros of non-performing loans, a legacy of years of economic stagnation. Unlike in Spain, where the weakest banks were bailed out in 2012, the Italian government didn't force banks to resolve the situation. The European Central Bank has now taken over supervision of the euro area's biggest lenders, and its demands for action have helped bring matters to a head.
The European stress tests showed that, unlike Monte Paschi, most lenders would keep an adequate level of capital in a crisis. Among the region's biggest banks, London-based Barclays Plc fared worse than Deutsche Bank and almost as poorly as Italy's UniCredit SpA. Monte Paschi and Allied Irish Banks Plc fell below the minimum capital level required by regulators.
For more on Deutsche Bank's stress test result, click here
"The results are better than expected for the bigger banks, including Deutsche Bank and UniCredit," said Carlo Alberto Carnevale Maffe, professor of business strategy at Milan's Bocconi University. "What remains a worry is Monte Paschi, which needs urgent measures to replenish capital."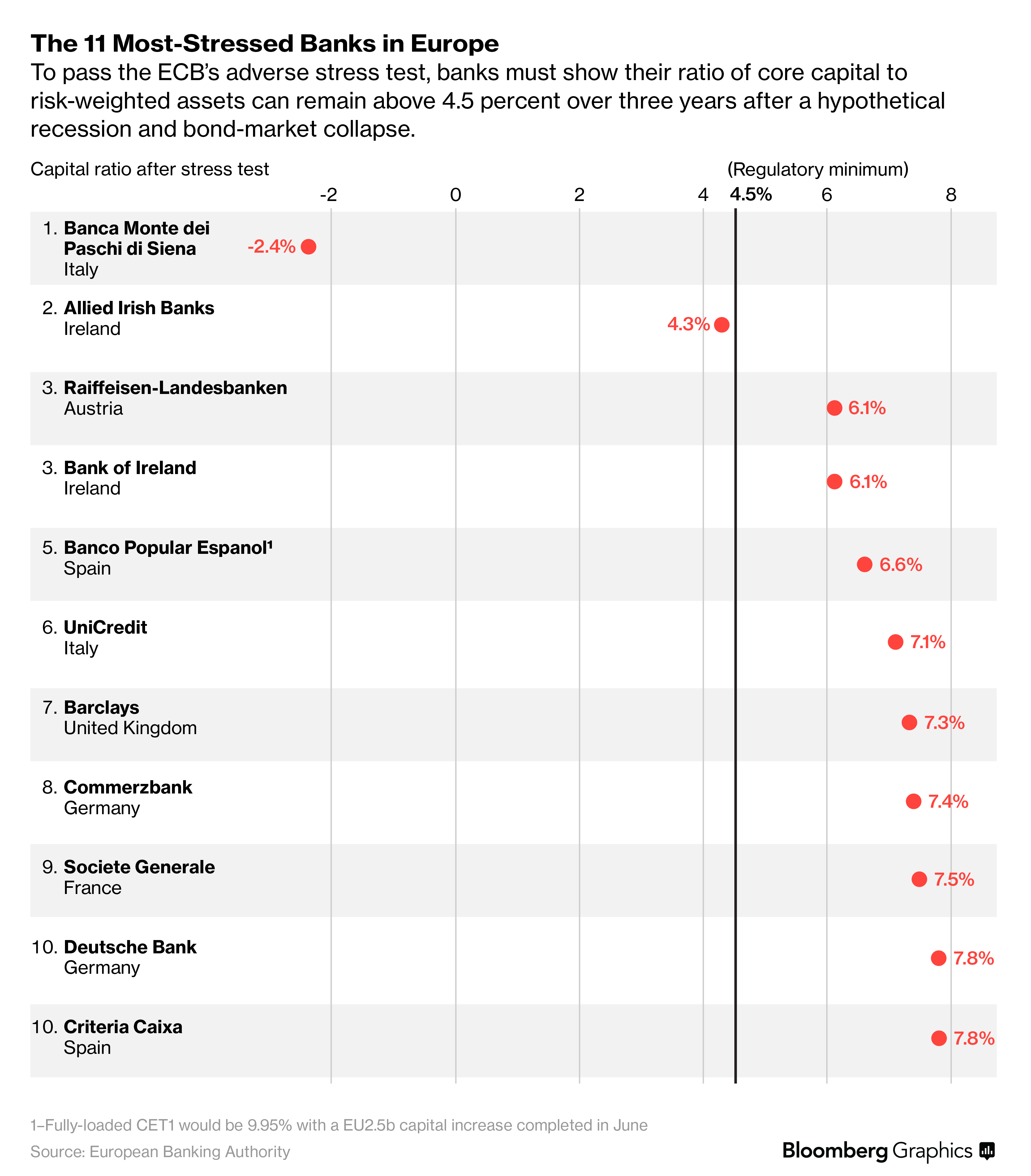 Monte Paschi's business model is "certainly sustainable from an industrial point of view," Chief Executive Officer Fabrizio Viola said in an interview published Sunday in Il Sole 24 Ore newspaper. A tie-up with another bank -- long thought to be the only way out of the crisis -- was no longer a necessity but could be an option in the future, he said.
After months of public debate over the latest rescue plan, Renzi promised the bank will not be bailed out with public money.
"I don't want today's citizens to pay for the liabilities of yesterday's bankers and politicians," newspaper la Repubblica quoted him Sunday as saying in an interview. "Whoever made a mistake should pay, not ordinary people."
Before it's here, it's on the Bloomberg Terminal.
LEARN MORE