This $40 Billion Finnish Fund Says Russia Is Biggest Worry
by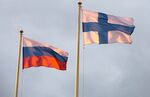 Sharing the European Union's longest border with Russia can provide a unique perspective when it comes to assessing the region's biggest geopolitical threat.
The man running one of the largest funds in Finland -- a country that has avoided provoking Russia by staying outside NATO -- says Europe's relationship with its eastern neighbor is his top concern when he goes over the list of geopolitical flash points threatening to destabilize the global economy.
"The big problem is the situation between the EU and NATO against Russia," Timo Ritakallio, chief executive officer of Ilmarinen, a Finnish pension fund that oversees about 36 billion euros ($40 billion) in assets, said in an interview in Helsinki. "It is not a good situation for anybody."
Donald Trump
Though Russia's most recent appearances in western media have been in connection with Republican presidential candidate Donald Trump's apparent invitation to the country to hack U.S. state department e-mails, Ritakallio points to the lingering effect of two-year-old sanctions between Russia and Europe as his main worry.
The EU imposed economic restrictions on Russia in 2014 after President Vladimir Putin annexed Crimea. Russia then responded with its own sanctions. The spat drove Russia's economy deep into recession with gross domestic product plunging as much as 4.5 percent in the second quarter of 2015.
"The Russian economy is very weak after these sanctions," Ritakallio said. But the measures have "also led to lower economic growth in the euro zone." There's now a "permanent" state of geopolitical tension, which is clearly "not a good thing," he said.
Europe's standoff with Russia, combined with the threat of terrorist attacks and Middle Eastern unrest, means that people tend to think now "is not right time to make any investments," Ritakallio said. Households are holding back, tourism in Europe is in trouble "and things like that always have a negative impact on growth."
Isolationism Returning?
"The biggest geopolitical challenge is still here in Europe, and Russia and the relation between the two," Ritakallio said. Add Turkey to the mix, and the problems start to look even bigger, he said.
With the U.S. set to hold its most contentious presidential election in decades, investors face two very different worlds after November with the geopolitical stakes higher than usual, depending on the outcome. Trump has implied NATO members would only get U.S. assistance if they paid for the favor, while he has flirted with Putin without providing much insight into how he would shape U.S.-Russian relations in practice.
A Trump win in November will trigger "uncertainty" in markets, Ritakallio said. The longer term concerns would be how an isolationist policy would affect the global economy, he said.
There would be questions around the "geopolitical situation globally and that is problematic," Ritakallio said. An "increase in nationalism and protectionism" would require a complete review of the economic outlook and how investment strategies are affected, he said.
Inflation Risks
For now, Ilmarinen is cutting back on fixed-income investments and switching more into real estate and infrastructure. Part of that shift is linked to the fund's efforts to shield itself from a sudden surge in inflation following a period of extreme monetary stimulus.
"We're keeping our bond portfolio duration on a very short level," Ritakallio said.
"Some day, after this period of money-printing from central bankers is over," inflation will again be on the agenda, he said. "Not this year, not next year probably, but some day. Then it will be important to have assets that provide a very good inflation hedge."
The U.S. Federal Reserve is unlikely to raise rates this year, but policy normalization will start at some point, probably in the first half of 2017, Ritakallio said. Though economic growth remains "a bit on the low side," rates will need to be higher so that there's room for stimulus "when the next recession comes," he said.
Before it's here, it's on the Bloomberg Terminal.
LEARN MORE