business
Australian Central Bank's Lowe Will Be the Economy's Main Carer
By
Government aims to reduce deficit, not provide fiscal support

Business lending drop suggests no sign of investment pick up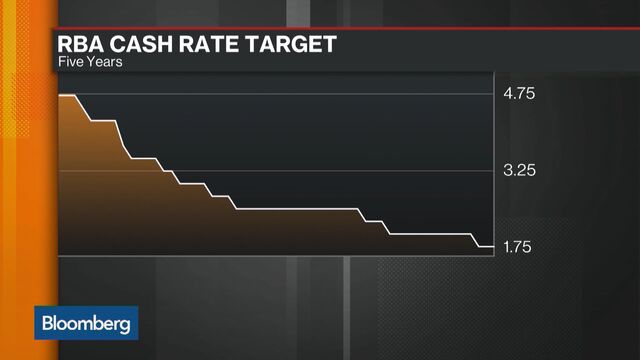 Incoming Australian central bank chief Philip Lowe faces the prospect of nursing a transitioning economy as the government focuses on reducing a budget shortfall to save the country's AAA rating and economists forecast a Tuesday policy easing.
Treasurer Scott Morrison emphasized "getting the deficit down" in an interview at a Group of 20 meeting in China, after S&P Global Ratings cut Australia's outlook to negative amid concerns of fiscal-policy gridlock. "That's the real challenge for the prime minister and I over the next 6-12 months, to ensure what we've put forward in our budget and the envelope of savings and revenue measures" are passed by parliament, Morrison said.
That presents a challenge for Lowe, whose future interest-rate arsenal could be further diminished. Traders and economists are betting Governor Glenn Stevens, who has seven weeks left in the role, will cut the cash rate target by 0.25 percentage point to a fresh record at 1.5 percent on Tuesday after standing pat for two months. Outside very weak inflation and record-low wage growth, the Reserve Bank of Australia also confronts a currency that's risen almost 10 percent from its January trough.
"Monetary policy is really the only swing instrument -- the only game in town," said Andrew Ticehurst, an interest-rate strategist at Nomura Holdings Inc. in Sydney. "If we are in a world where fiscal policy is constrained because the government is a bit nervous about getting downgraded; if we are in a world where the Australian dollar is going to continue to trade north of fair value because of very low cash rates elsewhere and capital inflows; and if we are getting no policy assistance from those two levers, then monetary policy is all that's left."
Swaps traders see a 67 percent chance for a rate cut on Tuesday and 86 percent odds the benchmark will be 1.5 percent or lower by year's end. Indeed, JPMorgan Chase & Co., Morgan Stanley and Macquarie Bank Ltd. anticipate Lowe will need to cut the cash rate to 1 percent in the second quarter of next year.

While rate cuts are very much in play, the central bank has been buoyed by stronger economic growth -- 3.1 percent in the first quarter from a year earlier -- and unemployment holding below 6 percent for most of this year, maintaining a transition away from mining to services like tourism and education. 
That shows some parallels to Sweden's economy, which grew an annual 4.2 percent in the first quarter even as the central bank runs a negative-rate policy and bond-buying program to revive inflation. Down Under, headline annual consumer-price growth slowed to a 17-year low in the second quarter; the central bank's most recent rate cut in May came after a weak inflation reading days earlier.
Mixed Picture
Other indicators are less clear. In minutes of last month's policy decision, the RBA conceded the jobs market was looking more mixed as hiring in 2016 had been driven by part-time roles. It said that underemployment wasn't dropping in line with the jobless rate, which has fallen to 5.8 percent from 6.3 percent a year ago.
At the same time, data Friday showed growth in outstanding mortgages slowed to a two-year low and lending to businesses and consumers fell 0.2 percent in June, the weakest result since late 2012. Housing and construction had been booming from record-low rates, while the RBA looks to business lending as a guide on whether moribund investment outside the mining industry might be set to pick up.
"This represents a further headwind to investment moving forward, and suggests that businesses remain reluctant to undertake large capital expenditures despite falling financing costs," said Henry St John, an analyst at JPMorgan.
The RBA will release its quarterly update of economic growth and inflation forecasts on Aug. 5.
Resurgent Aussie
Lowe may also face a resurgent currency when he takes over. It was at 76.08 U.S. cents on Monday at 2:37 p.m. in Sydney and AMP Capital Investors Ltd., the country's biggest money manager, warned it could climb to 80 cents this year without rate cuts.
Asked about AMP's view, Morrison said that such a level would "focus the minds of our Reserve Bank" and added that he hoped to maintain a position "roughly where we are" in the July 23 interview.
While some of the exchange rate's improvement reflects stronger commodity prices, a key income source for Australia's economy, much also relates to other central banks' policy decisions. The RBA had hoped the U.S. would be regularly tightening by now, pushing the greenback higher and sending the Aussie lower; instead, traders are betting the Federal Reserve won't move for the rest of this year.
"While it is hard to gauge, we also think that the board will consider the currency's likely reaction if it decides to keep rates on hold," said Felicity Emmett, head of Australian economics at Australia & New Zealand Banking Group Ltd. "The board has repeatedly warned that the exchange rate could complicate the recovery and we think renewed strength would make the RBA uncomfortable."
— With assistance by Kimberley Verschuur, and Narayanan Somasundaram
Before it's here, it's on the Bloomberg Terminal.
LEARN MORE