business
Money-for-Parents Policy Has Top Polish Retailer on Job Hunt
By and
New handouts boost consumption, push Poles out of workforce

Jeronimo Martins sees upward pressure on Polish salaries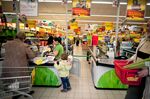 The roll-out of the Polish government's flagship welfare program hit the country's biggest retailer with a bittersweet result last quarter, lifting sales while also pressuring it to raise wages as it struggles to hire new workers.
Sales at Portugal's Jeronimo Martins SGPS SA's Polish Biedronka supermarket chain jumped 10.2 percent in April to June from a year earlier to 2.4 billion euro ($2.66 billion), it said in a quarterly filing last week. The surge came amid the start of a 500 zloty-a-month ($127) payout for every child after the first introduced by the conservative government. The program is boosting consumption and pushing an increasing number of low-wage earners out of the workforce, according to employers lobby group Lewiatan.
"Particularly on labor costs, we will be having some pressure in Poland," Ana Luisa Virginia, Chief of Staff to Jeronimo Martin's Chief Executive, told a conference call Thursday. "There's also a lack of labor on offer that adds pressure on salaries."
The child handout, which is on track to lift domestic demand and keep the $475 billion economy growing more than 3 percent this year, is more generous than a similar benefit in oil-rich Norway, when the two countries' wage levels are considered. The main pledge of the ruling Law & Justice Party in the run-up to last year's election, the payouts accompany an increase in the minimum wage as the government seeks to replace an economic model that it says is driven mainly by labor-cost differentials with more innovative and higher-value production.

Child benefits are also boosting bank deposits in a sign that disposable incomes are rising along with consumption, Cezary Stypulkowski, CEO of the third-largest Polish lender MBank SA told reporters in Warsaw on Thursday.
A negative side-effect is that employers like Biedronka, whose 2,693 stores make it Poland's biggest seller of goods from diapers to booze, are finding it increasingly difficult to fill vacancies. With the benefits encouraging those with multiple children to drop out of the workforce, the pool of available employees, already limited by about 2 million Poles living abroad, may shrink further if the government carries out its promise to cut the retirement age as soon as next year.
Labor Shortage?
"In the long-run, child benefits may trigger the deactivation of a large part of the workforce, further straining the already small pool of available labor," said Grzegorz Baczewski, an economist at Lewiatan. "It will also become a social issue as many people may not be able to return to the labor market when their entitlement expires."
Employers working in industries ranging from agriculture to tourism, retail and construction are struggling to fill vacant jobs this summer amid a seasonal pickup of activity, Lewiatan's Baczewski said. Poland has one of the European Union's lowest labor activity rates, with 56 percent of the working-age population either in jobs or looking for work, according to Central Statistical Office data for the first quarter of 2016.
For a story on Poland's generous child support policy, click here
Poland's unemployment rate fell to 8.8 percent in June, tied for the lowest on record since the country's switch to a market economy in the early 1990s and down from as much as 14 percent two years ago. The government plans to increase minimum wage to 2,000 zloty per month in 2017 from 1,850 zloty now. The average wage jumped 5.3 percent year-on-year in June to 4,252 zloty.
Biedronka, whose sign of a smiling ladybug features in hundreds of Polish cities and towns, raised the entry-level salary for cashiers by 12.5 percent to 2,250 zloty in April and offered monthly bonuses of up to 350 zloty to ensure its labor needs are met, according to Haitong Securities. Poland's purchasing managers' index, a gauge of manufacturing, dropped in July to the lowest level since September 2014 on lower assessments of output and new orders.
"We might have boosted incomes," Baczewski said. "But with the limited workforce we have, it may be difficult to increase production to meet that demand."
— With assistance by Marta Waldoch
(
Updates with new PMI data in paragraph 10.
)
Before it's here, it's on the Bloomberg Terminal.
LEARN MORE