Photographer: Daniel Acker/Bloomberg
It's Not Easy Being Grains When Investors Bet on Price Demise
by
Measure of combined soy, corn, wheat holdings turns negative

July rains boost U.S. harvest outlook, adding to excess supply
Investors have turned against three of the largest U.S. crops, betting that timely rainfall will further swell grain supplies and exacerbate price drops.
Hedge funds and other money managers are now holding a record wager on further declines for wheat, have increased their bearish outlook on corn and dumped bets on a soybean rally for a seventh straight week. A combined measure on the big three U.S. crops turned negative last week for the first time in three months.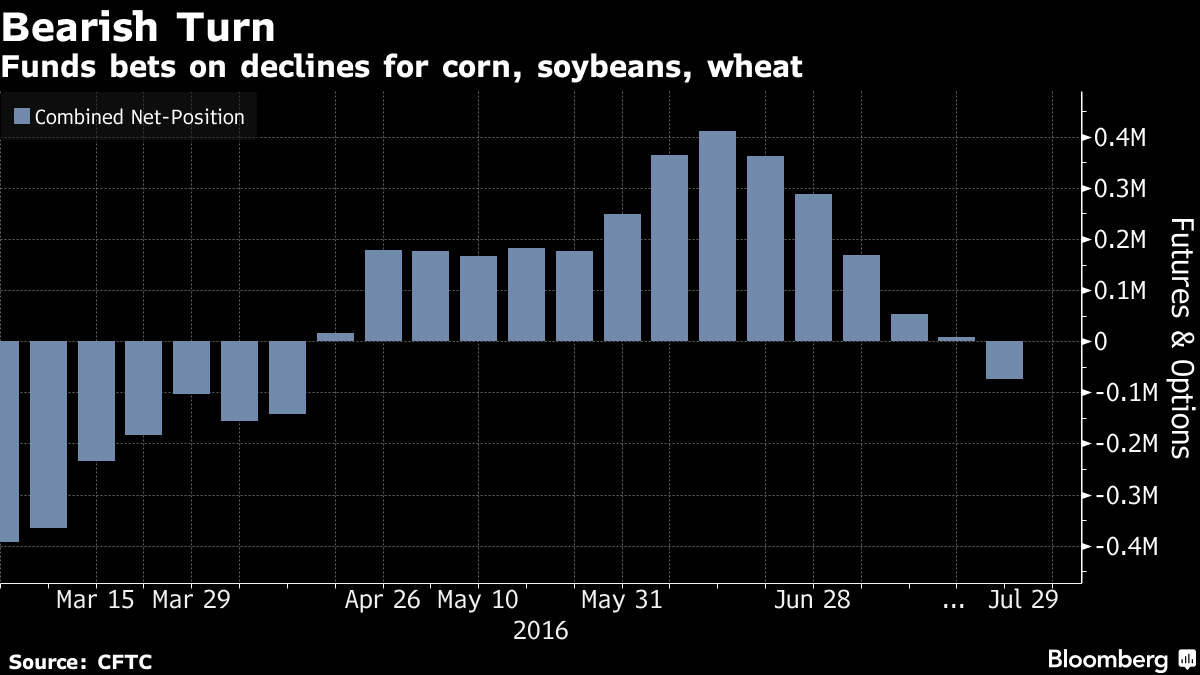 The Bloomberg Grains Subindex plunged 10 percent in July, the most since the same month of 2015. While worries of continued heat and dry weather across the U.S. Midwest lifted crop prices in June, timely July rains proved favorable. Corn conditions climbed during the critical pollination period, soybean ratings stayed high and the harvest of winter wheat added to a global glut.
"The backdrop heading into this year was one where you had adequate grain stocks across the world, particularly in corn and wheat," said Matt Campbell, a risk-management consultant at INTL FCStone in West Des Moines, Iowa. "If there wasn't going to be a relatively significant weather problem, this was a year where it was going to be tough to sustain a meaningful rally."
Bearish Bets
The combined position across the three crops turned net-short to 74,033 contracts in the week ended July 26, according to Commodity Futures Trading Commission data published three days later. That compared with a net-long holding of 7,724 a week earlier and is the first bearish outlook since mid-April. The Bloomberg Grains Subindex is down 6 percent in 2016.
The U.S. is coming off back-to-back years of bumper corn and soybean production, and the world is saddled with record wheat inventories. The International Grains Council on Thursday boosted is outlook for combined global stockpiles of wheat, corn and other grains by 1.2 percent, predicting an even bigger all-time high.
After a late-spring heat wave, some traders had worried that it was going to be a hot, dry U.S. summer and crop concerns ramped up. Instead, for farmers including Philip Volk of North Dakota, rains came just in time to establish solid crops.
"They have moisture to draw on, and the plant population is there," said Volk, who grows spring wheat, corn, soybeans, barley and pinto beans on 4,000 acres near Rugby. "Everything would say it could be near the top of the yields."
Crop Tour
On Monday, participants began surveying U.S. corn and soybean fields as part of the MDA Weather Services crop tour that will travel the largest producing states, including Iowa and Illinois. The U.S. Department of Agriculture is set to release its first survey-based production forecasts for the crops on Aug. 12.
Even the recent rains came too late to rescue some crops. Volk said that while yields for his corn and soybeans have strong production potential, spring wheat could suffer from the early lack of moisture. Yields for the crop across the state will probably drop to an average of 45.7 bushels per acre, according to results issued July 28 at the end of the Wheat Quality Council's annual crop tour. That's down from the tour's forecast for 49.9 bushels last year.
To read more about the spring-wheat tour, click here.
At the same time, weather in August could pose risks, particularly for soybeans, which have begun to set the pods that fill with oilseeds. A few "lingering dry spots" in the Midwest are the main threat through early August, Commodity Weather Group said in a report e-mailed Friday.
Amid a looming La Nina weather event, "the big question mark was if the usual hot, dry conditions that come with that will come during the growing season or further out in November, when it doesn't matter as much for crops," said Alex Norton, director of risk management at commodity-consulting firm Beeson & Associates Inc. in Crestwood, Kentucky. "It seems like the heat is here, but the dryness isn't really happening. The weather hasn't been as bullish as people thought."
Before it's here, it's on the Bloomberg Terminal.
LEARN MORE