History No Friend to Emerging-Market Currencies as August Lands
By , , and
Currencies fell this month in seven of the past 10 years

Drop-off in liquidity seen extending losses from falling oil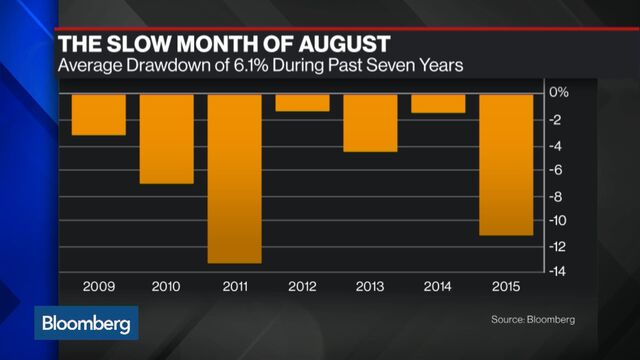 Currencies of developing nations have had a great run since the aftermath of the Brexit vote, posting an advance in the past month or so that's been bettered just once in 4 1/2 years. Now their gains may be about to come to an abrupt halt -- all because of a quirk of history.
Emerging-market currencies fell in seven of the past 10 Augusts. It's almost impossible to know why this happened: Aviva Plc calls it a "coincidence" while others attribute it to investors paring holdings of assets considered to be riskier in case they're caught out while on vacation.

"This August effect is one of those weird things that seems to happen almost every year, and whatever may be driving the market is magnified by low-volume trading," said Win Thin, head of emerging-market currency strategy at Brown Brothers Harriman & Co. in New York.
This month may be particularly perilous for developing-nation currencies, with the Rio Olympics drawing more traders away from their desks and an increase in terror attacks potentially moving markets. Most vulnerable are Brazil's real and South Africa's rand, which are forecast to post the biggest losses by year-end among 24 peers tracked by Bloomberg after being among the top three gainers versus the dollar in 2016. The currencies declined 0.5 percent and 0.2 percent respectively against the dollar on Monday.
The MSCI Emerging Markets Currency Index fell an average 0.9 percent in the month of August over the past decade, tying this as the worst month with November. Liquidity in foreign-exchange trading dropped in six of the past 10 Augusts, according to Bank of America Corp. data. The index rose 0.3 percent on Monday.
Summertime Blues
"It's generally referred to as the summer doldrums," said Stephen Innes, a senior trader in Singapore at currency broker OANDA Corp. "Generally in summertime there's a slowdown in the economy when there's not a lot of activity in capital markets. And a lot of traders are taking holidays."
Emerging-market currencies have risen in 2016, with MSCI's index climbing 5.6 percent, headed for its first annual advance in four years. More than half of those gains -- about 3.2 percent -- are since June 27, when markets began their recovery from Britain's shock decision to quit the European Union.
Apart from the 5.2 percent jump this March, that's better than any single-month gain since January 2012. Like global stocks, the currencies have rallied on speculation central banks will use additional stimulus to counter the economic fallout of Brexit.
Fed Headwind
Those gains may be about to run out of steam, not just in August, but longer term. While the Federal Reserve's monetary policy statement on July 27 sought to damp speculation about an imminent increase to U.S. interest rates, officials also upgraded their assessment of the economy. Other headwinds to consider include tumbling oil and commodity prices.
Not everyone's so pessimistic. Brown Brothers's Thin said the prospect of a delayed dollar-boosting U.S. rate hike at least gives investors "a few months to be positive on emerging currencies" following an August selloff.
Aviva's Liam Spillane, who as a London-based money manager helps oversee about $5.5 billion of emerging-market debt, said the short-term outlook for the currencies may be "a little challenging given the recent move in oil," which is falling back toward $40 a barrel, as well as prospects for a stronger dollar. Still, he said he's "positive in the medium to long term."
Yet the fundamental picture looks bleak. With China's economy growing at the slowest pace in two-and-a-half decades, developing nations are the source of much of the instability in world markets. JPMorgan Chase & Co.'s index of emerging-market currency volatility last week exceeded a developed-nation measure for the first time since May -- re-establishing a trend seen during times of stress such as the 2008 financial crisis.
"Gains in emerging-market foreign exchange will be difficult," said Jason Daw, head of strategy for the asset class at Societe Generale SA in Singapore. The bank is neutral on the currencies over the next year but recommends betting against South Korea's won as a hedge against seasonal losses. "Investors might start reducing exposure ahead of illiquid August trading."