pursuits
Goodbye Hedge Funds, Hello Moomins as Financier Eyes Theme Park
By , , and
Derivatives pioneer Robert Hirst plans Moomin venue in Japan

Sees better prospects for cute characters than hedge funds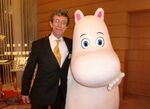 Three decades in Tokyo's finance scene led Robert Hirst to this: opening a theme park starring Nordic hippo-like characters known as Moomins.
The veteran British financier who helped pioneer yen-dollar swaps at the height of Japan's bubble economy has turned his back on hedge funds and is knee-deep in sketches of the mouthless, round-bellied adventurers created by Finland's Tove Jansson in the 1930s. He plans to open his venue in the hills outside Tokyo next year. Moomins, he says, are perfect for the nation that reveres fictional characters such as Hello Kitty.
Japan loves "kawaii," says Hirst, referring to the Japanese word for cute. "I stopped trying to sell hedge funds."
Hirst, who helped hedge funds raise money from investors, is shifting focus as that industry struggles in Japan while cuddly characters expand into a $23 billion business. The obsession with lovable figurines has spread so far that local governments, the stock exchange and even prisons have their own mascots.
Hedge Funds
The 68-year-old Brit spent much of the last decade as chairman of Fintech Global Inc., a boutique investment bank that helped set up and did marketing for alternative asset managers. That wasn't easy, he said, as a 2012 scandal at Tokyo-based AIJ Investment Advisors Co., which oversaw almost 146 billion yen ($1.4 billion) in money from pension funds and other clients, made already conservative institutional investors even more wary of hedge funds. Fintech's shares closed 0.8 percent lower in Tokyo trading on Monday.
After leaving a job at the World Bank in Washington, Hirst landed in Japan in 1984 to head derivatives sales at Citibank NA, where he helped develop the yen-dollar Libor and yen-yen fixed-float swaps markets. In 1987, he became head of Asian operations for AIG Financial Products Corp. He joined Fintech's board in 2005 and was named chairman two years later.
New hedge fund launches in Japan fell to 11 in 2014 from 24 a year earlier, according to Eurekahedge Pte. In 2015, just two new funds started. While tighter regulation and lower returns are prompting hedge fund closures globally, the phenomenon is exacerbated in Japan by higher taxes and greater difficulty doing business.
Bigger Exodus
Hirst is far from alone in retreating from this world. Many managers moved to Singapore or Hong Kong, while others got out altogether. James Fiorillo, for instance, traded in the life in Tokyo to run a small startup offering racing-car simulators and other forms of virtual reality.
In 2013, just as Hirst was deciding to get out, he met with a Finnish investment banking contact who had an unusual proposal.
"The Moomin people were trying to get someone to open a theme park in Japan, because Japan is such a big part of the Moomin business," Hirst says. "I went to talk to our CEO and said we have this expression of interest in a Moomin theme park, and he said 'Moomins! Wow, yes we should.'"
Hirst's chief executive officer convinced him of Japanese people's love for the cartoon, which has been broadcast on television there since the late 1960s.
Moomin Craze
The round-snouted creatures, which live peacefully in Moominvalley and whose adventures always end happily, have spawned fan sites, shops and cafes where customers dine with big stuffed versions of their favorite characters. Some Japanese couples even travel to Helsinki to get married at the Moomin theme park, with Moominpappa carrying out the ceremony.
"Moomins hark back to a simpler time when life wasn't all digital and high-speed," Hirst said.
Hirst purchased a chunk of land with a lake about an hour west of Tokyo. The park, a joint venture with a Finnish partner, will focus more on nature than the Disney venues in Japan, Hirst says. His company owns 75 percent. He's looking into everything from offering sailing rides to giant puzzles carved from wood by local juvenile prison inmates.
Big Business
Then there's the draw of the Moomins. Gross global sales from products and licensing came to more than 500 million euros ($558 million), with almost 40 percent from Japan, according to Hirst. A Moomin exhibition in Tokyo in 2014 sold about $3 million in merchandise.
"It's big business," he says. "That's a lot of coffee mugs."
Amusement-park revenue in Japan rose to $6.3 billion last year, the highest in records dating back to 2000. The character business, which includes licensing, merchandise and media, was worth $23 billion.
Still, not all Japan theme parks work out. Gulliver's Kingdom, replete with a giant replica of the voyager tied down by a race of tiny people, closed not long after it opened near Mount Fuji the late 1990s. A replica Dutch village on the western island of Kyushu bled money for more than a decade.
More Relaxing
Hirst says his will be different. For one, he's aiming to avoid the long queues common at many Japanese amusement parks and make the experience more relaxing. Not only that, the food will be good for a change, he says.
Former colleagues from his Citibank days are bemused when they hear about his Moomin renaissance. Still, in some ways, what he's doing isn't so different. Like the now-retired traders, Hirst is going down a gear as he closes his seventh decade. Except while they're bird-watching or drinking wine, Hirst is in meetings about the cutesy hippos.
"Contrary to what people might think, I'm not starting my second childhood," he says. "Planning the Moomin park may not be as thrilling as getting the first derivative deal done, but Moomin is right for me at this stage of my life."
(
Closes Fintech's share move in fifth paragraph.
)
Before it's here, it's on the Bloomberg Terminal.
LEARN MORE