Chinese Investors Balk at Company Bonds From Riskiest Province
Bloomberg News
Northeastern province of Liaoning sees corporate yields jump

Dongbei Special Steel flags investor challenges in province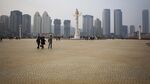 Investors are balking at bonds sold by companies in China's province most vulnerable to financial risks, amid concerns the government is cutting support for troubled firms.
Right Way Real Estate Development Co., a developer based in the city of Dalian in the northeastern province of Liaoning, sold five-year AA rated notes at a yield of 7 percent on July 26. That was 289 basis points higher than the average on similar-maturity securities nationwide. Xinmin City Luxin Municipal Engineering Co., a local government financing vehicle also based in Liaoning, issued seven-year AA rated debentures at 6.41 percent in the same month, 206 basis points higher than the market yield.
Premier Li Keqiang, who served as party secretary of Liaoning from 2004 to 2007, is seeking to weed out zombie state-owned firms as China's economy grew at the slowest pace in a quarter century. Chinese investors, who had been used to government bailouts, have seen a total of 17 onshore bond defaults nationwide this year, compared with seven in 2015, as authorities allow market forces to play a bigger role.
"Slow growth and limited tax resources mean there's limited scope to cushion the blow from necessary reforms to a creaking state-owned industrial base," said Tom Orlik, chief Asia economist at Bloomberg Intelligence in Beijing. "Provinces like Liaoning, which face a combination of weak growth, high debt, and a stagnant population, face growing challenges."
Two calls to the State-Owned Assets Supervision and Administration Commission of Liaoning went unanswered. The government agency hasn't responded to Bloomberg's questions sent by fax.

Liaoning, home to the biggest steel mill in China's northeast, was the most susceptible to financial risks among China's 31 provinces, autonomous regions and municipalities, according to a Bloomberg Intelligence Economics analysis of their debt levels, tax bases and other macro-economic variables. The rust-belt province was nicknamed "the eldest son of the republic" in the Mao era for its importance as a heavy industrial base, a legacy that is adding to its woes as the government tries to focus more on services than smokestacks as drivers of economic growth.
Fading Support
The province's fiscal revenue dropped 19 percent to 118.8 billion yuan ($17.9 billion) in the first six months of this year from the same period of 2015 as the economy shifted away from heavy industries such as steel and cement production. The income for the month of June alone dropped 50 percent from a year earlier.
"Investors will continue to shun Liaoning bonds," said Shi Lei, head of fixed income research at Ping An Securities Co. in Beijing. "Local governments can't give much support."
Dongbei Special Steel Group Co., based in Liaoning, highlights many of the challenges debt holders in the province's firms face. Some investors who hold the company's defaulted bonds demanded a written pledge that it won't swap the notes to equity, according to a statement Thursday. They also agreed to the plan of seeking the state-owned steelmaker's bankruptcy through lawsuit, the statement said.
The maker of alloy steels used in machinery and car parts has defaulted on seven bonds with a total principal amount of 4.77 billion yuan since March.
Two calls to Dongbei Special Steel's main line went unanswered Thursday.
"From the Dongbei case, Chinese investors will realize the pains they should go through if they make wrong investments," said Wang Ying, a senior analyst at Fitch Ratings in Shanghai. "There is no transparent information or a standard protocol to protect their interests."
— With assistance by Xize Kang, and Judy Chen
Before it's here, it's on the Bloomberg Terminal.
LEARN MORE