Carney Nears Rate Cut After BOE Detour on Road to Stimulus
By and
Varying statements from MPC members puzzle economists

Traders price in 100% probability of rate cut on Aug. 4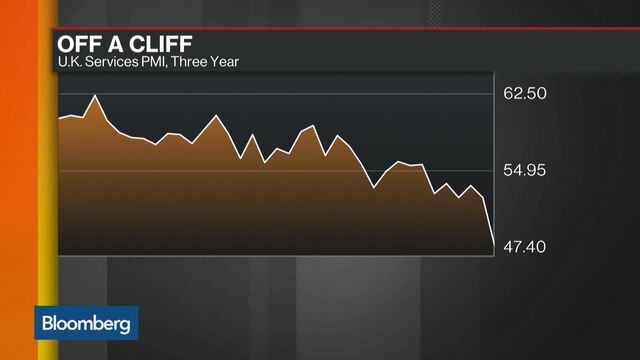 The Bank of England is mere days away from its first interest-rate cut in more than seven years. It wasn't easy getting here.
After shocking traders by leaving the key rate on hold last month, Governor Mark Carney and the Monetary Policy Committee signaled that loosening would probably come this month. But with five sets of public comments from four officials since, economists have had their work cut out to decipher the next steps.
The recent back and forth among policy makers reflects their dilemma of trying to get a handle on the potential Brexit fallout without hard data, instead relying on surveys, anecdotal evidence and market indicators. While one of Carney's key aims has been to revolutionize communications at the central bank, including implementing forward guidance, even he's found himself accused in the past of being unreliable.

External MPC member Gertjan Vlieghe, the only policy maker to vote for a rate cut in July, has called for a package of measures to aid the economy. BOE Chief Economist Andy Haldane has signaled he favors stimulus, though he didn't vote to loosen last month. He said a day after the July 14 announcement that he'd rather risk "taking a sledgehammer to crack a nut" than ease too slowly.
The opposite view was presented by MPC members Martin Weale and Kristin Forbes, who said in mid-July they needed to see firmer evidence of the impact of the Brexit vote before supporting additional stimulus. After a week, and the weakest business activity index in seven years, Weale switched to joined the stimulus chorus.
That's led some bank watchers to question how sure policy makers are as they count down to their decision.
"If external members had wanted to say, 'This is a temporary shock, and therefore monetary policy should not respond,' I would have disagreed, but it would have been a reasonable thing for them to say,"  said former BOE official Adam Posen. "If they had wanted to say, 'This is a particular kind of shock, I'm not sure monetary policy can be helpful,' I would have been very cautious. But saying 'I'm waiting for data' is just not a useful thing."
Action Delayed
Carney set the ball rolling at the end of June, when he said the fallout from Britain's decision to quit the European Union would require a response from the BOE.
Traders put an 80 percent probability that the key rate would be cut from 0.5 percent in July, only to be disappointed. Vlieghe was alone in voting for an immediate reduction, and though his colleagues discussed various easing options for August, the minutes were vague about what those might be.
There was some more bad news for the economy on Monday, when Markit said its manufacturing index fell more than initially estimated in July, dropping to 48.2 from 52.4 in June, below the key 50 level. Final readings construction and services are due on Tuesday and Wednesday.
It's been a difficult few months for Carney and the three-century-old central bank. Comments on the possible impact of Brexit before the referendum led some lawmakers to accuse the governor of undermining the bank's credibility. While he regained the support of some of his detractors as he stepped in to reassure markets amid turmoil following the vote, the failure to ease in July raised new questions about the effectiveness of the bank's communications.
It's "been a bit of a mixed bag," said Andrew Sentance, a senior economic adviser at PricewaterhouseCoopers and a former BOE policy maker. Carney "could have said reassuring things without committing himself to enacting monetary policy. He's got himself into a bit of a bind."
A Sure Thing?
While Weale has pointed out that the BOE is "not a nurse to markets," with traders now indicating the probability of a rate cut next week is 100 percent, policy makers look likely to face serious criticism should they stand pat again.
Recent speeches "have shown some disagreement among committee members, and that's OK obviously, but the hawkish side seemed odd given the data and undermined Carney's steadying message to a degree," said Rob Wood, chief U.K. economist at Bank of America Merrill Lynch in London and a former BOE official. "The change of mind by Weale, while welcome from an economic perspective, was a little strange since it suggested predictable sharp falls in the PMI weren't anticipated."
Weale will cast his final policy vote on Thursday, having never seen rates move in his six-year tenure on the MPC.
Almost every economist in a Bloomberg survey forecasts that the benchmark will be reduced on Aug. 4, with most predicting a lowering to 0.25 percent. A majority also see additional measures, such as QE or efforts to aid lending. The decision will be accompanied by the Inflation Report and new BOE forecasts.
"We've actually heard from four members of the MPC and I think the reality is that we just have to look at the flow of data coming in and it's looking really awful," former BOE policy maker David Blanchflower said in a Bloomberg Television interview. "It's not 'Will the MPC act?' It's 'How much it will act, what will it do and will it get help from fiscal policy?"'