Oil Sinks Into Bear Market as U.S. Stocks Drop; Treasuries Fall
by and
S&P 500 falls from near record as biotech elevates Nasdaq

Index futures signal declines in Asia amid crude selloff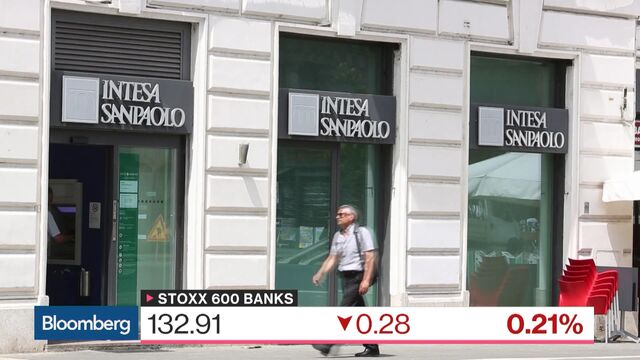 Crude oil sank into a bear market, falling below $40 a barrel for the first time since April amid renewed concerns over a supply glut. Energy producers drove declines in U.S. stocks, while emerging-market equities jumped to their highest level in almost a year.
Oil settled 22 percent below its June high as Saudi Arabia cut prices to Asian customers and U.S. drillers boost rigs for a fifth week, fueling angst a global surplus will worsen. The S&P 500 Index fell from near a record as energy shares slid the most since March, while biotechnology shares advanced. Treasuries slipped, sending 10-year yields up seven basis points to 1.52 percent. Technology stocks led gains in the MSCI Emerging Markets Index as a gauge of developing-nation currencies reached its highest point since last July.

Investors mulled the outlook for U.S. monetary policy, weighing Friday's weaker-than-expected economic growth data with more hawkish commentary from Federal Reserve officials. New York Fed chief William Dudley said traders are underestimating how many times the central bank may raise interest rates over the next 18 months. Odds of a Fed rate hike this year have slipped below 40 percent as policy makers from Australia to the U.K. consider further easing. Corporate earnings in the U.S. have come in better than analysts expected this season, though oil's slump is fueling concern over wider growth.
"We thought the worst for crude was behind but now we'll have to wait and see what it does," said Michael Antonelli, an institutional equity sales trader and managing director at Robert W. Baird & Co. in Milwaukee. "But if you take a step back and take a look at the recent breakout, it's fine that the market is going sideways. Sideways price action is OK because if the highs kept going straight up that wouldn't be sustainable and that growth could leave everyone vulnerable."
Stocks
The S&P 500 fell 0.1 percent to 2,170.84 as of 4 p.m. in New York, after earlier rising to an intraday record. The U.S. benchmark has climbed for five straight months, its longest rally since 2014. The Nasdaq 100 Index, meanwhile, added 0.6 percent, led higher by gains of more than 3.8 percent in Biogen Inc. and Alexion Pharmaceuticals Inc.
S&P 500 companies posting earnings this week include Pfizer Inc., Procter & Gamble Co., Time Warner Inc. and Priceline Group Inc. About 58 percent of index members that have reported so far have beaten sales projections, while 80 percent topped profit estimates, according to data compiled by Bloomberg. Analysts estimate profit at S&P 500 companies fell 3.2 percent in the second quarter.
"The market's in that uncertain zone as we try to see what earnings do for us," said Bruce McCain, who helps oversee $35 billion as chief investment strategist at Key Private Bank in Cleveland. "The GDP report reminds people that things are not better yet. The question is whether or not they're willing to keep prices moving higher on the expectation that things will get better or whether they're going to insist on seeing better news as we move through this."
For Bloomberg Intelligence analysis of the second-quarter U.S. GDP data, click here.
The Stoxx Europe 600 Index slipped 0.6 percent, following the gauge's steepest monthly advance since October. Even so, July was marked by record outflows from European equity funds and thin trading volume, indicating a lack of conviction in the rally.
Spain's Banco Santander SA fell 1.9 percent Monday and Banco Bilbao Vizcaya Argentaria SA lost 3.7 percent, while UniCredit SpA sank more than 8 percent. Lenders had initially risen at the European open after stress tests last week showed most of them would keep an adequate level of capital in a crisis.
MSCI's emerging markets gauge jumped 1 percent, the most in more than two weeks, as equity benchmarks in Taiwan, Turkey and the Philippines advanced more than 1 percent. Indonesian stocks rallied 2.8 percent, rebounding from their steepest drop in five months on Friday.
Index futures signaled Asian stocks may decline on Tuesday, with contracts on equity gauges in Australia, South Korea and Hong Kong down at least 0.3 percent in most recent trading. Futures on the Nikkei 225 Stock Average traded in Osaka slipped 0.8 percent, while yen-denominated contracts on the gauge rose by that amount in Chicago amid a pullback in the yen Monday.
Currencies
The Bloomberg Dollar Spot Index, which tracks the greenback against 10 major peers, climbed 0.3 percent after falling over the previous four sessions and sliding 1.3 percent on Friday, after the GDP report. The gauge remains near its weakest level in a month.
Sterling weakened 0.4 percent to $1.3179 as data showed U.K. manufacturing shrank more than was initially forecast in July. Hedge funds and other large speculators are the most bearish on the pound in almost 25 years amid speculation the Bank of England will cut interest rates for the first time in more than seven years this week.
The yen retreated 0.3 percent to 102.39 per dollar after soaring 4 percent last week. The MSCI Emerging Markets Currency Index rose 0.3 percent, after gaining 1 percent in July and 2.4 percent in June.
Bonds
In a sign traders are confident the record-setting Treasuries rally has further to run, positions in 10-year futures were boosted to a net 185,521 contracts last week, the most since December 2012, according to Commodity Futures Trading Commission data.
Their conviction is being tested, with Treasuries slipping after Dudley's comments on the rate outlook, and after Dallas Fed President Robert Kaplan said an increase in September is "very much on the table."
Microsoft Corp. is bringing the third-largest U.S. corporate-debt sale of the year to market, selling $19.75 billion of bonds to help finance its planned LinkedIn Corp. purchase.
Commodities
West Texas Intermediate crude slid 3.7 percent to $40.06 a barrel, after touching $39.82 during the session. It's 22 percent decline from the June peak meets the common definition of a bear market.
Saudi Arabia cut prices to Asian customers as the country continues to fight for market share. Drillers in the U.S. boosted the number of rigs seeking oil for for a fifth week, the longest run of gains since last August, according to data from Baker Hughes Inc.
Gold was little changed near its highest price in more than two weeks as traders shift focus to U.S. jobs data due later this week. Futures rose 0.2 percent to settle at $1,359.60 an ounce in New York. Palladium, which is used in pollution-control devices for cars, climbed to its highest level since October amid improving vehicle sales in China, Citigroup Inc. analysts wrote in a report out Monday.
Most industrial metals advanced, with zinc and nickel pacing gains after a measure of manufacturing in China -- the world's biggest metals consumer -- rose to the highest level since February 2015. Zinc climbed for a third straight session, gaining 1.1 percent to settle at $2,267 a metric ton. It traded near the highest in more than a year.
Before it's here, it's on the Bloomberg Terminal.
LEARN MORE