business
Tunisia MPs Fire Premier Over Economic Concerns
By
Largest party seeks to lead new national unity government

Country's economic reforms hindered by political inflighting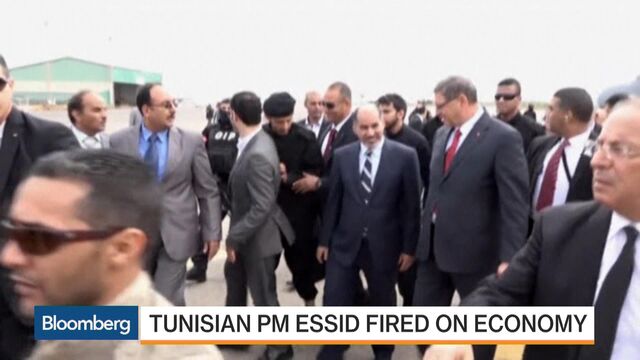 Tunisia will embark again on forming a new government after lawmakers fired the prime minister in the latest skirmish reflecting the struggle for political stability and economic growth in the birthplace of the Arab Spring.
Talks will begin on Monday and Nidaa Tounes, the second largest party in parliament, will push for a government of national unity led by one its members, Abddel-Aziz Al-Qoti, a senior party official, said in an interview. Habib Essid, who was ousted as prime minister following a no-confidence vote late on Saturday, was from outside the party. Nidaa Tounes had held the most seats in parliament before an intra-party rift allowed the moderate Islamist Ennahda party to take the lead.
"We don't want a repeat of the same mistake," Al-Qoti said. Nidaa Tounes expects other parties to also pursue ministerial portfolios, he said.
President Beji Caid Essebsi has sought a new national unity government for weeks, as fighting between rival political blocs hinders efforts at economic reforms. The country suffers from high youth unemployment, even after repeated attempts at reductions by successive governments, and the vital tourism industry has cooled after terrorist attacks.
No-Confidence Vote
A total of 118 of 217 lawmakers supported the no-confidence motion against Essid. In a speech, Essid said he accepted full responsibility for the failure of the government, according to Radio Jawhara. He also urged lawmakers to cooperate with the next administration to help tackle economic, social and security challenges, the report said.
Essid will act as caretaker until a new leader is appointed. A prime minister should be named within 10 days and a government seated a month after that, according to the country's constitution.
Tunisia has largely avoided political violence since the 2011 toppling of President Zine El Abidine Ben Ali. That's in contrast to other Arab Spring nations, such as Libya and Egypt.
In May, the International Monetary Fund approved a $2.88 billion, four-year loan aimed at supporting Tunisia's economic and financial reform program.
— With assistance by Tarek El-Tablawy
(
Corrects second paragraph to show that Nidaa Tounes holds second largest number of seats.
)
Before it's here, it's on the Bloomberg Terminal.
LEARN MORE