Trump Cites Own Sacrifices in Response to Muslim War Hero Father
By and
Responds in ABC interview to speech at Democratic convention

Clinton says 'all Americans' should stand behind Khan family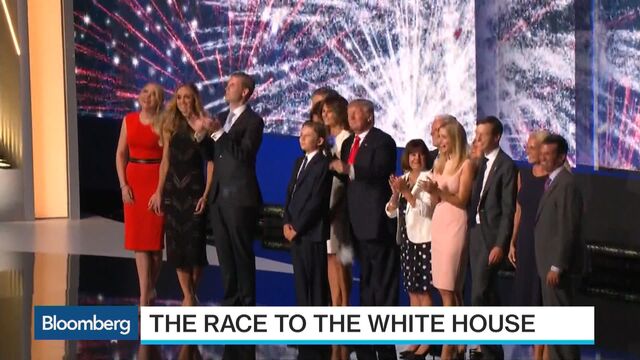 Donald Trump scrambled to defend himself and contain the political damage hours after he pushed back against the Muslim-American parents of a fallen U.S. war hero for their questioning of Trump's level of personal sacrifice in a widely hailed appearance at the Democratic National Convention.
The Republican presidential nominee told ABC News in excerpts of an interview released Saturday that he had "sacrificed" for the U.S. by employing "thousands and thousands of people." He also suggested that the mother of Army Captain Humayan Khan didn't speak alongside her husband in Philadelphia because she was forbidden to, as a Muslim.

"Who wrote that? Did Hillary's script writers write it?" Trump said in an interview with ABC News' George Stephanopoulos that will air in full on Sunday's "This Week." "I think I've made a lot of sacrifices. I work very, very hard," Trump said in a partial transcript made available by the network.
Late Saturday night, after a flood of negative reaction across the political spectrum, including from his general election rival Hillary Clinton, Trump said in a statement that Captain Khan "was a hero to our country and we should honor all who have made the ultimate sacrifice to keep our country safe. The real problem here are the radical Islamic terrorists who killed him, and the efforts of these radicals to enter our country to do us further harm."
"While I feel deeply for the loss of his son, Mr. Khan, who has never met me, has no right to stand in front of millions of people and claim I have never read the Constitution, (which is false) and say many other inaccurate things," Trump said of the father's convention speech. "If I become President, I will make America safe again."
Trump also said Clinton, President Barack Obama's former secretary of state, "should be held accountable for her central role in destabilizing the Middle East" including her support of the invasion of Iraq.
'Ultimate Sacrifice'
Clinton told a rally in Youngstown, Ohio, that "Donald Trump is not a normal presidential candidate."
"Somebody who attacks everybody has something missing" she said, noting Trump's attack on "the distinguished father of a soldier who sacrificed himself for his unit, Captain Khan."
Trump is "temperamentally unfit and unqualified" to be president, she said.
Earlier Clinton said in an e-mailed statement that she was "very moved to see Ghazala Khan stand bravely and with dignity in support of her son on Thursday night. And I was moved to hear her speak last night, bravely and with dignity, about her son's life and the ultimate sacrifice he made for his country."
"Captain Khan and his family represent the best of America," Clinton said, calling on "all Americans" to stand with them and with other families who have lost children in service to the U.S.
'Emotional Testimony'
Trump's been put on the defensive by the emotional testimony Khizr Khan gave about his son, an American Muslim soldier killed by a car bomb in Iraq in 2004. Khan spoke during prime time on the final night of the conference, minutes before Chelsea Clinton took the stage in Philadelphia to introduce her mother as the Democratic presidential nominee.
Khizr Khan, a lawyer with an advanced degree from Harvard Law School who lives in Charlottesville, Virginia, told the New York Times that he wrote his own speech with no input from Clinton's campaign.
The Republican's campaign also added stops for Monday in Harrisburg, Pennsylvania, and Columbus, Ohio, two cities in swing states that Clinton and her running mate, Senator Tim Kaine of Virginia, visited during a three-day bus tour.
The comments to ABC were Trump's first response to Khan, who said while his son was killed trying to protect the U.S., Trump had "sacrificed nothing."
"I think I've made a lot of sacrifices. I work very, very hard. I've created thousands and thousands of jobs, tens of thousands of jobs, built great structures. I've had tremendous success. I think I've done a lot," Trump told ABC.
'Just Be My Son'
Trump also said of Khan's wife, Ghazala, who accompanied him on the stage but didn't speak, "maybe she wasn't allowed to have anything to say; you tell me." 
Mrs Khan, although silent at the convention, recalled to MSNBC on Friday her reaction when her son told her he'd been deployed to Iraq. "Don't become [a] hero for me. Just be my son. Come back as a son," she said. "He came back as a hero."
In Thursday's speech Khan, who brandished a copy of the U.S. Constitution and offered to lend it to Trump, criticized the real estate magnate for looking to ban Muslims from entering the U.S.
"Go look at the graves of brave patriots who died defending the United States of America," Khan said, addressing Trump. "You will see all faiths, genders and ethnicities. You have sacrificed nothing and no one."
Trump told ABC that Khan "was, you know, very emotional."
In Denver on Friday Trump took on another critic from the Democratic convention, retired four-star General John Allen, the former Marine Corps commandant who has endorsed Clinton. With Clinton as commander in chief, "our armed forces will not become an instrument of torture, and they will not be engaged in murder, or carry out other illegal activities," Allen said in Philadelphia.
'A Failed General'
"You know who he is? He's a failed general. He was the general fighting ISIS. I would say he hasn't done so well," said Trump, using an acronym for the jihadist group Islamic State. Allen led troops in Afghanistan and coordinated the international coalition fighting Islamic State.
During remarks in Johnstown, Pennsylvania, on Saturday Clinton defended Allen as "a distinguished marine, a hero and a patriot."
While Trump took a day off the campaign trail on Saturday, Clinton's bus tour rolled onto Trump's turf as she set her sights on areas of rural western Pennsylvania that have voted for Republican presidential candidates in years past.
Later Saturday, Kaine said Trump's remarks about General Allen, "a great military leader," shows the Republican nominee is temperamentally unfit for the job.
"And the Khans: Can you believe that he would criticize a mother for not speaking about her son? And she said 'I have a hard time talking about my son's death' and that he was kind of trying to turn that into some kind of ridicule," Kaine said.
Gold Star Mother
Former President Bill Clinton, the Democratic candidate's husband, said that he could not conceive how anyone could say that about a Gold Star mother.
The Democrats are traveling aboard two buses made in North Dakota and"draped with a banner that read "Stronger Together," printed at a unionized shop in Tennessee. The Clinton campaign released those details to underscore its commitment to U.S. jobs.
Clinton and Kaine campaigned at Johnstown Wire Technologies in Cambria County, which produces an array of steel wire products. Republican Mitt Romney took 58 percent of the vote in the county over President Barack Obama in 2012. The Democrats are expected to highlight Trump's record of outsourcing manufacturing of clothing, furniture and other products that carry his name, arguing that his business record contradicts his campaign rhetoric about bringing back jobs to working-class areas that have suffered.
Clinton is seeking to cut into Trump's margin with white, working-class voters in places like Cambria County, which is 94 percent white and has a median household income of $42,000. Any inroads she can make there would make it harder for him to win the state, according to a campaign aide, who discussed the strategy on condition of anonymity.
Although a Republican presidential candidate hasn't won Pennsylvania since 1988 and polling suggests Clinton is running ahead of Trump, Democrats have expressed concerns that Trump's appeal to working-class white voters could put the state in play.
Trump policy adviser Stephen Miller said Clinton visiting Johnstown "is like a robber visiting their victim."
Pennsylvania has lost one in three of its manufacturing jobs since China joined the World Trade Organization "with Hillary's support," Miller said in a statement, adding that Clinton is "a radical corporatist who will tell any falsehood" to enrich her donors.
Before it's here, it's on the Bloomberg Terminal.
LEARN MORE