UPS Warns of Global 'Head Winds' Despite Growth in E-Commerce
By
Courier cites technological gains as it maintains forecast

Second-quarter earnings, revenue meet analysts' estimates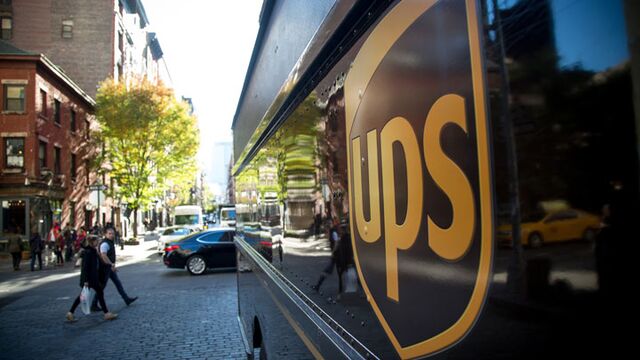 United Parcel Service Inc. said potential risks from a weak global economy are presenting "head winds" even as it profits from a surge in online commerce and trends in automation.
The outlook for global economic growth has been downgraded though U.S. consumer spending remains healthy, Chief Executive Officer David Abney said in a call with analysts after the Atlanta-based company reported second-quarter earnings.
"Delayed inventory draw-downs and soft export demand likely will remain head winds in the latter part of 2016," he said Friday.
The world's largest package-delivery company is vulnerable to global economic shifts, yet in recent quarters has seen some of its strongest performance overseas. In the U.S., rising online purchases are boosting demand for shipping services.
While UPS reported solid results, some investors may have expected an increase to its full-year forecast, said Stephens Inc. analyst Jack Atkins. UPS reaffirmed its full-year outlook for profit of $5.70 to $5.90 a share.
The stock fell 0.6 percent to close at $108.10 in New York. That left the shares up 12 percent this year, almost wiping out last year's decline.
Better Automation
So far, UPS has has been able to offset challenges from weak global economic growth and declining inventories in the U.S. partly through deliveries to consumers, which are growing at five times the rate of deliveries to businesses, Abney said. The company has also worked to become more efficient through such efforts as better automation at large warehouses and installing software in its brown delivery vehicles to find the best routes in real time.
"It's our investments and strategies that have allowed us to offset some of this economic shifts that we've seen in the last year and a half," Abney said.
Second-quarter adjusted earnings rose to $1.43 a share, the company said in a statement, meeting the average of analysts' predictions compiled by Bloomberg. Revenue climbed 3.8 percent to $14.6 billion, matching estimates. 
International operating earnings climbed 11 percent to $613 million. European shipments to the U.S. grew at a double-digit pace, the company said. UPS played down the possible effect of the U.K. vote to leave the European union.
"International results were outstanding, especially considering the broader global macroeconomic weakness," Ben Hartford, an analyst at Robert W. Baird & Co., said in a research note.
U.S. Growth
Profit growth in its U.S. domestic-package unit was more muted, at 2.7 percent. UPS has been working for several years to better capitalize on Internet shopping -- a challenge because the company typically only delivers one item to a home, while business deliveries routinely involve more than one package.
"We believe lowering the cost to serve individual consumers will be the key to increasing margins in the future as business to consumer grows from 45 percent of packages today to a larger portion of the business," Cowen & Co. analyst Helane Becker said in a research note.