Trigger-Happy Traders Ready to Buy Yen Even If BOJ Eases Policy
by
Oanda's Innes plans to buy the yen if it weakens to 108-110

'Short-term hiccup' offers chance to sell dollars: Barclays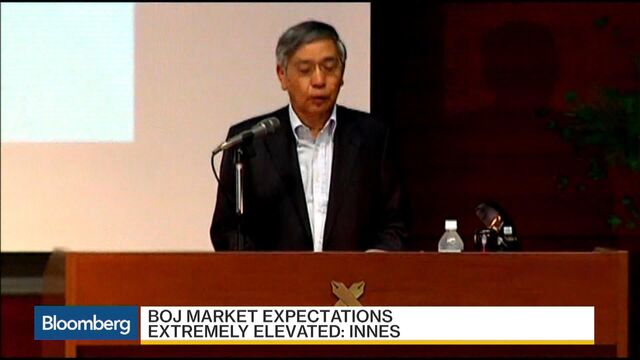 Currency traders doubting Haruhiko Kuroda's ability to weaken the yen are getting ready to buy the currency even if the Bank of Japan governor expands stimulus Friday.
Stephen Innes, a senior trader at Oanda Corp. in Singapore, plans to buy the yen if it weakens to between 108 and 110 per dollar, on any BOJ easing. It was at 104.59 as of 9:25 a.m. in Tokyo after surging as much as 1.8 percent. The Japanese currency is the best performer among major peers this year with the nation's current-account surplus boosting its appeal as a haven from market turmoil.
The yen is stronger now than it was before the BOJ unexpectedly expanded stimulus in October 2014. Prime Minister Shinzo Abe's announcement Wednesday of a 28 trillion yen ($267 billion) fiscal-stimulus package weakened the yen for only a day. The same thing happened at the end of January when Kuroda stunned markets by introducing negative deposit rates to complement 80 trillion yen a year in bond purchases.
For a guide to BOJ decision day, click here
"Traders are trigger happy right now," said Innes, who has been trading financial markets for about 25 years. "You might see an uptick in dollar-yen but traders are going to give it right back very quickly. They've been so disappointed by these stimulus efforts in Japan for the last couple of years that have fallen flat on their face."

Japan's currency surged as much as 1.8 percent to 103.41 per dollar Friday before the most anticipated monetary policy decision since Kuroda's first as governor in April 2013. Algorithmic platforms were partly blamed for the moves, according to traders who declined to be identified because they aren't authorized to speak publicly. Others cited possible misorders and thin liquidity.
Almost 80 percent of analysts surveyed by Bloomberg forecast the BOJ will expand the record program after their two-day meeting concludes Friday, with an increase in purchases of exchange-traded funds the most likely option, followed by a deeper cut in the negative deposit rate. Just under half of the respondents said Kuroda would accelerate purchases of government bonds.
Barclays Bullish
Barclays Plc advised investors to buy the yen against the dollar at the beginning of this week as expectations for easing have been priced in the Japanese currency. That trade has worked so far as the yen appreciated 1.3 percent this week.
"If they stay within the expected realm of options then we think any short-term hiccup should provide an opportunity to sell the dollar against the yen," said Shinichiro Kadota, a Tokyo-based foreign-exchange strategist at Barclays.
Any drop in the Japanese currency is set to be short-lived as it remains undervalued, he said. There are also concerns the BOJ is running out of ammunition as the yen has strengthened in the days following every central bank meeting this year.
One-week implied volatility in the yen, a measure of exchange-rate swings, surged to 25.3 percent on July 22, the highest close in 7 1/2 years. Overnight volatility on Thursday jumped by the most since at least 1998 and also reached the highest level since 2008.
Speculation about radical new steps emerged earlier this month, when Kuroda and Prime Minister Shinzo Abe held separate meetings with former Federal Reserve Chairman Ben S. Bernanke, who once suggested that a central bank could overcome deflation by printing money as a last resort, which would be the equivalent of dropping cash from a helicopter in the sky.
If the BOJ falls short of market expectations, the yen is set to rally to 103 per dollar before heading toward 100, Innes said. It reached a 2 1/2-year high of 99.02 on June 24, the day the U.K. announced it had voted to leave the European Union.
"What's not priced in is a quasi-helicopter money kind of situation," Oanda's Innes said. "If I'm wrong, I'll get out of the position."
Before it's here, it's on the Bloomberg Terminal.
LEARN MORE