S&P 500 Caps Fifth Monthly Gain as Rally Shows Signs of Fatigue
by
Cash poured into stocks in July at fastest pace since 2014

After record high, stocks oscillate between gains and losses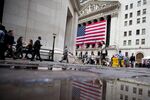 Bulls keep squeezing gains out of the U.S. equity market, sending the S&P 500 Index to its longest streak of monthly gains since 2014 just two weeks after reaching a record.
How much more juice is left in a rally that showed signs of lethargy as the month wore on is another question.
Powered by better-than-forecast earnings and weakening odds of a Federal Reserve interest rate increase, the S&P 500 jumped 3.6 percent in July, the biggest advance since March. Technology stocks led the way, climbing more than 7.8 percent thanks to strength in Alphabet Inc., EBay Inc. and Microsoft Corp.
The benchmark index for American equity is up 6.3 percent in 2016, erasing a loss that exceeded 10 percent at the depths of February's selloff. Almost $3.7 trillion has been restored to share values since that bottom as recession anxiety dissipated and commodities surged.
"July was a market that moved up because the underlying backdrop in the U.S. remained intact," said Alan Gayle, a senior strategist at Atlanta-based RidgeWorth Investments, which has about $37 billion in assets. "The global central banks voicing that they will continue to act as a backstop has helped the market rise to that all-time high, though it has settled for the last couple weeks."

The S&P 500 ended July at 2,173.60, two points below its all-time high. The Dow Jones Industrial Average added 502.25 points, or 2.8 percent, to 18,432.24, and the Nasdaq 100 Index surged 7.1 percent for its best month since October.
The prospects for additional central-bank stimulus continue to support equities, with the odds for a Fed rate hike by December falling to 34 percent. Better-than-forecast economic data and corporate earnings that broadly beat projections have also helped lift stocks. The gauge posted seven records in 10 days in a mid-month stretch, and it's rebounded 19 percent since its low in February. Its gain this year is one of the best among developed markets.
At the same time, the pace of gains is weakening, with stocks slipping in the final week and at one point alternating in the longest stretch of up and down days without a move of more than 0.5 percent ever recorded. Based on forward earnings estimates, the S&P 500's valuation is the highest since 2002. The Dow fell every day of the final week in its longest slump since mid-June.
After years of skepticism, signs of euphoria are emerging.
Investors poured cash into equities in July at the fastest pace since 2014. Economic growth remained tepid, as weakening business spending limited the second-quarter gain in U.S. gross domestic product to a 1.2 percent annualized rate, less than half of what economists were projecting.
To some analysts, it's a recipe for disappointment. One of the more reliable cheerleaders of the bull market, Thomas Lee, co-founder of Fundstrat Global Advisors, wrote in a note to clients July 22 that he was "scared about the month of August," a testament to the forces splintering sentiment in markets fixated on the pace of global growth and central-bank policy.
Investors waiting for the all-clear sign may need to brace themselves for another month of drama, if history is any guide. August is the most dangerous month out of the year, with the S&P 500 falling by 1.4 percent on average over the last 20 years, according to data compiled by Bloomberg.
While nothing says the pattern must be replicated, there are other clues to those seeking a direction in a market plagued with complacency. Among those cited by Lee include the CBOE Volatility Index's drop below the value of a similar indicator tied to options on an exchange-traded fund for Treasury bonds, a bearish indicator for equities.
"A few recent developments suggest August is likely to be a down month," wrote Lee. "Perhaps the greater message is that equities could be suffering from some complacency (VIX is awfully low at 12) and after five consecutive months of gains, we should not be surprised to see a pause ."
Still, with the earnings season almost half way through, more than 80 percent of S&P 500 companies have posted profit that beat projections, while almost 60 percent topped sales estimates. Analysts have eased their expectations for a drop in second-quarter net income to 3.2 percent.

Technology has been one of the brighter spots in second quarter earnings. From Google parent Alphabet to Apple Inc., quarterly results boosted companies in the S&P 500 to their best earnings period performance in 16 years. They capped the month with the biggest rally out of the S&P 500's 10 sector groups.
Seven of the industries rose in July, with raw-material and health-care companies advancing at least 4.7 percent. Freeport-McMoRan Inc. added 16 percent amid signs the company was making progress to get its balance sheet in order. Drugmaker Biogen Inc. surged 19 percent after beating earnings estimates and announcing the departure of it's chief executive.
Energy had the worst performance, falling 2 percent as crude fell to the precipice of a bear market from its June high.
"It's been a tale of two halves this month, with the first half being influenced by Brexit and international events, while the second half has been running on earnings," said John Carey, a Boston-based fund manager at Pioneer Investment Management Inc., which oversees about $230 billion. "The earnings haven't been too impressive, but it has helped to reassure investors that the economy is for the most part OK."
Before it's here, it's on the Bloomberg Terminal.
LEARN MORE