Japan Stocks Rise After BOJ Decision Sends Markets on Wild Ride
By and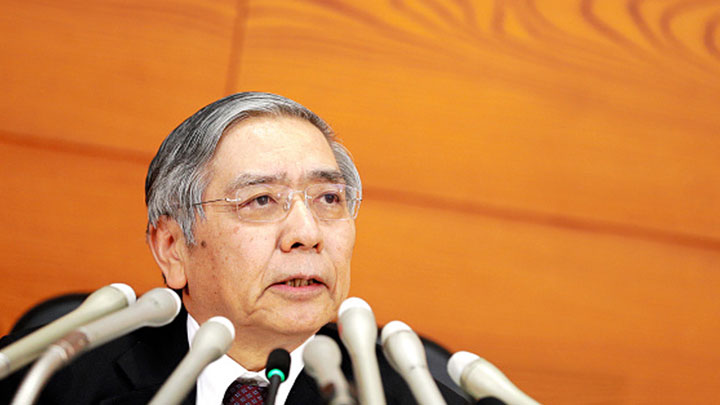 A wild ride for equity investors in Tokyo ended with stocks higher, as financial shares rallied after the Bank of Japan said it would almost double exchange-traded fund purchases while standing pat on negative interest rates.
The Topix index closed up 1.2 percent at 1,322.74 in Tokyo after fluctuating between gains of as much as 1.3 percent and declines of 1.4 percent. Volume was 54 percent above the three-month average. The Nikkei 225 Stock Average, which crossed between positive to negative at least eight times in the afternoon session, climbed 0.6 percent at the end of the trading day. The yen, which usually falls when stocks rise, jumped 1.8 percent to 103.37 per dollar.
The BOJ raised its target for purchases of ETFs to 6 trillion yen ($58 billion), while a dollar-lending program was expanded to $24 billion. The central bank kept its annual target for expanding the monetary base at 80 trillion yen, done mainly through an equivalent increase in government bond holdings. It also left untouched the minus 0.1 percent rate for a portion of commercial banks' reserves.
"The increase in its ETF purchases will push share prices up, but the amount of 6 trillion yen was within expectations," said Koji Uchida, chief fund manager in the equity division at Mitsubishi UFJ Asset Management Co. in Tokyo. "However, once they start actually buying the ETFs, the market will gradually rise."
Bank Shares
In a clear split, financial shares rallied in Tokyo while real estate companies sank as the BOJ refrained from changing its policy on negative rates. Lenders, which account for about 7.5 percent of the Topix's move, jumped 6.9 percent after the central bank's announcement, the biggest boost to the gauge. Meanwhile, developers slumped the most among the 33 industry groups on the broader gauge.
The Topix fell 16 percent this year through Thursday, the second worst performer out of 24 developed markets tracked by Bloomberg, with much of that decline coming after the BOJ introduced negative interest rates in January. A gauge of bank shares plunged 34 percent through Thursday, while the yen strengthened 14 percent against the dollar.
"The yen rose after the announcement but the Japanese stock market has been able to endure things fairly well," said Junichi Misawa, chief fund manager at Sumitomo Mitsui Trust Asset Management Co. in Tokyo. "Financial shares are being bought as there was no further expansion of negative interest rates."

In an unexpected development, BOJ Governor Haruhiko Kuroda has ordered an assessment of the effectiveness of central bank policy, to be undertaken at the next meeting scheduled for September. The central bank was widely expected to add to easing at the end of its two-day meeting, with 32 of 41 analysts in a Bloomberg survey forecasting the central bank would expand its record stimulus program.
"There was a lot of expectations for easing but the scale was quite small," said Daisuke Miyabe, a strategist at Shinko Asset Management Co. in Tokyo. "However, the result wasn't nothing. They boosted monetary easing, and retained the quantitative and interest rate portion."
By taking some action, Kuroda offers support for Prime Minister Shinzo Abe, who two days ago unveiled a 28 trillion yen fiscal stimulus package that will now bear the main burden for stoking expectations for growth and inflation. The BOJ had come under increasing pressure from the government to make a move that dovetailed with its own package, making it tough for Kuroda and his team to leave policy entirely unchanged today.
More than three years into Kuroda's unprecedented easing program, prices in Japan are falling again and the economy looks to be slowing. Government data measuring core inflation has been flat or negative in Japan all year, and even using a gauge created by the BOJ itself, prices are rising at less than half the target of 2 percent.
Surprising Markets
Kuroda has both surprised and disappointed markets before. In April, when 56 percent of analysts forecast action, there was nothing. Yet nobody forecast the BOJ would introduce a negative rate in January, and in October 2014 only three people anticipated that Kuroda would add to its asset purchases.
Some had hoped for more from the latest BOJ decision, after investors lost faith earlier this year in the ability of the government and central bank to support markets and the economy.
"The BOJ is too hesitant," Shane Oliver, Sydney-based global investment strategist at AMP Capital Investors Ltd., which manages more than $110 billion, said by phone. "Today's move is incredibly disappointing. The ETF purchase program is quite small and the amount of cash they're injecting in the Japanese economy hasn't changed. It's really not much of an easing at all."
Foreign stock investors, buyers in the earlier years of Abe's term, have taken flight in 2016, paring holdings by 4.7 trillion yen. Americans have pulled $10 billion in 2016 from the two largest exchange-traded funds tracking the Japanese market.
ETF Criticism
The BOJ's embrace of ETFs has also drawn fire from critics, who say the central bank's growing influence in stocks risks distorting valuations and undermining efforts to improve corporate governance. There's a risk that the BOJ won't be able to exit its holdings if they get too large, the Democratic Party's Tsutomu Okubo, a former vice finance minister, said in May.
Kuroda's decision to expand ETF purchases to 6 trillion yen compares with the former buying target of 3.3 trillion yen, and was the most likely stimulus option seen by economists before the meeting. The BOJ owned 8.9 trillion yen of equity ETFs as of the end of June, or about 60 percent of the domestic market for the securities. Kuroda has said the bank's holdings aren't big relative to the market.
"The ETF purchase is directly good for the market,"' said Naoki Fujiwara, chief fund manager at Shinkin Asset Management Co. in Tokyo. "Their goal was to reach 2 percent inflation, and this is the right direction. their goal was never to reduce interest rates."
Japanese markets have whipsawed in recent weeks following differing reports on the central bank's monetary easing program. BOJ officials are looking at multiple proposals for stimulus, the Nikkei newspaper said Wednesday. Disbursing so-called helicopter money via perpetual bonds, an idea floated by an adviser to Abe, was rejected by Kuroda in a BBC interview broadcast last week.
"There were high hopes that ultimate step will be taken today by BOJ, the ultimate step being helicopter money," said Tim Condon, Singapore-based chief economist for ING Bank. "But, in the event, they delivered kind of the same, which I think will end up reinforcing the skeptics about monetary policy. And won't do much to alleviate our concerns that global growth is falling far short of where it could be. "