pursuits
Google Wants to Invite You on a Walking Tour of Rio's Slums
By and
Street View service started Friday at first Rio favela

Residents hauled 55-pound camera pack through community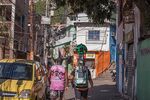 Google launched its Street View mapping service in a slum for the first time, covering a favela in Rio de Janeiro days before it hosts the Olympics. If you are planning to visit in person, you might want to check another app to stay safe.
Sao Carlos is one of 26 Rio de Janeiro favelas Google has mapped since its program kicked off in 2015, and the first to receive Street View, which provides a ground-level perspective through 360-degree photographs. The favela's narrow roads meant that, rather than photographing the streets by car, local residents were hired to shoulder a backpack and a spherical camera weighing a combined 25 kilos (55 pounds.)
"We wanted to give the experience of what the favela really is to both Brazilians and the rest of the world," Suzana Ayarza, Google's director of marketing in Brazil, said in an interview. "This is a first step and obviously we want to keep doing Street View in other favelas where we can.''
Bringing Street View to Rio's favelas is the latest in digital cartography for a large segment of the population whose visibility has been limited. Tourists are often fascinated with favelas, some of which climb hillsides along vertiginous roads, and have provided the settings for violent films such as "City of God." Google also launched an interactive site that shares stories of some favela residents and includes a fast-paced, 360-degree video of a motorcycle ride up Sao Carlos. 
Cross Fire
As part of its push to improve security ahead of the Olympics, Rio installed so-called police pacification units in 38 favelas. Their intent was less to capture drug traffickers than to reclaim territory. With crime now on the rise, Amnesty International responded with its own mapping tool: an app called Cross Fire to monitor shootouts in the city. About 33,000 cariocas – as Rio's residents are called – downloaded it in the three weeks since its release this month.
In the period, about 650 gunfights were fed into the app by its users. They see a black map of Rio dotted with colored symbols indicating the severity and nature of the shooting. Submissions are screened and verified by Cross Fire before the map is updated.
"As far as numbers, there really have been more shootouts than we imagined," Cecilia Olliveira, Cross Fire's data manager, said in an interview. "The app's use has really surprised us."
Underscoring the importance of reliable mapping, last October an elderly couple used Waze, a navigation app, to beat the traffic in Niteroi, on the other side of the bay from Rio. It led them into a favela and they were attacked by traffickers. The woman, 70, perished. Waze told local media at the time it is difficult to impede motorists from entering dangerous areas if that corresponds to the destination they've selected.
'Recognition, Legitimization'
A number of organizations, including Wikimapia, have been mapping favelas for the past decade, but information wasn't comprehensive or accessible. Detailed maps allowing residences to be identified and businesses to be marked contribute to "recognition and legitimization" of these neighborhoods, said Theresa Williamson, executive coordinator of Catalytic Communities, an NGO focused on favelas. Google's "agents" -- residents on the ground --  cataloged 10,000 businesses in the 26 communities they mapped.
In order to gain access to favelas such as Sao Carlos, Google partnered with local NGO AfroReggae to make in-roads with leaders of the communities, some of which lack police pacification units. Williamson says security issues are unlikely to prevent Google from expanding Street View, which will be "a huge victory if carried out well."
"Traffickers wouldn't allow a permanent video camera in the community, but a one-off photograph the police already get presumably through their investigations," Williamson wrote in an email. "Who this will help is people who are visiting, businesses looking for clients and, mostly, residents."
Rio's metropolitan area has a population of nearly 12 million people, of whom almost 15 percent live in its 763 favelas, according to the 2010 census from Brazil's national statistic institute.
Before it's here, it's on the Bloomberg Terminal.
LEARN MORE